From Schools
Kids usher in New Year with celebrations
Our Correspondent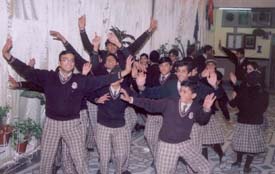 Students of Gupta Model High School usher in the New Year at a function held on the school campus in Ludhiana on
Thursday. — Photo by Inderjit Verma
Ludhiana, January 1
Students of Spring Dale Public Senior Secondary School celebrated the New Year Eve in a different way yesterday. The school management committee, including Ms Avinash Kaur Walia, Director and Founder Principal, Mr Nirmal Singh Walia, Chairman, Mr Sukhdev Singh, president, Mr Mandeep Singh, Director (accounts) and Ms Kamalpreet Kaur, Headmistress, organised a "dharmik sammelan" to impart religious education to students and show them the right path of living according to teachings of our gurus.
Bhai Sewa Singh Tarmala Aboharwale, along with his disciples, performed "akath katha" in the presence of Guru Granth Sahib and provided practical methods and guidelines for meditation of Gurmantra.
Many people, including parents of students, participated in the sammelan The sammelan ended with the distribution of "Guru ki degh", tea and sweets.
Sweaters distributed: A function was organised on the campus of Government High School, Brahmpur, where woolens were distributed to needy children.
Speaking on the occasion, the Headmistress, Ms Surjit Kaur, the Chairman, Mr Kuldip Singh Chabbra, and members of the PTA thanked all those who had gifted the sweaters. Others present on the occasion included Ms Asha Rani, Ms Daljit Kaur Grewal, Ms Seema Sharma, Ms Amritpal Kaur, Ms Poonam Gupta, Ms Jagjit Kaur, Ms Raksha Kumari, and Pushpa.
New Year celebrations: "New Year-2004" was celebrated at Gupta Model High School, here today.
The function started with a havan and was followed by a dance party.The Principal of the school, Ms Simmi Gupta, motivated students to put in best efforts to make a mark in their live.The students also cut a "mega cake" on the first day of the New Year.