Triumph of the indomitable spirit
K.R. Wadhwaney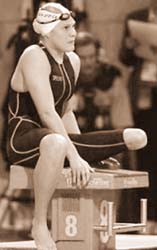 Natalie Dutoit of South Africa with only one leg was the cynosure of all eyes in the swimming competition of the Afro-Asian Games at Hyderabad
She walks from the dressing room to the deck and on to her allotted starting block as if she is a normal competitor. As other competitors are hopping about, she removes her artificial leg and gown before getting try the start. Her plunge is as fast as that of her rivals while her turns are also without any jerk. She gets all her propelling from her arm-pull. She keeps pace with her rivals.
This disabled swimmer, Natalie Dutoit (South Africa), was the cynosure of all eyes as she bagged a silver medal in the 800 metres freestyle and a bronze in the 400 metres freestyle in the inaugural Afro-Asian Games at Hyderabad's magnificent swimming complex in October this year.
Natalie was a delight to watch as she swam 800 metres strongly. She led the field until the 15th lap and raised visions of the gold medal. Then Seychelles's Shrone Austin quickened the pace. Shrone forged ahead although Natalie also tried her best. It was a race of the races. Shrone finished in 9:16.46, while Natalie's timing was 9:17.92.
In the 400 metres, Natalie was placed second until the final lap. Then she was overtaken by India's Nisha Millet. To Nisha's 4:31.33, Natalie's timing was 4:32.63. Hua Chen (China) won the gold. When the race ended, Nisha was the first to shake hands with Natalie, who had become a darling of spectators. "I find myself very comfortable here as every one is so friendly", said Natalie.
Declared sportsperson at the recently concluded Commonwealth Games, Natalie is endeavouring to qualify for the Athens Olympic Games. "I have changed my technique and style and am getting an enormous push from my arm-pull", said Natalie. She is already in the 'Hall of Fame' and if she qualifies for the Athens Games, it would be a tremendous achievement. Whether she qualifies or not, she deserves world's 'valour and grit' medal.
Only 17, Natalie lost her leg in a road accident. She was then an outstanding individual medley swimmer. Following loss of leg, she concentrated on free style events. The longer the distance, the more comfortable she feels because she does not lose any time in starting plunge or turns.
A role-model in her country, South Africa, where sportspersons are respected and adored, Natalie says she hates sympathy. She says life is nothing but a saga of fight and more fight. "It is the vicious world where only the fittest can survive", she adds. She seems to have taken a leaf out of the illustrious pilot, Douglas Bader who, even after losing his two legs, caused havoc with enemy country during World War II. Natalie's role model, however, is cyclist Lance Armstrong who, despite being cancer afflicted, has conquered many mountains.
From Burqa to salwar-kameez to shorts to swimming costume. This is a tremendous transformation for Pakistani women, who were seen in action at Hyderabad. Judging from their technique and style, one felt that they had taken to aquatics seriously. Observers were of the view that Pakistan women might catch up with Indians, if the Swimming Federation of India continue to stay in deep slumber.
"We have just made an entry into aquatics", said Pakistan official, Veena Masud, adding: "We will be delighted to take part in any meet in Delhi, if invited."
Now since flights between the two countries have started, there is every possibility of Pakistan women being seen in action at Talkatora on in Punjab.