AUDIOSCAN
A rich bouquet from Shubha Mudgal
ASC
Chahat (Times Music)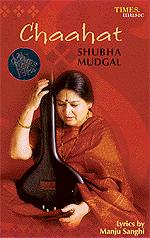 This album by Padma Shri Shubha Mudgal, a repertoire of her rich talent, is an assorted mix of traditional dholki, Hindustani classical and contemporary ghazal styles. Her trained voice elevates all the five presentations to a level where you get nostalgic about Begum Akhtar.
She is also the composer of four of these five numbers. Only Sakhi ri mohe panghat pe`85has been set to music by Aneesh Pradhan.
What is remarkable about the cassette is that it is a fine combination of poetry and philosophy. For that, the credit goes to lyricist Manju Sanghi. Two strands are clearly visible in her poetry. One comes from Kabir, Surdas, Mira and Tulsidas and the other from Ghalib, Omar Khayyam and Faiz.
In true Hindustani tradition, her work can be interpreted as showing human affection as well as love for the Almighty. For instance, the age-old bidai (farewell) of the bride in the doli is used by her in Ooncha balamji ka des to depict the final journey of the soul from the body.
She questions the Almighty for the problems that everyone faces in daily life in Panghat pe mil gayo Sham.
Paas lata hoon tumhe speaks about the difficulties one faces when beginning mediation, when one moves like a pendulum between utter frustration and immense joy.
Rahein vohi manzil vohi also traces the journey of an individual who is an egotist to begin with but dissolves himself into Him to experience spiritual bliss.
Itne kareeb ho mere shows love turning into a prayer.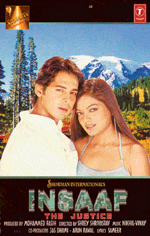 Insaaf: The Justice (T-Series)

Nikhil-Vinay are earning a name for soft, gentle, lyrical music. This album is suffused with this quality all the way.

Whether it is Dekha hai maine to or Tumse milna (both by Anuradha Paudwal and Udit Narayan), the songs boast of fluent melody. The sore note is struck by Chaneke khet mein by Jaspinder Narula and Sapna Awasthi.

Chunri lehrai toh is sung by Alka Yagnik and Udit Narayan and then figures in an instrumental version. The same is the case with Tujhe pyar itna (Anuradha Paudwal, Sonu Nigam). Nazar ka milana has good lyrics (Sameer).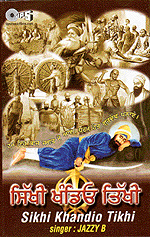 Sikhi Khandio Tikhi (Tips)
Jazzy B sheds his pop uniform and dons a traditional Khalsa dress to sing this religious cassette. He speaks of the greatness of the Sikh Gurus and sacrifices made by Them and numerous other Sikhs. The titles Singh Sajeo, Baba Nanak, Chale wandhe, Soorma, Khalsa jo roop, Das Guru, Sarsa and Agg de angaar say it all.
Music is by Sukhshiner Shinda, while the lyrics are by Satinder Kala, Jandhu Litranwala, Kajal Dhutan Wala, Deep Kaler, Shiri and Mika Masani. The commentary has been done by Tarsem Singh Moranwali.