FASHION
Look for 2004: Clothing with a softer feel
Nikhil Bhagat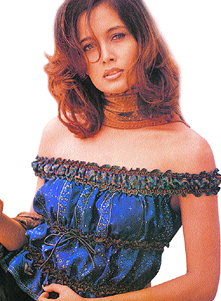 Designers are focusing on a demure and soft look for their spring-summer collection this year
AS 2003 drew to an end, India's leading designers were coming up with some exciting styles, which are likely to dictate dressing modes in the New Year. Although they mostly focused on the spring-summer of 2004, the designs provide valuable cues on the direction fashion winds are blowing in the subcontinent.
Here's sneak preview of what the most promising designs have in store:
Suneet Verma: If dressing to thrill is all that matters, check out Verma's sassy pret lines, Spice and Superstar. In both, he has abandoned his trademark jewel tones and moved to deeper hues like aubergine, copper, burgundy red, sapphire blue, black and brown.
"My clothes cater to the confident girl of the new millennium," he pronounces. "The focus is on constructed clothing with a softer feel. So one can expect to see drapes on corsetry exuding touch, low-cut cleavages, flirtation with the bosom and marrow bolero jackets worn with sarees."
Ritu Kumar: For the romantically inclined and yet not-so-bold, there's Ritu's Label line with its varied palette, ranging from tropical desert tones to the more earthy, sunkissed hues. For once, this 'queen of salwar-kameezes' has refrained from using heavy silks, with ornate embroidery.
"As the idea is to capture the soft romanticism of leisurely evenings, the shapes of my clothes this time around are demure, but colourful," she explains. "I have deliberately chosen chiffon, which best sets the mood for self-indulgence."
J.J. Valaya: For drama and grandeur, there is none to match this burly sardar from Delhi. "The House of Valaya imbibes its core imbibes its core inspiration from chic grandeur," he points out. "Embellished tees, fitted pants, corsets and shararas are some of the sexy silhouettes which would rule through 2004."
Valaya is sticking to his favourite colour — ice blues, delicate ivory, rich fuchsia, purple, violet and scarlet. Sharp silhouettes and detailed embroidery bear his stamp in fusion wear.
Lina Tipnis: Those looking for sheer femininity (as opposed to aggressively masculine combat retro look), here's range of stylish cigarette pants, to be teamed with asymmetrical tunics in voile and lines, off-shoulder tops and shirt cholis to be won over bias-cut skirts.
Adding to their sensuous appeal, Lina has worked with flesh tones and watery hues. "Folklore will be seen in combination with retro to create an interesting mix of subtle frills, pleats, and drawstrings this year," she predicts.
Anita Dongre: Currently researching on the blue pottery of Jaipur, Lina reproduces common ceramic motifs and patterns on clothes in the form of graphic prints. "I am introducing a masculine wardrobe for the futuristic woman," she informs. "So along with tunics having butterfly prints, floral motifs and stripes, I am creating one-piece dresses and kint sweaters with narrow-bottom trousers.
(MF)