SIGHT & SOUND
Dev marches on
Amita Malik

This column is going to press two days before the New Year, so we shall miss describing how it was ushered in by various channels. Not that it ever varies. As with all things on television, it becomes a filmstarsí night and the race to rope in the Big B and sexy actresses, especially those who can swing their hips, picks up speed. For those in North India who refuse to go to page 3 parties in the fog, TV becomes the main choice to see the New Year in. And hereís wishing listeners, viewers and readers a very Happy New Year and better programmes. Hope to see less of saas-bahus. And it is a good thing that at least one channel, NDTV, has remembered the jawans and their New Year highlight will be a repeat of the touching programme Jai Jawan with Aamir Khan cheering up our brave jawans in Ladakh.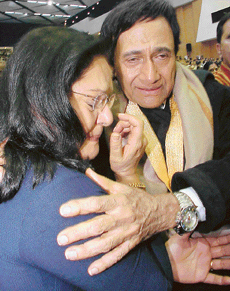 An emotional moment: Dev Anand with Rakhee at the Dadasaheb Phalke Award ceremony in Delhi
The week was dominated by Dev Anand getting the Dadasaheb Phalke Award, long last. As I told him, he is above awards now, the love the nation gives him being worth more than any award. However, as a specialist writer on films and a very old friend of Devís and the entire Anand family, I was a little disturbed and hurt by the utterly superficial and monotonously similar questions which were directed at him. Here was a man getting a lifetime achievement award, a man coming from a family of distinguished filmmakers, and all that they could think of ó after the "evergreen" bit was over ó was to nag him about the film he was making and whether it had to do with Ravi Shankar. Since he had answered that question long ago and several times, it became a bore after a time. He was also nagged about his flops and although criticism is legitimate on any occasion, they carried it too far. It sounded ungracious as well as boring. What they forgot, in the context of his 50 years of filmmaking, was his partnership with distinguished brothers Chetan and Vijay (Goldie) Anand and the fact that generation next is his sisterís son Shekhar Kapoor and Dev had encouraged him. Goldie should surely have been interviewed from Mumbai. So busy were they repeating his discovery of Zeenat Aman and others that they forgot his association with Waheeda Rehman and other serious actresses who could also have been interviewed.
Why I am mentioning all this, is because it shows the tendency of anchors to reduce everything to contemporary news and to forget the history behind a manís career and the fact that he remains one of the most-loved stars of the historic Golden Age of Bombay cinema. They could have asked him for his views on Dilip Kumar and Raj Kapoor. And donít tell me it canít be done in five minutes. It can, if you have done your homework (which most interviewers had not), if you get the right perspective on events and if you donít talk too much and interrupt the star, which most anchors did. The moral of the story is that you must have specialist interviewers for such occasions. I wish the sensationalist news anchors had roped in some of Devís colleagues who were present on the occasion in Delhi, such as Rakhee, to talk about him or got the younger perspective from intelligent younger stars like Ajay Devgun or Konkona Sen Sharma. TV interviewing of specialists by generalists in a hurry is becoming glib, slapdash and is totally unsatisfying. It is time channels and producers woke up to the fact and concentrated on specialist interviews even in the news. And on such occasions there should be more long in-depth interviews. Dev Anand surely deserved better.
I could not help comparing the Sports Channels. During the tests in Australia, many channels had interviews with players (thank heaven by specialists) by roping in former top players like Boycott and Sunil Gavaskar to both speak about their generationís greats as well as the rising new generation. What adds to oneís pleasure and knowledge, is the replay of classic encounters in the past between India and Pakistan, Australia, the West Indies, etc. Surely we should have had a season of Dev Anand classics on one of the film channels.
While Astitva ek Prem Kahani remains head and shoulders above the soaps for discriminating viewers, it has begun slipping in its casting. For instance, the "world class surgeon Dr Watson "who roped in Dr Simran for assisting in a rare operation, neither looked like an eminent surgeon nor did he talk at all like a Watson but had a distinct East European accent. Even Tom Alter would have been better. And the interrupting advertisements are getting longer and longer. One of the promises of CAS is control on ads. Let us hope we shall at least get this benefit.