M A I N N E W S
148 killed as plane plunges into Red Sea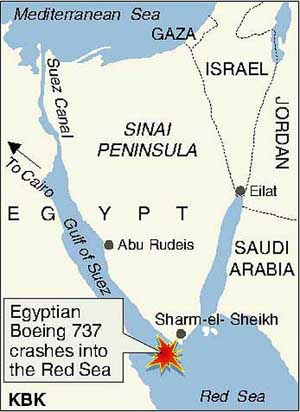 Cairo, January 3
An Egyptian plane carrying 135 French tourists and 13 Egyptians crashed into the Red Sea shortly after take-off from the resort of Sharm el-Sheikh early today, killing all on board, officials said.
The crash came amid heightened air security, particularly by Britain, France and the USA, in the face of fears that a passenger airliner could be used for a terror attack.
"All people who were aboard the plane are dead," Osama al-Sayed, a senior official with its owners, Flash Airlines, told reporters. The aircraft disappeared from the radar screens of Cairo airport at 4:44 am (8.14 a.m. IST), minutes after taking off from the Red Sea resort, the civil aviation authority said.
According to the Al-Ahram newspaper, Egyptian President Hosni Mubarak was scheduled to go to Sharm el-Sheikh today for talks with British Prime Minister Tony Blair, who is holidaying there.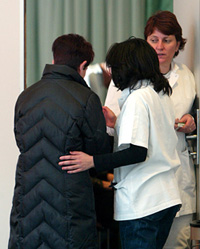 A relative (L) of an Egyptian Boeing 737 charter plane victim is comforted by a psychologist at a hotel near Charles-de-Gaulle Airport, north of Paris, on Saturday. The charter airliner carrying 135 people, mostly French tourists, crashed into the Red Sea shortly after taking off from the Sharm el-Sheikh resort. — Reuters
State television showed Air Force planes, navy ships and a helicopter searching the sea within sight of the coastline, but no debris or bodies were shown.
The official MENA news agency said only one body had so far been pulled from the waters.
"No survivors have been found after five hours of searching, and only one piece of airplane debris has been recovered," said Sayed.
Pieces of wreckage were found in the sea about 15 km south of Sharm el-Sheikh, civil aviation authorities said. — AFP
PARIS: Many children were on board a plane that crashed into the Red Sea the head of medical services at Paris's main airport said today.
Asked whether children were aboard, Michel Clerel, who is in charge of counselling for relatives of the victims, said: ''Yes many. They were spending their holidays with their families.'' —Agencies