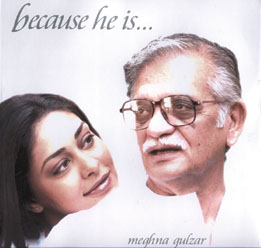 Poet extraordinaire, accomplished filmmaker and writer. And yes, the husband of Rakhee. Gulzar makes the ideal subject for a coffee-table biography. And who could be better suited to pen it than his daughter, Meghna?
Being a sensitive poet and film-maker herself, she does a satisfactory job. Every girl has a right to hero-worship her father. So, Meghna can be excused if she does not have a single critical word about her "Papi". But she reveals many intimate, personal details about the man who has been enriching the film world in various capacities for more than 40 years.
Lest there is any sense of disappointment, let it be said at the very outset that Meghna does not write anything about why her parents drifted apart. All she says is that they are two good people, who were just not good together.
What she adds in good measure is that her Papi and Ma never let her feel that she came from a broken home. Rather, she was brought up as if she had two homes.
Rest of their life is laid bare with refreshing candour, with the help of a trove of memories, his poems – published as well as unpublished — and numerous sepia-tinted photographs. Even the courting days of the couple are revisited in detail. These personal vignettes let one go on first-name terms with Sampooran Singh Kalra, who was to acquire the pen-name Gulzar later (it was S.S. Gulzar to begin with).
Yes, it is not very well known that Gulzar is a Sikh, born to Sardar Makhan Singh Kalra and Sujan Kaur in Dina village of Jhelum district, now in Pakistan. His kurta and stubble make many believe that he is a Bengali.
The book projects him as a loner despite having many step-brothers and step-sisters (his father had married thrice). It was probably Gulzar's lack of a sense of family in his own life that made him extra careful about providing Meghna with a positive domestic environment. He would write a book for her and present it to her on her every birthday till she was 13 and would make sure that she went with him on most of the film shootings. Nor did he lag behind in braiding her hair and knotting her frock sash.
Meghna does not confine herself to his friendship with film people like Bimal Roy, R.D. Burman and Sanjeev Kumar. There are a lot many details about his associates from everyday life. But since it is easier to relate to known personalities, it is interesting to read how Naseeruddin Shah pleaded with Gulzar for many years not to make Mirza Ghalib with any other actor and how Gulzar did not let Dimple Kapadia blink even once in Lekin. The endless, fixed gaze gave her a feeling of being surreal.
Due to a personalised style, the narrative is lively throughout. You even get to know that Gulzar hates brinjals and loves cold cuts. Sometimes his trademark kurtas are so heavily starched that they tear while he tries to wear them. Also mentioned in detail is his breakfast menu and the day's fixed, lights-out-at-10 schedule (which provoked Rakhee to say that "Agar aap shaayar na hote, to bade hi ordinary hote").
The making of Maachis had its genesis in the horror scenes that Gulzar had witnessed during the 1947 partition. He still remembers the stench of the half-burnt bodies stuck to the roads which the garbage collectors would have to scrape up with a spade; garbage trucks filled with distorted carcasses; stray limbs left behind on the street.
The sensitivity of the man is reflected in incidents like his keeping Rozas for the sake of Meena Kumari who was too ill to do so herself.
The book is tastefully produced, except that the reproduction of colour photographs could have been a little better. The only printing mistake that I could notice was a missing "b" in the name of Mirza Ghalib in a photo caption on page 129.