From pin-up girl to actress of substance
Rakhee Gupta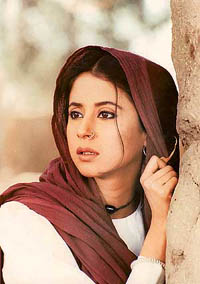 Urmila Matondkar in Pinjar
For Bollywood heroines, 2003 will undoubtedly be remembered as the year of Urmila Matondkar. After back-to-back performances in Ramgopal Varmaís Bhoot and Chandraprakash Dwivediís Pinjar, she appeared in Khalid Mohammadís Tehzeeb ó soon to be followed by Shriram Raghavanís Ek Haseena Thi.
In each of these films, Urmila presents herself as a study in contrasts ó moving from a metropolis woman in Bhoot to a village girl in Pinjar and then as Shabana Azmiís sullen daughter in Tehzeeb to a victim of demonical deception in Ek Haseena Thi.
The films also mark a departure from the post-Rangeela Urmila starrers, which have presented her more as a pin-up girl than as an actress of any substance. All of a sudden, the girl is being taken seriously as one who can carry a film like a hero is expected to.
"It has been stressful," she concedes. "We artistes must think of ways of preserving our creativity. I remember, there was a time when I was simultaneously shooting for Pinjar and Bhoot and by the end of it, I felt I was reaching a nervous breakdown. Thatís when I mustered the courage to tell the director (Dwivedi) that I needed a break to restore myself."
Indeed, Pinjar had been the most demanding of all these films, partly because of its historical setting (as a post-Partition drama) and the lavish scale on which it was mounted. Dwivedi and his unit had prepared her in advance with sketches of the sets, costumes and other props. But what they had not briefed her adequately enough was how to play a Punjabi girl from another era.
"All of a sudden, on the day of the shoot, I developed cold feet," confesses Urmila. "As a Maharashtrian girl, born and brought up in Mumbai, I had no idea how to get into the skin of Puruís part. Usually, I play little games to prepare myself for a role or internalise my emotions. But this time nothing worked. Finally, I decided to just hang around on the sets without shooting, till I soaked in the character."
A similar condition of self-doubt seized her during the filming of Tehzeeb. "While driving down for the shoot, I suddenly felt at a loss because I was unfamiliar with the language and customs of the character I was to portray. I felt deprived I didnít have a friend from that community with whom I could exchange notes. But luckily, those were momentary feelings. I got over them by the time I faced the camera."
But at the end of the day, doesnít she feel drained out?
"Victor Bannerji asked me the same question when we were shooting the last schedule of Bhoot," she narrates. "I bravely said, I donít think about it. But as creative people, I guess we all have an in-built mechanism for charging ourselves up. It is an old habit with me to go to sleep when tension becomes overbearing. My anxiety rises to a maximum and then freezes.
There are however, moments while preparing for s shoot, when Urmila could feel edgy and irritable. "In the privacy of my make-up room, when I am preoccupied, I become extra sensitive to external sounds. So if my hairdresser or make-up man coughs or sneezes during this time, I throw a fit. I am too selfish to be distracted when I prepare myself mentally for getting into the character."
"But after the shoot ends, I switch off," she adds. "Some ingredients of the role always stay with you, but you have to learn not to let them overtake your life. We cannot linger over our characters for too long because in our creative storage, we have to constantly make space for new characters and new films. And however arresting the last role, life has to move on." MF