El-Dorado in sight
Anurag Yadav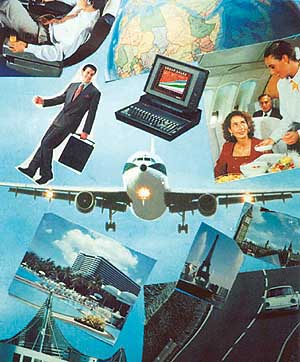 Tourism is no longer about destinations; it's about experience. The year 2003 could well be remembered as the time that started the process of change. The last quarter of 2003 changed almost everything. Hotel bookings spiralled and so also tourist arrivals.
Says Rathi Vinay Jha, secretary, tourism, government of India, "This is a positive trend and is a result of active promotion and the return of travel sentiment in the world as such."
The Incredible India campaign designed to project a better face of the country has taken off in right earnest. The India Event in Athens and the participation in the Philoxenia Fair in Thesealoniki is an indication of positive trends of growth of traffic from this region which had remained static in the past years.
Positive sentiment
Travelex, the world's largest foreign exchange specialist, has started operations in India by inaugurating its first branch in Mumbai and is planning to move onto Bangalore, Delhi, Chennai, Kolkata and Goa among other cities.
The measures announced in the Union Budget 2003-04 for the travel and tourism industry were quite encouraging. The provisions of withdrawal of 10 per cent expenditure tax on hotels, the reduction of basic customs duty on liquor and the restoration of leave travel concession to government employees has been a shot-in-the-arm for the industry.
Low levels of interest, make it easier for investors to finance hotel projects or refinance existing projects. Funding has been sanctioned for the private sector initiatives to build additional airports at Bangalore and Hyderabad. Manish Uppal of the Uppals Orchid celebrated the first anniversary of the property a few weeks. Sonia and Monica, the enterprising sisters of the MBD group launched their fashionable new property the Radisson MBD at Noida.
Health tourism
Strange as it may seem to the lay person, India is emerging as a place for excellent medical treatment in the world. India's health care services industry is poised to become a manor driver of economic growth as first-world patients, driven out of their own systems by high costs and crowded conditions, look for cheaper places for medical care. Already, with health care costs having spiralled to prohibitive levels across much of the developed world, the British government, for instance, is contemplating flying its ailing to India to clear up long waiting periods for treatment and surgery in the UK's overcrowded hospitals.
According to Ministry of External Affairs, the US $ 17 billion Indian health care industry comprises roughly four percent of the country's total turnover. Although private health care is a more expensive alternative for domestic residents, it is cheaper for the British government to fly patients over and back after treatment than it is to treat them at home. In fact, the cost-benefit advantage is phenomenal. Open-heart surgery costs between $ 34,000 to $ 70,000 in the UK. In the USA, routine open-heart surgery runs as high as $ 70,000 in the UK. In the US, routine open-heart surgery runs as high as $ 150,000, with complicated problems costing considerably more. In India, open-heart surgery could cost $ 3,000 to $ 10,000 in the best of hospitals. Cost differentials therefore could be anywhere from 200 per cent to 800 per cent to off the cheat. A shift to vistas like rural tourism, adventure tourism and Buddhist circuit charters is making a difference to the so far all-inclusive approach to promoting India.
Says Jyoti Kapoor, president of Association of Domestic Tour Operators, "India's redemption lies in promoting domestic tourism. Once the foreign traveller lands in the country he becomes a domestic tourist. Making things better for domestic tourism does not exclude the inbound tourism prospects. Actually, a better infrastructure strengthens it further".
India seems to be learning a lesson from Malaysia which has succeeded in making a dent in the public perception like no other country so far. Indeed, 2003 was the year for Malaysia. Kerala seems to have picked up the Malaysia blueprint and is leading the pack with its single-minded devotion to tourism. Thankfully, states even like Gujarat that laboured under intense negative publicity girded their loins to launch 'Vibrant Gujarat'.
India is still low on the priorities of the international traveller, whether for leisure or business. At least, the process of wooing the itinerant tourist has started. Things can only get better. (NF)