TELEVISION
Adapting Arabian Nights in the age of Matrix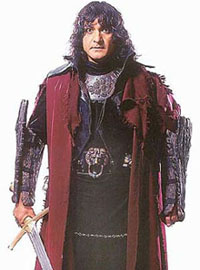 Haatim…Arabian Nights' classic.
Do Arabian Nights classics stand a chance in the era of Matrix? Yes, they still have a charm all their own — says Ramanand Sagar and rightly so.
Now the third generation of Sagars is all set to regale viewers with Haatim every Friday 8 p.m. on Star Plus. The fantasy series will be loaded with compugraphics and virtual sets.
The story incorporates treachery, danger, flying horses, speaking mountains, genies and fairies. The pivot is the charming and courageous prince Haatim who is on a mission to solve the seven riddles posed to him by the evil Dajjal.
Seasoned actors like Nirmal Pandey, Rahil Azam and Pooja Rawal flit in and out in resplendent clothes and bring alive the era of princes and pretenders woven around a tale of magic and fantasy. Will Haatim succeed in bewitching viewers? Hard to say, though the Sagars would be hoping their Ramayana magic rubs on them once again.
Friends are forever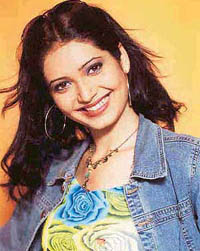 Kkoi Dil Mein Hai... bonds of love.
For those who haven't still had their fill of 'Ks' and double 'Ks', here's kkuch aur. But Kkoi Dil Mein Hai Sundays 9 p.m. on Sony for once doesn't have the trademark women who wreak havoc in people's lives by arching eyebrow and flashing conniving smiles.
It is a tale of two friends Kajal and Krutika who are as different as chalk and cheese and yet joined in an eternal bond of friendship and love. Krutika is a fun loving, well turned out young lady from an affluent family. Her best friend is Kajal, a simple middle class girl belonging to a modest Gujarati household that upholds values and ideals.
Despite strikingly contrasting worlds, they've been the closest of friends since childhood. But this friendship is challenged when a debonair young man proposes to Kajal and she accepts. Unaware of the development Krutika too loses her heart to the same man.
Then start the pulls and tussles that not just test their friendship but almost wreck their lives. So far so good. If Kkoi Dil Mein Hai doesn't degenerate into the predictable Balaji stuff, it has the potential of grabbing viewer eyeballs.
Detective in a monk's attire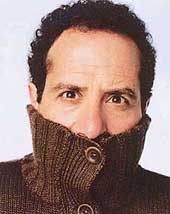 Tony Shalhoub in & as Monk... mystery thriller.
He suffers from an obsessive syndrome yet he is one of the most brilliant detectives. But he has lost his job with the San Francisco police because of a psychological disorder that struck him after the murder of his wife — a murder that has remained unsolved.
There's his nurse Sharona, who is an unlikely Dr. Watson to his Sherlock Holmes. And Captain Stottlemeyer — his former police chief and a highly decorated detective who will never be as good as him, and that drives him crazy.
Monk, the critically acclaimed series starring Golden Globe and Emmy Award winner Tony Shalhoub, has started its second season on Star World, Tuesday at 9.00 p.m. In the new season Monk continues to investigate baffling, seemingly impossible crimes.
The tantalising mysteries in the new season include the murder of an old man, a victim who drowned in mid-air while parachuting and a string of killings by a man in a coma.
Though Monk has an abnormal fear of germs, heights, crowds, and virtually everything else, he manages to solve these crimes, and does so without running out of his precious moist towellettes! An absolutely engrossing series from the word go.
Making a splash with kids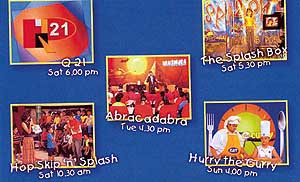 Splash… new kiddie channel.
This one's for the kids. Splash—India's first 24 hour free to air English channel for kids is all set to provide exciting, innovative and creative entertainment.
It claims to have something for everyone — preschoolers, tweens and teens. It has series like How Things Work, The Guitar Workshop, magic show Abracadabra, Learn Yoga, and cookery show Hurry The Curry.
The channel's programming mix contains a blend of animated and live action series with some content sourced from abroad. There are Indian Folk Tales and Things I Do, game shows like Q21, Hop Skip n Splash and animated series like Reel Cartoons and Denver---The Last Dinosaur. Finally there are movies like Alice in Wonderland, Tom Sawyer, Sindbad: Beyond The Veil Of Mists, and Benji.
This and lot more fun is in store for kids with Splash that is aiming at creating a wholesome mix of entertainment and education — edutainment as it is calling it.
Rocking to the bhajan beat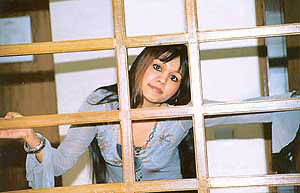 Sonu Kakkar... MTV best debutant trophy.
A year ago she failed to make it to the finals of Channel V's all-girl band VIVA and cried. Today it is the band which could be shedding tears at not having selected her. Because Sonu Kakkar has just received the MTV Immies best debutant trophy for her song Babuji Zara Dheere Chalo that set the charts on fire sometime ago.
In fact Kakkar's voice gelled so well that many thought it was Yana Gupta herself who'd sung the item number. And that's not the only similarity. A look at her and you might mistake her for Yana as she bears a striking resemblance to the model-turned-star.
A self-trained singer and a great admirer of Nusrat Fatheh Ali Khan, Kakkar has also sung the seductive Sawarian track in Boom and three songs for the new album Now That's Sandeep Chowta. But she has a burning desire to lend her voice to Aishwariya. And the way she's being flooded with offers that day couldn't be too far.
Considering she was singing bhajans in the temple town of Rishikesh till a year ago, Sonu Kakkar's prayers of rocking Mumbai seemed to be coming true.
Fuelling kids' imagination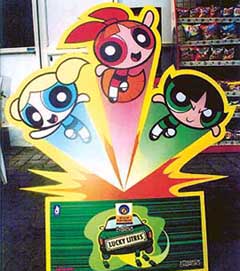 Cartoon Networks new promo… goodies galore.
It's the age of merchandising and Cartoon Network is busy encashing its popularity. In a tie up with Bharat Petroleum Corporation Limited (BPCL) it has come up with the Lucky Litres offer where six families will stand a chance to win an all-expenses-paid trip to Australia.
Every viewer who buys fuel worth Rs. 500 is assured a prize that includes goodies such as Dexter and Johnny Bravo watches, Powerpuff Girls' Dolls, Johnny Bravo and Powerpuff Girls' pencil boxes, stationery cases and stickers.
Says a BPCL source, "So far our promotions were targeted at vehicle owners. Now we are making promos for kids who are the real decision influencers in the family."
So kids, a tank-up at a BPCL outlet could win you a trip to Cartoon Network's beach in Gold Coast in Australia. No gassing about that!
— Newsmen Features