Stiff competition among car firms makes consumer the King
Ruchika M. Khanna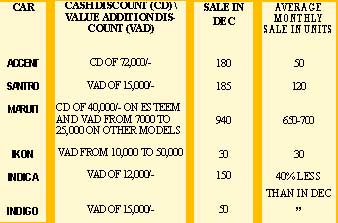 December 2003, saw an unprecedented hike in the sale of small and mid-size cars, thanks to the hefty discounts offered by both car manufacturers and local dealers. Hyundai, Maruti, Fiat, Ford and Tata — major players in the car market — went running to the banks to have a tie-up with them. The sales increased by up to 50 per cent in the city and its satellite townships. Not to miss that, the companies have thus been able to clear their stocks for 2003, and pave way for their improved versions for 2004. It is, perhaps, for the first time that the last month of a year saw the sales figures rising. Generally, the sales of all four wheel beauties plummet at the year-end, as people prefer to wait for the New Year in order to buy a new model.
Though the city has always been an important market — thanks to the ever increasing spending power of the residents (the city has the highest per capita income in the country) — the past couple of years have seen a new found fad of spending more on lifestyle products. With cars being one of the most important products that reflect your opulent lifestyle, the city residents have been going in for bigger and more chic machines on wheels.
Says Mr Gurdeep Singh Bawa, a business executive, who exchanged his Maruti 800 for an Esteem LXI, "Most people wait for the New Year to change their car, but with the companies offering such lucrative discounts, why wait for a new model. Esteem, which would have otherwise cost me over Rs 5 lakh, was available for Rs 4.60 lakh".
With Hyundai leading the race by offering a whopping Rs 72,000 discount on all models of Accent in December, as part of its celebrations of having sold 5 lakh cars in the country in five years, the other car companies could not have been left behind. Maruti offered a cash discount of Rs 40,000 on its variants of Esteem, while value-addition discounts (like free insurance) was on offer on Maruti 800, Baleno, Wagon R and a 50 per cent discount on insurance cover for Omni. "Besides, we had launched a Giant Exchange Scheme, wherein we were offering additional loyalty bonus of Rs 10,000 to Rs 30,000, if our customers were selling us back any model of Maruti for a new Maruti," informs Mr Hardeep Brar, Regional Manager, Maruti Udyog Limited. Thus Maruti sold 940 cars in the city last month, as compared to a monthly average of anything between 650 and 700 cars.
Hyundai, too, managed to rope in a large number of customers by selling 180 Accents in December — as compared to a monthly average of about 50 cars. The company's other model — Santro — which had a free insurance cover and a free stereo, sold 185 cars in December as compared to the monthly average sale of 120 cars.
Not to be left behind, Ford offered the year-end scheme of free insurance, stereo, CD changer and security system making a value addition of Rs 10,000 to Rs 50,000 on various variants of Ikon. Tata, too, saw an increase in sales by 40 per cent as it sold 150 Indicas and 50 Indigos in December by offering value-addition discounts from Rs 12,000 to Rs 15,000. Opel continued with its Navratra discount of about Rs 50,000 on its fully-loaded Corsa, and also offered discounts or cash discounts to the same tune. For its Chevrolet, the company offered a free Swarovski crystal gift, valued at Rs 16,000, as an year-end gift. Honda and Fiat were the only companies not to launch such offers and their sales remained static.
But no need to lose heart. Opel is still continuing with its discount offers while Honda has also announced discount of Rs 10,000 on Honda City car as a New Year gift.