Do you have it in you?
Smart, sprightly women making a mark in the armed forces
Raman Mohan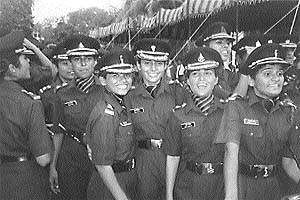 WOMEN IN UNIFORM: Women Army officers rejoice after their commissioning at the Officers' Training Academy in Chennai.
AS you approach Vadodara's busiest intersection, you cannot miss the face of a smart sprightly girl in olive greens saluting and smiling at you from a huge vinyl hoarding. You can also not miss the two stars on each of her epaulettes. She is Lt Aarti Mehta of the EME. She is seen asking the Indian Army's famous question — Do you have it in you? And most girls passing by answer the query with a big yes. Eversince the Indian armed forces began recruiting women as commissioned officers a decade ago, their numbers in the three services have been growing steadily. But not all of them who "have it" in them make it as the number of vacancies is still limited. Nevertheless, Indian women today are making their mark in this difficult and highly demanding profession.
The Indian armed forces are among the finest in the world and offer a very challenging and attractive career for women. The training in the armed forces ensures that a young woman becomes fully capable of handling difficult and complex situations arising in operational and administrative spheres. Once out of the academy, the forces offer a very healthy work culture. The hallmark of the services culture is challenging and result-oriented environment best suited for honest and upright persons to serve with honour. The individual transforms into a true nationalist and who does not judge others by their religion, caste or region. It is the only career which demands and teaches supreme sacrifice for the country. The forces also offer reasonably good and fast career growth. Career growth in armed forces depends on performance and skill. Most importantly, life in the forces is regimented and it takes priority over normal life and builds esprit de corps. Finally, no other profession offers as much courtesy and respect for women as the three forces.
The defence services need intelligent women with a high sense of responsibility, initiative, sound judgement (under stress), ability to reason and organise, communication skills, determination, courage, self-confidence, quick decision-making, willingness to set an example, compassion and loyalty to the nation. Physical and mental fitness are vital. Selection processes place great emphasis on meeting set physical and medical fitness standards.
Eligible women are recruited as officers on a Short Service Commission basis in the following branches of the armed forces: Army — EME, Signals, Engineers, Army Education Corps, Army Ordnance Corps, Army Service Corps, Intelligence and Judge Advocate-General's Branch. Navy — all branches of the Indian Navy. Air Force: Flying, Aeronautical Engineering (Electronics), Aeronautical Engineering (Mechanical), Education, Administration, Logistics, Accounts and Meteorology. The recruitment of women is through the Women Special Entry Scheme (Officers).
The posts are advertised twice a year. The minimum qualifications for recruitment to the Army's non-technical posts in Supply, Ordinance, Signals, Engineers and the EME are BA, BCom, B Sc, BCA or equivalent with 60 per cent marks. If a candidate holds a NCC C Certificate with B or higher grade, the minimum marks required are 50 per cent in aggregate. For the technical branches — Engineers, the EME and Signals, candidates must have a BE or BTech. In the specialist branches like the ASC, the AEC and Intelligence, one requires a PG degree or diploma or a graduate degree with diploma in subjects specified in press notifications. Applications are invited by the Directorate of Recruitment directly and shortlisted candidates are called for the SSB tests. If recommended, they are given training at the Officers Training Academy, Chennai, for six months and Commissioned as a Lieutenant. The induction is initially for five years extendable by another five-year term.
For the Indian Air Force, only science graduates are required for the Flying Branch. For ground duties, you have to possess a degree in any discipline with 60 per cent marks. For the technical trades, you need a BE or a BTech. Likewise, in the Indian Navy, you can gain an entry in the Accounts Branch with a first-class B Com. For all other branches, you need a BE or a B Tech. The age limits vary from 19 to 27 years depending on the branch opted for. The period of service for both these services is the same as the Army. The Air Force and the Navy have their own academies and during training all physical and mental abilities are stretched to their limits.
The armed forces offer a rare blend of adventure, good career prospects and prestige. Several special concessions are offered to officers that are not available in any other service. This includes provision of free rations, goods of daily use at concessional rates in the Canteen Stores Department, free first-class railway warrant once every year up to the home town to avail the leave, concessional railway warrants for subsequent journeys, two months' annual leave (with the facility of encashment on yearly basis), concessional furnished family accommodation, furnished bachelor accommodation in the officers' mess at every station and free medical service through various military hospitals and regimental medical inspection rooms. These special benefits are in addition to normal admissible benefits like casual leave, the Army Group Insurance Scheme and the Provident Fund.
Although the services presently retain women for 10 years, the government is considering granting them permanent commission. But even if one were to quit after 10 years, there are ample job opportunities, especially for officers of the technical branches. They are in great demand in the corporate sector because of their discipline, hardworking nature and technical exposure in the services.
So, young women, do you have it in you?