Zipping ahead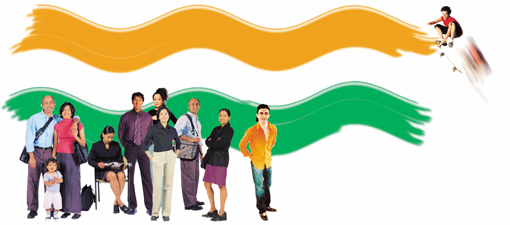 The statistics say it all, and what is not stated so obviously can be felt by experiencing the pulsating activity around us. In fact, with 54 per cent of the Indians below the age of 25 and the working population (15-59 years) at 59 per cent, the country stands at a unique juncture, which may take it to "fame and fortune." The tide is already flowing in the right direction with Indians making their mark all over the world. Domestically, the nation is doing better than it could have ever imagined in most spheres of activity. The feel-good air, it seems, is here to stay, says Belu Maheshwari.

Grappling with the turmoil within
Kuldip Dhiman
DIWAN Manna is back from Krakow, Poland, after launching his latest series of photographs 'After the Turmoil' at International Art Center at Paszkowka Palace. He is one of the first Indian artists to display his works there. Also on display were two old series of the city-based photographer: 'Violence' and 'Shores of the Unknown', also known as 'Waking the Dead'.
grooming
Dry days need not mean dull hair
Parvesh Handa
TO maintain healthy hair during the cold, harsh winter months, it is essential to follow a few guidelines. In summer, skin and hair may require less nourishment but during winter they require more attention and regular application of conditioner.