Grappling with the turmoil within
Kuldip Dhiman


DIWAN Manna is back from Krakow, Poland, after launching his latest series of photographs 'After the Turmoil' at International Art Center at Paszkowka Palace. He is one of the first Indian artists to display his works there. Also on display were two old series of the city-based photographer: 'Violence' and 'Shores of the Unknown', also known as 'Waking the Dead'. It is rather apt that the artist, who has been trying to come to terms with violence and death for more than two decades, should be invited by the city of Krakow, infamous for its concentration camps, to display his series based on the theme of optimism. Poland, in its own way, is also trying to come to terms with its traumatic past and its newfound freedom.
The eighties, as we know, was a difficult period in post-independence India. There was violence everywhere, especially in the Punjab. Diwan says his objective was to make people sensitive to violence, and also to inspire them to do something about it. But he did not go about making loud pictorial protests about the insanity of the whole situation, quite the contrary, his message was understated. "An artist should not be aggressive, he ought to convey his message subtly, by suggestion, symbols, imagery, and make people sensitive to their condition. We are not here to usher in revolutions. And this subtle suggestion is often more potent than loud protests. We are not propagandists or pamphleteers, although such art has its uses in a different way."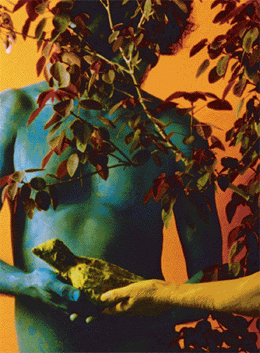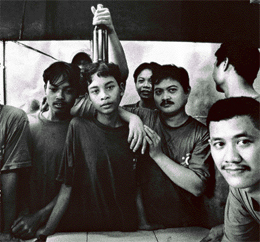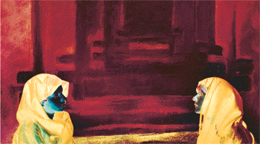 A photograph titled 'After the Turmoil' (top); Kitchen workers in Indonesia (middle); and two women in a work called 'Violence"

The violence and mayhem of the eighties was, in a way, a distortion of the human psyche. To represent this, he distorted the colours of the female figures that he used in the series by first painting the bodies in different colours and then distorting the images further by printing them in such a way that the print looked like a negative. The entire series reflected the negative mood that artist was immersed in during that turbulent phase.
A natural extension of the theme was a series called 'Waking the Dead' followed by 'Shores of the Unknown'. But here the death is not bodily death alone, it is the death of the spirit, of hope, of feelings, of being human. The artist had further plunged into the depths of despair. Somewhere along the line he realised that all was not as dark after all. "The media mostly projects negative images which leads to angst. As if there is nothing positive happening around us. In spite of 9/11, Afghanistan, Iraq, the West Asia, Kashmir and so on, there is still hope. There is reason to be optimistic about our future."
Those who have followed Diwan's creative journey might notice that while in his earlier works we saw only women, in 'After the Turmoil', for the first time, we see male figures along with the female ones. Couples feature in most works. In sharp contrast to his earlier work that was mainly sombre, the visuals depict tenderness, warmth, love. Even the photographic technique has changed. In his earlier work, his photographs were printed in the reverse, that is, they looked like negative images; this went well with the negative themes he was trying to depict. But, now, his works are printed as positives.
At another level, 'After the Turmoil' seems to represent the ideal state of existence that existed before the turmoil and is hoped for in the future. The male and female figures remind us of Adam and Eve in paradise. A recurring motif here is plants. The saplings depict hope, growth, and life. And although some pessimism of his past work still creeps into these prints, such as sombre colours, and birds, but now their import is transformed. The same reds and greens that were used to portray violence, mayhem, and misery, are now used to depict optimism, the same birds that were used as ill omens now convey better times ahead.
One new development in this series is that the artist who looked all over the world for answers to his concerns seems to be looking within himself this time. After shooting the underdogs, the downtrodden, the victims of violence, Diwan's camera now turns away from the external world and focuses on himself. These are what he calls conceptual self-portraits, and he will be developing this theme further in his future works. He has a whole body of work ready for an exhibition to be held in Indonesia. In the past, he has held some very successful shows at the prestigious Museum of Indian Art in Berlin, Gallie Bellevue, Berlin, and Gallerie Bateau Lavoir in Paris apart from many exhibitions in Britain. Museum Of Indian Art, Berlin, has 14 of his works in its collection. His work is also featured in the Museums Journal in Berlin.
Back in Poland, Diwan was pleasantly surprised by the overwhelming response that he got from Polish art lovers. He was also featured live in the programme Tea or Coffee on the National TV Channel. Some of his works were acquired by National Photo Auction. He found the Poles very friendly and open hearted. "They often initiate a conversation and are very hospitable and helpful. The Polish Embassy gave me my visa in just half a day." Marta, a polish poet and some other media persons, showed him around Krakow and also took him to the Jewish quarter. He held an informal question-answer session at a photography school. Sophie, a local art lover, showed him Warsaw during his visit to the capital city and introduced him to Polish artists, filmmakers, writers, poets, and journalists.
The reader might wonder if there was any particular reason for launching his new series so far away from home? "Most local galleries just provide you the place to display your work, that's all," laments Diwan. "Curator is an unfamiliar word in this part of the world. In the West, curators are highly trained and professional people. Before displaying the work of an artist, they study his work carefully, and then they look for an appropriate venue and take steps to promote the artist and his work. That's why the exhibitions there pull crowds, which is in sharp contrast to the empty halls that we are used to seeing here. Most local exhibitors do not do enough research about the artist, and they rarely care to understand his work. Over there exhibitions are held for at least two to twelve weeks and the galleries are open till 8 pm to accommodate office workers and business people." Having said this, he adds, "But I am quite optimistic about the future of art in India. We have to make efforts in bringing about changes in the mindset and to make viewers and organisers serious about art and art activity"
And this optimism is reflected not only in the works but in this Bareta-born artist himself. During his creative journey, at times he found himself engulfed in internal as well as external tragedy, but he never let depression get the better of him. "Life is a very pleasant and happy gift to us. It is up to us whether we take it as a struggle or live it with grace and dignity. I do not look at it as struggle. It is like a river, sometimes turbulent but mainly smooth. Similarly art, too, for me is not created by strenuous effort. And one reason I enjoy creating is that I never labour for it. I do it with felicity. It just happens. The creative process has become my second nature. It is an ennobling experience, it uplifts my spirits."