Culture marker
Weaving the history of bridal saree
Colours and patterns woven in various fabrics of the saree, signify many beliefs embedded in our culture, says Roshni Johar.
SAREE, the world's oldest surviving garment, is still de rigueur outfit for most brides. Indian marriages showcase our ancient rich heritage in the repertoire of saris draped by brides from different regions. Even colours and patterns woven in various fabrics of saree, signify many beliefs embedded in our culture.
Undeniably a bride's charm heightens more in a beautiful sari. The modern bride has access to almost a limitless rich and varied sarees ranging from Mysore silks, Banarsis, Kanjivarams, Paithanis, Pochampallis, Patolas, Tanchois, Tangails, Jamawars, Balucharis, Zardosis, Gharcholas, those embellished with rich gold and silver embroidery, mirrors, crystals and beads to designer saris. Indeed, its difficult for a bride to choose a suitable one for most important day in her life, her wedding day, when all eyes are upon her. How will she decide which one to drape for this occasion?
Although every bride has a ritual bath, significantly it is class, caste, ethnicity and regional customs that determine what kind of a sari she will adorn herself with in terms of fabric, colour and pattern. Moreover, there are many sari-draping styles that vary from region to region.
As is commonly believed, all Indian brides do not wear fiery red saris (lehenga for Rajasthani ones). Only ones from north India, Bengal as well as Brahmins of south India do so, regarding red as colour of blood and marital bliss having several emotional, sexual and fertility related qualities. Auspicious red is prominently portrayed in matrimonial symbols like sindoor, bindi and chura (traditional red and ivory bangles) of Punjabi brides. Variations of red are burgundy, magenta, pink and orange, blue and black being inauspicious.
Yellow ranks as a sacred colour in many Indian weddings since it is linked with prosperity (depicted as good harvest of wheat and mustard), healing and religion. A maternal grandmother from Bihar and eastern Uttar Pradesh gifts a piri i.e. yellow sari to the bride for lagan while a groom dons a golden yellow dhoti or a jama-chola. A pitambar i.e. a yellow odhni or shawl covers the shoulders. In the Kangra region, the maternal aunt used to stitch a yellow full-length ling-chola during once-lengthy pheras, now it is worn as an under-kameez or has been done away with.
Interestingly, in some communities during the haldi ceremony, yellow clothes are donned and yellow delicacies like zarda-flavoured dishes, kesar kheer, yellow-tinged ladoos, jalebi, halwa, rice and makki ki roti relished. After all, beti ke haath pile kiye ja rahen hain.
For the wedding puja, a Maharashtrian bride wears a yellow silk sari given by her maternal uncle. Brides of certain Telugu and Tamil castes don sarees of around eight metres in length that are dyed in turmeric during the wedding ceremony when the groom ties a tali (wedding necklace) around the bride's neck. Sometimes, a string dipped in turmeric paste substitutes for a tali. Rajasthani women wear yellow in sawan, which oddly attracts insects!
For Maharashtrian bride, green colour dominates symbolising fertility and prosperity. Invariably, she drapes a green sari with a red border, even her wrists being covered with proverbial hare kaanch ki churiyan. Traditionally, a Maharashtrian bride ties a nine yards saree, nav-vari or lugda in kaccha style. The free end of the front pleats is drawn between legs and then tucked into back of waist, thus revealing her legs' beauty. The pallu rises from behind, cutting diagonally across the body, going towards her pelvic.
Surprisingly, white, a colour that usually symbolises mourning, especially widowhood, is the bridal hue in some regions since it also symbolises virginity and chastity. A Santhali tribal bride prefers a khandi i.e. a white saree with a purple border, four metres in length. Assamese brides don their traditionally white with a zari border, mekhla chaddar. The Malyali bride from lush green coconut groves and backwaters of Kerala, wears her setmundu i.e. bridal sari in typical creamy white colour, bordered in gold, traditional one being in two parts. A white saree (but with a red border called panitra), is also draped by a Gujarati bride for jaimala, though a colourful one is worn for pheras.
It's a matter of checks, though differently patterned, when it comes to bridal sarees of Gujarat in the west and Orissa in the east! For the actual wedding ceremony, a Gujarati bride drapes the famous traditional gharchola saree. It is usually red-hued with gold woven bands of zari over a network of checks (with small golden motifs like peacock or lotus in the centre), being ritually in multiples of nine, 12 and 52! Gharcholas are tied and dyed in Kutch with final red colour dyeing being done in Jamnagar because of special quality of water there. The pallu is displayed as it flows down the shoulder from back.
Saptakar, the bridal saree of Orissa, usually in Tussar silk, bears a checkerboard pattern in white, red and black colours. Interestingly, saptakar is also name of a board game, which the couple plays after wedding, when they are alone together for first time. It's a game of dice where a small shell serves as a dice. As per rules, the groom snatches the shell from his wife's grasp, which customarily she lets go. However, in a wedding in the Oriya village of Nimashahi, the bride refused to leave it and was beaten till she fell unconscious. Ultimately, both were remarried to different persons, as they were not made for each other!
Kin-khwab (where silk is barely visible underneath the zari) silk brocades of Banaras, the triumph of weaver's art, are a favourite with brides. Floral motifs in sarees generically called phoola (flowers) serve as fertility symbols. Motifs are of mango, lotus, rose, lily, jasmine, chrysanthemum, etc. repeated at regular intervals with borders and pallu of inter-twining creepers and flowers. But the ketaki flower is not woven, as it is said to be cursed by Lord Shiva.
Interestingly, Kanjeevaram sarees' body, border and pallu are separately woven and then interlocked into a saree. They are dominated by patterns like temple motifs, elephants, birds like parrots, peacocks and flowers symbolising water, fertility and fecundity. Modern designs bear stripes and checks.
The Manipuri bride drapes a sarong-like phanek with a gossamer veil. Sociologists regard mekhla and phanek as variations of the saree. Coorgis from Central and South India wear a saree to look like a western full-length gown. It's tied over the chest and the knotted end is below armpits, while the pallu is usually pinned over the right shoulder.
Tribal affiliation also determines what a bride wears. Ethnicity surrounds a Sambalpuri bridal saree. The pallu portrays a pair of clasped hand being symbolic of union of a man and woman. The ikat sari has a clay pot filled with rice or water, covered with mango leaves and topped with a coconut, symbolising fertility and prosperous union.
Never losing its appeal for brides of all ages and means, saree is always unchanging and yet ever new and graceful in its various styles, serving to highlight her curves and hiding her bulges, giving a feminine look even to a tomboyish bride. With changing attitudes, fashion, designing and emergence of various sub-cultures in metropolis, sari codes have changed. However, brides opine that the wedding day is the right occasion to wear a traditional saree. When else will she wear it?

Loneliness of tele-marriages
Jannatul Mawa Shirin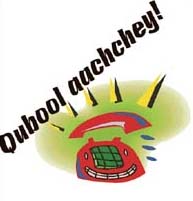 BABLI Rehman got married six years ago to a Bangladeshi man living in Canada. It was a wedding conducted on the telephone, witnessed by friends and relatives. But over the past six years, Rehman and her husband have not met even once. In the first two years of this tele-marriage, the two were in constant touch over the phone and through letters. Over time, the number of phone calls decreased and the letters became irregular. Communication between the couple gradually tapered off completely. Today, Rehman doesn't even know where her husband is. Her in-laws in Bangladesh are also not keen to help her.
Rehman's family and friends advise her to divorce her husband. But she has refused to part ways with the absentee husband and hopes he will get in touch with her soon. "He is my husband and I'll wait for him," insists Rehman, now in her mid-20s. Tele-marriages are increasing in Bangladesh. Thousands of young Bangladeshi men now go abroad—mostly to Malaysia, the US, Gulf countries and Japan—for work and education. Many travel without proper documents and cannot return home for a long time. But pressure from their families forces them to marry a girl in Bangladesh, via the telephone.
A tele-marriage in Bangladesh is an experience by itself and organised much like a traditional wedding. Guests arrive at the bride's place and gather around a telephone set and wait for the overseas call to materialise. The telephone set is usually connected to an amplifier so that the crowd can hear the couple's conversation. The groom says, "Kabool (yes)" into the telephone and the bride replies in the affirmative. Prayers are offered seeking divine blessings for the newly-weds. A wedding feast follows this. At the end of the day, the bride goes to the in-laws' house minus the groom. She stays there for years, waiting for the husband.
For some Bangladeshi families, this kind of a marriage is just another way of binding two people, who live apart, with a commitment. It is also a way for parents to keep their unmarried sons connected to their country and home. They expect that the young son will be more responsible towards them once he is married.
But there are huge risks involved in such marriages. There have been cases in which grooms have gone 'missing', months after the wedding in Bangladesh. Ayesha Khanam, General Secretary of the Bangladesh Mohila Parishad, observes: "It can be risky if the marriage takes places between two strangers." Some young women initially find the marriage very exciting. Nasima Hasan has just been married to a young man via the telephone. She talks to her husband every night. "It's real fun. I long for him and he, too, misses me.
There is romance between us," she says. She is very confident that her husband will come to fetch her one day. Rubayet Ferdous, a Dhaka University teacher, sees this growing phenomenon as just another way of using information technology for convenience. "However, there has to be a good understanding between the men and women agreeing to marry over the telephone."
But for many young women, the marriage causes a lot of heartburn. Consider the case of Sumona Ferdoush, who has been married to a cousin working in Japan. Ferdoush was opposed to this marriage from the very beginning but her family pushed her into it. "I live with my in-laws and do everything a bride is supposed to do—cooking, washing and playing hostess to guests.
My in-laws don't allow me to move around freely because I'm the family's daughter-in-law."
Telephone marriages are considered legal in Bangladesh. But, says Kazi Pirzada Kazi Syed Shariatullah, a marriage registrar: "A telephone marriage is legally correct, but morally wrong."
(The names of the married women have been changed to protect their identity.) WFS
Satyamev jayate?
Meera Malik
ON joining IIT-Delhi one of the first things my son was told, "In IIT-Delhi, you're an Aravalli chap (Aravalli being the name of his hostel). In a gathering of IITians you represent IIT-Delhi, and when you go out in the world you are an IITian first and last!"
The words came back to me as the IITians, the world over rose as one man to articulate their protest against the heinous murder of a fellow IITian Satyendra Dubey. They ranged from fresh entrants right up to Naryan Murthy of Infosys. For the moment, they might have been able to awaken the conscience of the nation.
Like the common breed of mothers, my identification and empathy with my son's institution is 100 per cent. After reading about the Dubey murder, for two nights straight, I just could not sleep. The idea of a young man in his prime lying helplessly in a dark alley made me sick. In the early hours of the morning when I slipped into an uneasy slumber, it was with a very selfish thought, "Thank God my son did not choose to join the government." I am not proud to put this down on paper, but mothers, when it comes to protecting their progeny, are a pragmatic (selfish), and ferocious lot.
The issue bothers me at another level, both as a mother and as a teacher. What are the ethical and moral values that we should be teaching? Honestly, courage, patriotism should be the pat answers. But are they? Often, one hears people jeering at these as being old-fashioned. I think they may not simply be out-dated but down-right dangerous. Discussing this with my colleagues at the university, I got different outputs. The idealistic view being that nothing worthwhile is ever easy and one must have the courage of one's convictions etc. My friends (they are again both mothers as well as teachers) felt that children 'know' when to stop, or when the situation becomes life-threatening. It is confusing. How much honesty is too much? How much courage is too much? How much patriotism is too much? Either you blow the whistle or you don't blow it. How can you 'perhaps' blow the whistle?
Another lot told me openly: "Come on, who teaches values to children these days? Do they listen to you any way? Let them have fun, they'll learn as they go along." The idea of floating rudderless little boats on the seas of life, seemed to me both irresponsible and cruel. Can you imagine what kind of a society we will head for?
The third group, the younger ones among my colleagues, were clear and forthright: "The children have to be made street-smart." In fact, a management student related to me how the Panchtantra tales are being re-written for our times! What are we going to do next, re-write the epics?
"If this is what happens to an honest officer, what will be the future of Bihar?" The words used by Patna High Court in the Dubey case are the exact words used by the then Chief Justice B.N. Kirpal when on February 15, 2002, Sanjay Kumar Singh of the Indian Forest Service (another IITian) was killed for checking illegal mining in the Rohtas Forest Division, Sasaram, Bihar. How many Sanjays and Satyendras have to be killed before the system sits up to check it?
The crescendo, built up by the media and the people, should not be allowed to peter out. This is simply not one more murder but a defining moment. All this sound and fury must be articulated into checks within the system.
The guilty must be punished within a reasonable time-frame. It's only then that mothers and teachers can quote the examples of Sanjay and Satyendra with courage. They can tell the children and the students that one courageous man is a majority in the real sense because the society and the might of the government is behind him. If this fails to happen, the consequences are truly frightening, if the bell tolls just for thee, then the message would be, 'each man for himself and... As we await the winds of change, I pray that we succeed in our second freedom struggle and sing with Rabindranath Tagore, Where the mind is without fear and the head is held high ...... Into that heaven of freedom My father, let my country awake.

Mother Courage
Nirupama Dutt
ONE of the most haunting images from theatre is that of old mother pulling the cart in the famous play of Bertolt Brecht, Mother Courage. The play was the tragic saga of a single woman fending in a battle-torn world for her three children and losing them all. Yet with great courage she still pulls the cart even though old and tired in the hope that she may be able to find at least one of her brood.
Many of us have come across the replicas of Mother Courage in our own neighbourhoods and we may even have given lip sympathy at their sad and tough lives but in India no real effort was ever made to probe and study their lot.
A pioneering effort in this direction comes from Deepti Priya Mehrotra, an activist and social scientist based in Delhi. What was it that made Deepti turn to do research in this area? Deepti says, "The category of single mothers has not so far been explored in India. Studies exist under the categories of "divorce", "widowhood" and "single women". But no real coherent picture emerges from these studies. Being a single mother myself for the past few years, I have had ample opportunity to gather and think about my experiences. As a social scientist committed to interdisciplinary research, I recognised the gap in the field and felt that there was scope for serious study in this area."
Deepti became active in street theatre and human rights movements, while an undergraduate student of economics in Delhi's St. Stephen's College. Contemporary women's organisations in north India were the subject of her study. A fellow of the Indian Council for Philosophical Research, her post-doctoral thesis is on Gender, Power and Knowledge. After a separation from her husband, Deepti started building her life again with her daughter Sunandita. Thus, she was coping with both the worlds and this drew her into sharing the lives of other women who were doing so. First it was informal chats with single women whom she met in buses, workplaces, schools and homes. Slowly the project taking shape and Deepti submitted it to the McArthur Foundation, which has an area of fellowships in research in women's studies. The project was accepted and Deepti was given a fellowship for two years and so she got the opportunity to study this area in depth.
While scanning literature on the theme, Deepti came across several cases of single mothers in our mythology. A very interesting example of this was a woman called Jabala who reared her son Satyakam on her own. When Satyakam crossed the threshold of childhood, she sent him to a gurkul. The Guru asked for his father's name and Jabala said that she did not know the name for she had worked for many people and did not know who the father was. The brave mother told him to tell the guru that he was the son of Jabala and his name was Jabala Satyakam. The boy did so and the guru accepted him. Deepti says, "Clearly, Jabala lived in an age when marriage was the dominant norm as it is today. It is heartening to note that she could summon the courage to give her own identity to her son and have the authorities accept it."
There are other instances also of single mothers in Indian myth. Sita was a single mother after she was abandoned by Ram and brought up Luv and Kush to be fine and accomplished princes. Yashodhara, the wife of Gautam Budha too lived the life of a single woman and brought up Rahul on her own when her husband left her in search for greater knowledge and enlightenment.
In present times we know of many well-known single mothers like Sushmita Sen, Neena Gupta, Maneka Gandhi and Ajeet Cour who have reared children on their own and made a name and place for themselves in society. But where Deepti triumphs is that she researches the world also of the unknown ordinary woman who is as important from the point of view of social history. The methodology that Deepti followed for her research was eliciting narrative accounts of experiences from a large number of single works. Deepti says "The women were identified through formal and informal networks, including women's groups, NGOs, friends, counsellors and legal aid centres. They were selected carefully to ensure a cross-section in terms of class, age and specific situation, that is separated, divorced, widowed and never married.
In the first phase, she focussed on single women in Delhi and later went onto expand it to Karnataka, Maharashtra, Bengal and Uttar Pradesh. Deepti writes in both Hindi and English and she has brought out two books on the theme called Home Truths (English) and Ekal Ma (Hindi). Both books have been very well received. But what pleases Deepti the most is the response it has brought from many single mothers other than those whom she included in her research. Deepti has also broken many negative stereotypes on single motherhood and she says: "The human spirit shows through the narratives of these women. It may be frayed at the edges but it is robust and alive."