Goodbye, Steve. Well played!
Ashish Shukla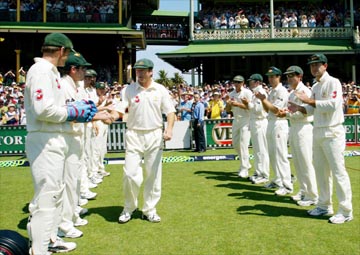 SO many words get written about Steve Waugh but his mother doesn't need to go the distance. In only a few, Bev Waugh is able to say it for all of us.
"When I look back on his career, I just think he's been in that rare position where he's been able to change thousands of people's lives for the better."
"I don't relate to cricket—that's just a talent. It's been a way of life for him, going into the culture of the people.
He's been interested in everything around him and he's used that to his great advantage. "That's what I see, the good, the positive and how he has been able to use that and do things the ordinary public would probably want to do but can't. But he has been able to make people happy." Cricket, that's just a talent. There is belief among more than a few within the cricketing fraternity that the hoopla surrounding the Steve Waugh Retirement Tour has been overcooked.
Nothing, like this—red rag compaign, farewells in every city—ever happened to anyone else.
But to think that is to think that is still a sports story, and to forget that Waugh is beloved not as much for his cricket but for his qualities as a leader, a man a generous man.
In an era of sports agents and PR consultants, when role models bow to vanity and get 12 months on the sideline for "fluid" tablets, it seems that few men are ever really themselves any more.
Waugh's true rise began a few years back when somebody had to go and pick a fight with him and when being a good Bankstown boy, he did the correct thing and took off his jacket.
Cricket Australia was trying to bully Waugh into retirement, firstly by ambushing him hours before the Allan Border Medal Presentation where they sacked him as Australia's one-day captain, and then by giving quiet notice on his Test career as he was heading into last January Sydney Test. Both times, rather than quiety copping the tip and shuffling off with false dignity, Waugh confirmed the chicancery and vowed to play on. Play on!
For most Australians it was his final anointment on the way to sainthood: He was in a fight with the establishment. He was flawed, harassed`85and gloriously resilient.
In that one act of protest, Waugh moved from Australian sport into Australian culture. Making it better, none of this wears with Waugh, of course. He simply believes he is playing cricket.
The one great lesson he got from his mother, which she in turn got from her father, was that actions will eventually win over words.
"You don't worry about what other people say or do. It's what you do yourself," she says "I can see a lot of my father in Steve."
So when selectors put the barrel to his head and then without so much as a blush told him the future was up for him, Waugh simply bit down on his gum and uncomplaining, walked to the crease.
His hundred against England last year, brought up with a last-ball four, not only saved his career, almost a minor consideration among the hysteria, but created a moment in folklore that shouldn't be topped for dramatics.
Greg Chappell calls it "the moment that stopped a nation."
"I was in the lounge at Sydney airport," he says, "As a statement and probably as a career-saving innings, it was one of the more outstanding ones."
This was not the only moment of crisis for Steve. He recalls: "It was at the SCG only, against the West Indies, in 1992-93. Brian Lara, in my view, played with a surety and brilliance against Australia which is the best innings from an overseas batsman I have seen at the SCG. It was Lara's maiden Test century, and only ended when he was run out; otherwise he might still be batting today."
"In the same Test, I scored what was probably the most important hundred of my Test career. Batting at number three, I made an even hundred after word had reached me that if I didn't get runs, then I was going to be dropped. I couldn't complain about the pressure, I needed the runs."
"Had I been omitted, I might not have made the 1993 Ashes tour, which is when I finally cemented my place in the Test eleven, like other Australian batsmen of the time, such as Matthew Hayden, Justin Langer and Damien Martyn, it might have taken me years to force my way back in, but for that hundred."
On the day of the start of the Sydney Test, the first day of the last of Steve Waugh's 168 Tests, his mother caught a train from her home in Thirroul, in the Illawarra she found the train unusually crowded. Many passengers were travelling to see her son, the Australian captain, play the game he has graced. Mrs Waugh stood all the way.
She was untroubled by the inconvenience. Rather, she was proud that her son had dded a dimension to the lives of many Australians and, for that matter Indians, Englishmen and others around the world.
Was the mother of the cricketer, sometimes known as the Ice Man, nervous?
"Of course, like watching him on any day. Ask any mother."
His father, Rodger, spoke the same truth in a private box at the SCG used for this match by the Waugh family and friends—Stephen's wife, Lynette, was there, although their three children spent most of the day in the SCG's cr`E8che.
With the Indian openers taking roots on the opening day, Mr Waugh said "I felt better an hour ago. India are looking good."
But what about his son? After all, he had been watching Steve and his twin, Mark, in Test matches for 18 years? "Well, it will be a big bit out of my life. The next Test, when neither will be playing, will be a defining time for me."
Steve's wife Lynette mentions she would no longer have to go to weddings alone.
"It means I wouldn't have to run out to the car to catch the cricket score on the radio,"' she said with a laugh.
"I've done that a few times."
After the last day of the final Test against India next week, Waugh is back in the family fold. Well, almost.
"It's one day at home then off the Newcastle for a Sheffield Shield game, so it really doesn't stop for us," Lyn said.
"I'll be happy not to have to wash whites again. After 18 years, that will be good. No more getting grass stains out of white trousers," Lynette said.
"However, they come out of the washing machine is how he wears them. I'm not one to soak and scrub. Not when you're washing for five."
Lyn's Christmas present to Steve this year reflected her love and regard for the 20 years they have been together and the nine years they have been married.
"We were celebrating 20 years together, so a friend and I compiled 20 years of photos of us and the children from her birth to the current ages," she said.
"When your partner is away, you take on roles you never thought you would." (Cricket News)