TELEVISION
A tribute to Ramayana's much-ignored other wife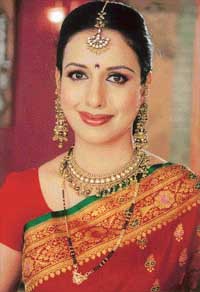 Urmila: In a new avatar.
SITA'S younger sister and Laxman's wife Urmila is perhaps the most ignored woman in Ramayana. While we pray to Rama and are pained by the trials of Sita and Laxman, no one has ever given a thought of Urmila who lived without her husband for 14 years.
Set in modern times, Urmila on DD-1 Monday to Wednesday at 2 p.m. has been inspired by Laxman's wife. The story revolves around a perfect homemaker—a wife, daughter-in-law and mother. It is about her duties, relationships and marital injustice she is confronted with when her husband returns from America with a second wife.
Urmila showcases a woman's struggle to take control over her life, live with dignity and make an identity of her own. Deeply hurt she leaves home. Living on her own she not only gives new meaning to life but also carves out her own identity.
By adding a new angle to a clich`E9d theme, producer Tarun Rathi could have made the serial fast-paced and visually appealing. But then when you are making serials for Doordarshan quality is usually the first victim.
Future sense
Ekta Kapoor seems to have taken to heart the Hollywood blockbuster Back To The Future. What else can explain the way she puts her serials in the fast forward mode whenever their TRPs start dropping?
Early in 2002 the Virani family leap-frogged twenty years and added a fizz to the then sagging fortunes of Kyunki Saas Bhi Kabhi Bahu Thi. Then it was makeover time for Kahani Ghar Ghar Ki which too traveled ahead in time.
Now Balaji Telefilms completes the triology with Kkusum being pushed ahead by 20 years. Much like Gomti in Kyunki`85and Shruti in Kahani.. a new character enters the serial who claims to be the secret daughter of Abhay and Kkusum.
Will the new twist restore back the waning popularity of Kkusum? Ekta has no doubt that it will. After all, she's been lucky twice. And she feels no one can stop her from being a third time lucky.
To the rescue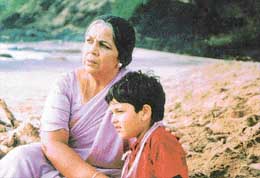 Aawaz..Dil Se Dil Tak: Will it work for Zee?
He is the lone gladiator for a channel that's been witnessing all-round viewer ennui. If Gajendra Singh has his way Zee TV will be back to its numero uno position. And why not? His Antakshri has completed over a decade and has spawned many clones.
With his new serial Aawaz..Dil Se Dil Tak he is proving all is not lost for the channel. In this Indianized 'version' of the Hollywood hit Cast Away, a Mumbai-London flight gets hijacked and a tussle ensues between the passengers and the hijackers resulting in a crash.
The serial revolves around the tale of 18 survivors marooned on a deserted island with no rescue in sight. What follows is a grim drama of life and death in hostile conditions. As they start adapting to their new environs destiny intervenes and they are rescued. But they soon realize they are unable to go back to their normal lives and are misfits in society.
From a thriller the serial has now turned into a family drama. But in its new avatar will it be able to hold its appeal? " It's a challenging and complicated story and I m sure people will like it". So far they have. For the future Singh has got his fingers tightly crossed.
Playing the numbers game
Blame him for the bizarre spellings of TV serials like Kkusum, Kasautii Zindagi Kay, Kahiin To Hoga. Blame him for the all-prevalent 'K' factor on the small screen. Yet, if you are a TV producer you'll ignore him only at your own peril.
Welcome to the world of B.M. Jumaani, the man who takes the credit for titles of many TV serials. He says Ekta Kapoor never begins a serial without consulting him. The heady success of Kaho Naa Pyaar Hai was because he added an extra 'a' to Naa and Pyaar.
" Numerology is a science and the total letters in the title of a serial should be in harmony with the producer's date of birth. If not, the imbalance can be set right by adding another letter," says Jumaani who is said to charge Rs. 51,000 for a title.
Jumaani's son who joined him recently says that they are suggesting that Abhishek drop his legendary Bachchan surname if he wants to break his cycle of flops by geeting into the right number groove. But the Chhota 'B' isn't listening. Sorry, wrong number!
One from the heart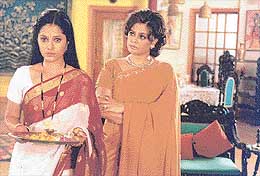 Kucchh Pal Saath Tumhara: Twist in the tale.
When it comes to women-oriented serials Asha Parekh stands a class apart. Her ongoing Kucchh Pal Saath Tumhara on Sahara every Friday at 10.30 p.m. is another feather in the cap of the charismatic lady.
Initially dubbed as the small screen's Mohabbatien, the serial is now turning out to be different. There's a twist in the tale which has made the initial similarities coincidental.
Sameer whom everyone assumed had died in the war returns as a handicapped person. There is a sudden turmoil in Nandini's life and she is split wide open between Amit who has created a place for himself in her heart and her duty towards the disabled Sameer.
Whom will she go with and whom will she drop? " It's a serial close to my heart. I always said that it had shades of Mohabbatien but it wasn't Mohabbatien. I told them wait and watch." And the engrossing serial is proof of that.
Sophia's choice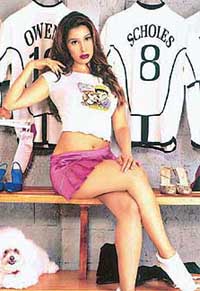 Sophia: MTV VJ turns singer.
She shares her birthday with Jagjit Singh, yearns for Madhuri Dixit's talent and Big B's lasting success. And yes, she doesn't want to be mistaken for former VJ Sophia Haque.
The long-legged MTV VJ Sophia Chowdhury is a woman of substance creating ripples in music and TV circles. Two years ago she won the best female newcomer award for her album Le Le Dil Mera at the UK Asian Pop Awards.
Now Sophia makes a comeback with Sophie and Dr. Love. A remix of eight songs featuring aongs like Mera Babu Chel Chabila and Duma Dum Mast Kalanndar.
But that's not all. This London School of Economics graduate is rocking MTV and has taken over the signature show of Malaika. Thrilled at the positive response Sophie & Dr. Love she is already planning another album in 2004.
And she has plenty of Bollywood singing offers lined up which she says she's examining as she doesn't want to do anything ordinary. And why not? After all, this gold medallist from the London Academy Of Music and Dramatics is no ordinary singer.
— Newsmen Features