M A I N N E W S
NRIs rap govt on dual citizenship
Tribune News Service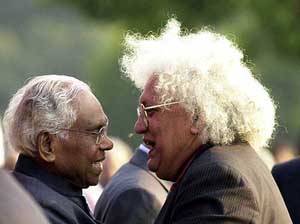 Former President K.R. Narayanan with Lord Meghnad Desai of the UK at the tea party hosted by the President, Dr A.P.J. Abdul Kalam, at Rashtrapati Bhavan in New Delhi on Sunday. — PTI photo
New Delhi, January 11
Dual citizenship, which the Centre introduced with much fanfare, came under sharp criticism from overseas Indians at the second Pravasi Bharatiya Divas conference, forcing the government to state that it would debate on the issue of political rights.
Although the conference, which concluded today, saw the absence of some famous members of the Indian diaspora like Nobel laureate Amartya Sen, V.S. Naipaul and Shashi Tharoor, it did not deter those present to voice their grievances against the government's Dual Citizenship Act.
Mr Sen was in the Capital and and Shashi Tharoor, who had been chosen for an award, did not turn up even though they had been invited.
Although nearly 1,500 NRIs/PIOs from 55 countries attended this year's conference, observers said the kind of intellectual debate that the first conference held last year saw was missing this time.
NDA ministers took an opportunity to showcase the government's achievement and did not provide any window for leaders of the Opposition to present their viewpoint. Congress President Sonia Gandhi, who had attended the 2003 meet, was not even invited this time.
Dr Narinder Singh Kapany, one of the 12 persons honoured this year by the government, told The Tribune that "dual citizenship without political rights has no meaning. Although, it has been granted now, the government would have to accede to the demand at a later stage."
Devi Rathi, a lawyer from Canada, said: "Are you scared of Non-Resident Indians? Do you think we will fight elections and take power? Without political rights, dual citizenship means little."
Dr Kuldip Singh Dang, a doctor from Kenya, said the Indian Government had been unfair in excluding African countries from the benefits of dual citizenship. "Indian diaspora in Africa is more nationalistic than any place else in the world," he added.
Senior Advocate in the Supreme Court B. Sen said: "What the government had granted is only dual nationality and not citizenship. It has been given to only those Indians who live in 16 countries where dual citizenship is recognised."
He, however, stated that grant of dual citizenship would not result in diplomatic protection, as it would be the responsibility of the effective nationality state.
The External Affairs Minister, Mr Yashwant Sinha, said India was a democratic country and whether we could give political rights to those who opted for dual citizenship would have to be debated.
However, he trumpeted the government's achievement by stating that in just six years the country had come from PIO card to dual citizenship.