Maya keeps Sonia guessing
Rules out joining BJP alliance
Tribune News Service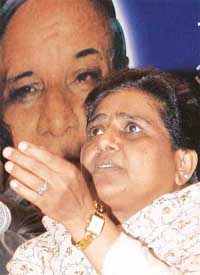 BSP President Mayawati during the party executive and office-bearers' meeting in New Delhi on Friday. — Tribune Photo by Mukesh Aggarwal
New Delhi, January 16
While ruling out any alliance with the BJP for the Lok Sabha polls, the Bahujan Samaj Party today said it would take a decision on joining the secular alliance before the announcement of the general election.
"I will make a decision about joining the secular front. The decision will not be taken in haste and all pros and cons of any such move will be studied," the BSP leader Ms Mayawati told reporters here.
She rejected the possibility of forging any pre-poll alliance with the BJP. "BJP se pre-poll alliance ka to sawal hi nahi uthta hai (Question just does not arise to have a pre-poll pact with the BJP)."
And on post-poll moves, she added, would be carried out only after the elections.
The BSP leader ruled out plans to meet Congress President Sonia Gandhi before any decision on BSP's alliance was firmed up.
Ms Mayawati denied that she had put a condition that the Congress should first withdraw its support to Samajwadi Party-led UP government if it wanted the support of the BSP in the polls.
The BSP President did not name parties that would make up the "secular front", which she said would certainly be a non-BJP grouping.
She said the BSP was the only party with a transferable vote bank and the party would have to give a serious thought to how the alliance could benefit her party in the best possible way.
Ms Mayawati replied in the negative when asked if she had received feelers from other parties, including the BJP and the Congress, to go for an alliance.
"Congress President Sonia Gandhi, BJP leader Mukhtar Abbas Naqvi and CPM leader Harkishan Singh Surjeet came to me to greet me on my birthday yesterday but it would be wrong to link their visits with politics," she said.
Describing the ruling Mulayam Singh Yadav-led coalition in Uttar Pradesh as the proxy government of the Bharatiya Janata Party, Ms Mayawati said the Samajwadi Party was most likely to join the NDA after the Lok Sabha elections.
"As far as my information goes, Mr Mulayam Singh Yadav may not contest the Lok Sabha election in alliance but will join the NDA after the polls," she said.