Commemorating a legend
Amardeep Bhattal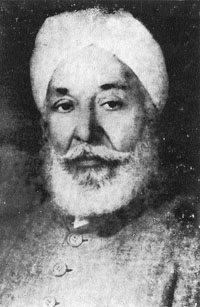 Principal Harbhajan Singh (1891-1962)
"Let there be no inscription upon my tomb. Let no man write my epitaph. Let my character and motives repose in obscurity and peace, till other times and other men can do them justice". Robert Emmet's words dating back to 1803 perhaps reflect the innate qualities of visionaries, usually legends in their lifetimes who have inspired generations.
And for thousands of Punjabis, particularly from Mahilpur, settled in India and abroad, the late Principal Harbhajan Singh remains a beacon of inspiration through his ideals. His contribution in making Mahilpur a football centre as well as a seat of higher learning remains unparalleled and unmatched.
Born at Mahilpur on January 9,1891, to Tehsildar Natha Singh Bains and Mrs Kishan Kaur, Principal Harbhajan Singh died issueless in1962. But in a career spanning four decades, he achieved what many could only dream of, without craving for materialistic gains. His missionary zeal and dedication to the cause of education and sports can be gauged from the fact that he did not draw a single rupee as salary while discharging his duties as honorary Principal of Sri Guru Gobind Singh Khalsa College, Mahilpur, for 15 years until shortly before his death in 1962. Moreover, he donated his life's earnings and property to the college after steering the institution to a position of eminence .Thus from a remote and obscure village in Hoshiarpur district, Mahilpur acquired the status of not only a prominent educational centre but also as a nursery of football. No wonder, eminent Army officers, bureaucrats and footballers of Punjab, both past and present, have been indebted to Principal Harbhajan Singh for their illustrious careers. They include independent India's first Defence Minister, Mr Baldev Singh, the late Lieut-Gen PS Gyani, Lieut-Gen KS Gill, Lieut-Gen NS Bal, Maj-Gen Gian Singh, Col Surinder Singh Bains, former Olympian Jarnail Singh, Justice Ajit Singh Bains, former PSEB Engineer-in-Chief Harbans Singh Bains, who is also president of the Principal Harbhajan Singh Sporting Club, and many more.
Having lost his father in childhood, Harbhajan Singh grew up under the watchful eyes of his uncle, Mr Dalip Singh, and tutor, Munshi Fateh Singh who imbibed in him the qualities of the head and heart. Quick in learning, the young Harbhajan was awarded scholarships for the fifth and eighth standard examinations which he passed from the District Board Vernacular Middle School. Later he did his matriculation from DAV High School, Hoshiarpur, in 1911 and FA from Khalsa College, Amritsar. For graduation, he shifted to DAV College, Lahore, from where he passed his BA examination in 1915. Later, having done BT from Government Central Training College, Lahore, he joined as Headmaster at Khalsa High School, Ambala. Later he served as Headmaster at Malwa High School, Ludhiana for two years, and Khalsa High School, Kharar, for a year before taking over as Headmaster at Khalsa High School, Mahilpur. Within a short span, the Mahilpur school earned statewide recognition in education and sports. Students from far and near sought admission and the institution earned a name in disciplines like football, tug-of-war, and hockey with Principal Harbhajan Singh personally supervising practice sessions.
In the early forties the idea to set up a degree college caught the fancy of Principal Harbhajan Singh and the dream took concrete shape in 1946 when he paid a guarantee money of Rs 85,000 to Panjab University from his own savings and was later made founder Principal, the post which he held until shortly before his death.
When Principal Harbhajan Singh breathed his last on August 16,1962, a meeting of grief-stricken admirers having decided to perpetuate his memory resolved to constitute a panel to carry forward his mission. Accordingly, a committee was constituted which decided to start the Principal Harbhajan Singh Memorial Football Tournament on an annual basis. The first edition of the tournament was organised in October-November, 1962, and the practice continued till 1965.
In 1966, the Harbhajan Sporting Club came into existence which assumed responsibility for conducting the tournament. Dr Narinder Pal was the founder president of the club. Ever since there has been interruption and increased interest of NRIs has given the tournament further boost. The 42nd edition of the tournament currently under way at Mahilpur offers over Rs 1 lakh in prize money. Among the sponsors are the Principal Harbhajan Singh Educational and Sports Society, Vancouver, and the Principal Harbhajan Singh Memorial Trust also based in Canada. The present organising committee, includes Arjuna awardee Gurdev Singh, Col Surinder Singh Bains, Mr Raghbir Singh Gill, Mr Gurmail Singh Gill, and Mr Satwant Singh. Football coach Ali Hassan is its general-secretary. Interestingly, the veteran Dr Chanan Singh Bains, who was appointed treasurer in 1962, continues in the same capacity and is among the scorers of soccer admirers who keenly look forward to the event every year while offering guidance and inspiration — a commemoration indeed of a legend who led by example.
The 42nd Principal Harbhajan Singh Memorial Football Tournament is currently being played at Mahilpur.