Social monitor
Real and reel super-mothers with style and substance!
Today, Hema Malini, Rekha and Shabana Azmi are playing new-age slim-and-fit screen mothers wearing designer sarees! Reel mothers have changed irrevocably in the last few decades to keep pace with real mothers in India, says Vimla Patil.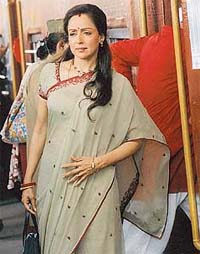 Hema Malini in Baghban. The reel mother gets real
"BREAK the rules to build new brand identities," declared superstar Amitabh Bachchan on the opening day of the recent media-blitz called Ad Asia 2003, held in Jaipur. The conference, attended by 1400 delegates from more than 20 countries constantly discussed the issue of effectively reaching out to Ms India — the quintessential consumer. But while the advertising and marketing gurus harangued on this subject at the conference, the Indian woman made a rare presentation of her fast-emerging, powerful brand through popular Bollywood films. As Baghban, starring 55-year-old Hema Malini, was declared a hit all over the world, the new persona of an Indian mother was launched for the 21st century. During the year, evergreen Rekha made a pitch for the 21st century mother by etching out the strong character of working mother who supports and stands up for the mentally challenged son played by Hrithik Roshan in Koi Mil Gaya, another super-hit. Further, Shabana Azmi, also in her fifties, is now poised to reaffirm this new persona of the Indian woman in the forthcoming film Tehzeeb, as is the 55-plus Jaya Bachchan in Kal Ho Na Ho.
With women like Hema, Jaya, Rekha and Shabana playing mothers of substance, the crying, whimpering image of the Indian mother has been finally buried in the dust of bygone ages. "The age of grey-haired, sacrificing mother who is willing to be a doormat in her son's home or suffer mutely when ill-treated by family or society is over," says Ravi Chopra, director of Baghban, "Today, Indian mothers are educated, well-groomed and active. They hold powerful jobs in many businesses. They head companies, run business organisations and are knowledgeable, powerful wives and mothers. They are well turned out, attractive and efficient. They cannot be taken for a ride by their families or society any more.It is fitting therefore, that Indian films should reflect this epoch-making change in women." Karan Johar, whose films have always shown power-packed women, endorses this opinion, "Today's films reflect the mindset of our society. No Indian will now accept a crying, moaning woman who is pushed around by her family. She lives with dignity and her confidence shows in the way she looks."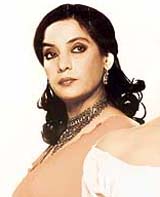 Shabana's portrayal in Tehzeeb was realistic
What is shown in fantasy films, believe it or not, is turning out to be the fantastic reality in women's lives today. Take the case of Gurpreet Kaur, a savvy woman who is an income tax commissioner climbing the ladder of promotions. "I was in a meeting with the Board for Direct Taxes," she recalls, "When I got a call to say that my daughter-in-law had been taken to the hospital for her delivery. I excused myself from the meeting and arrived in the hospital just in time for the baby's arrival. I saw that the mother and baby were safe and returned to the meeting within a few hours." Anupa Lal, a younger mother, planned her own delivery in such a way, that she could take exactly the required leave and report back to work within weeks of her baby's arrival. "There are CDs, internet sites, books and classes which give all information about pregnancy and childbirth," she says, "I was totally confident and even conducted my office work on the cell-phone from my hospital bed. The mystique of a pregnancy is lovely. But today's women are practical and make their own decisions about surgical procedures, doctors, hospitalisation and other matters."
This is not unusual. Women in high-profile jobs are pushing their careers with rare vigour. They also handle their family responsibilities with elan and style. They are aware of their health, time, resources and energy and use all these to enrich and enhance their lifestyle and achievements. "Women have discovered the concept of stretchable energy," says Gayatri Singh, a Computer Engineer, "Earlier, they only worked at home and grumbled all the time about their exhaustion and boredom. Their work was repetitive and trust upon them by tradition and social obligations. Today, the picture is different. Women have options and they can choose their work to suit their personalities and skills. They can have only one or two children and bring them up in the manner they choose. They can use their knowledge and skills to pack in more activities than women of former generations. For example, young career women today plan lives to such fine degree, that they marry only when they want to and choose partners whom they can trust with their future. They are not scared to seek counselling when a marital or family relationship begins to irk them. They are willing to negotiate for time and money and generally, are extremely aware of 'people-oriented' skills which take them that much further in their careers and family life."
Devika Khanna, who is an award-winning creative director in an advertising and public relations company, feels that modern parents give their daughters equal opportunities of receiving higher or specialised education. "Why should I deny myself the fantastic world of opportunities which my parents have opened up for me? Life is a rich experience when one does what one loves. I love creating ad campaigns that hit the bull's eye! I have recognition, a clean and creative platform and every chance of getting the top position. My family is proud of my achievements. My husband and children know that my work and the money it brings are important to me and they never come in my way unless there is an emergency. I know my priorities and can handle them most of the time.I can never be the stay-at-home, subservient mother or wife. I feel embarrassed to ask others for money. I have always been self-reliant. I feel that every woman should have her own financial and emotional security."
"The bogey that mother-in-law and daughter-in-law cannot get along should now be finally buried," says Sulabha Dev, who runs her own entrepreneurial project, "Today's mothers-in-law are educated, active and often have their own careers. They are supportive and appreciative of other women's aspirations. The common myth that ambitious mothers' children are under-performers has also been trashed. A quick look at the school and college results every year show that most students who top the merit lists, are children of working mothers. Such mothers can be teachers, bank officers, entrepreneurs, professors, doctors, IT professionals, politicians, artists or creative media persons and increasingly, financial experts. Smartly dressed, aware and thoroughly contemporary, they are seen everywhere — in urban and small-town India — driving their own or family cars, doing banking, shopping, home-making and child-rearing chores with a rare energy and sense of responsibility."
However, in this promise-laden heaven of women running at breakneck speed to be successful career women and mothers, there is often a surprising hiatus of silence. A recent example was provided by no less a celebrity than Julia Roberts, Hollywood's number one star, who earns millions of dollars per film. In a recent interview, she chortled, "I guess I'm preaching one thing and doing something else. But sometimes, I do want to stay home and cook dinner for my husband."
Julia's statement, widely quoted by the world Press, once again raised the beaten-to-pulp debate as to whether women who lead driven lives as successful career persons and wives or mothers sometimes feel nostalgic about their lifestyle and yearn to be like their mothers or grannies, whose path to contentment lay only through the stomachs of their loved ones. But women's reactions to Julia's momentary nostalgia have been practical and down to earth. "She has the freedom to quit films and do exactly what she wants," they say, "But in truth, she will never give up her position as the number one star in Hollywood. Her recent romantic marriage to Dan Moder has prompted her romantic longing," says most women, "We can't turn the tide of events now. They have no time to romanticise the past with nostalgia. What's more, women can cook dinners whenever they want to.There is no need to give up anything in life merely for cooking dinners!"