M A I N N E W S
Pervez vows to end terrorism
K. J. M. Varma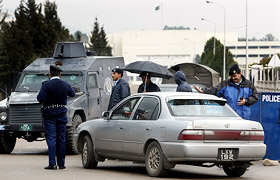 An armoured personal carrier (APC) is parked in front of the Parliament building as security is beefed-up during the first speech of Gen Pervez Musharraf to Parliament in Islamabad on Saturday. — Reuters photo
Islamabad, January 17
Pledging to root out terrorism permanently from the Pakistani soil, President Pervez Musharraf today said the composite dialogue with India starting next month should be pursued with sincerity to find a peaceful solution to the Kashmir issue.
Following up on his commitment to Prime Minister Atal Bihari Vajpayee in Islamabad earlier this month that he would not permit Pakistan's territory to be used to harbour terrorism in any manner, Musharraf in his first-ever address to the joint sitting of Parliament called for a holy war (Jihad) against extremism and sectarian violence.
The General spoke as agitating Opposition members, shouted slogans asking him to quit office. They chanted "Go Musharraf" and "Friends of dictators are traitors".
Two domestic flights carrying top Opposition leaders and ruling lawmakers were diverted from the capital ahead of Musharraf's address.
A Pakistan International Airlines flight from Lahore to Islamabad, carrying high profile PML(N) lawmaker Tehmina Daulatana and MMA leader Qazi Hussain Ahmed, among others, was diverted to Peshawar. Another flight from Karachi to Islamabad, which was also carrying prominent Opposition and ruling members, was diverted to Lahore.
Musharraf (61), who survived two assassination attempts last month, vowed to eradicate terrorism, keep Pakistan's nuclear weapons secure and prevent proliferation.
In an apparent reference to the Indian charge of cross-border terrorism, Musharraf said: "There are allegations being levelled against us with regard to Kashmir. To get out of this... we have to find a peaceful and just solution to the Kashmir issue."
"Agreement reached should be pursued with good intentions and sincerity keeping in mind the aspirations of the people of Kashmir to take this process forward."
Maintaining that Pakistan has become a nuclear power, he said its capability in nuclear and missile technology was in its "national interest". — PTI