Fun & adventure with Feluda!
Chetna Keer Banerjee
The Adventures of Feluda — Trouble in Gangtok. A Killer in Kailash. The Bandits of Bombay. The Royal Bengal Mystery.
by Satyajit Ray. Puffin. Pages 93, 98, 87, 101, respectively. Rs 99 each.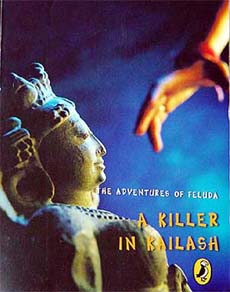 TO the lovers of detective fiction, Bengali literature has a homegrown Sherlock Holmes and Watson to offer in the form of master sleuth Feluda and his cousin Topshe, a faithful ally in all adventures. But the interesting part is that this Bong investigator is the creation of a mind not commonly associated with detective writing—ace filmmaker Satyajit Ray.
The first time I discovered Feluda, years ago, it had come as a pleasant surprise to learn that the maker of cinematic masterpieces like Pather Panchali, Charulata and Ghare Baire had also produced a literary gem in the form of the Feluda adventure stories.
Feluda's trademark style of puffing away at a Charminar or his agility of action may carry shades of the cigar-smoking Holmes persona. Barring these stylistic similarities, Ray's Feluda, alias Pradosh Mitter, is essentially a son of the soil, as desi as a carrot-chewing Karamchand or a Byomkesh Bakshi. He is the quintessential sandesh-eating babu mushai, an avid reader with a razor sharp mind and keen observation. Forever on the move, he lives out of a suitcase packed with must-haves like an all-purpose knife, hunting boots, wires to unlock doors and drawers, road maps and other such paraphernalia. His repertoire is vast and he can even change guise to put the enemy off his scent.
The four books, translated from Bengali by Gopa Majumdar, have Topshe playing the narrator. With aesthetically appealing covers, these slim volumes pack in loads of drama in locales as diverse as ancient caves and a running train.
Trouble in Gangtok, the second book in the series, unfolds an adventure for Feluda and Topshe in the lush mountains of Sikkim where they're vacationing. News of an executive's unexpected death and the subsequent encounters with shady characters known to the dead man take the two into the thick of things. The plot thickens as Feluda discovers that the death was not caused by a landslip but was a murder. Soon, they're on the trail of not only the dead man's partner Sasadhar Bose, a long-haired German Helmut, an elusive occult practitioner Dr Vaidya and the meek-looking Sarkar but also a prized Tibetan statue with nine heads and 34 arms!
The fifth volume in this adventure series, A Killer in Kailash, again finds Feluda, Topshe and their writer friend, Lalmohan babu, alias Jatayu, tracking down a stolen treasure — this time, the head of a yakshi. Their hunt takes them to the caves of Ellora once they get wind of a gang that's involved in smuggling priceless sculptures out of the country. Packed with action, from Feluda doing the disappearing act, only to resurface in the guise of a hippie, to a plane crash and the cracking of a coded message, this adventure has the trio zeroing in on the vandal who's hell bent on making away with a piece of Ellora's rich heritage.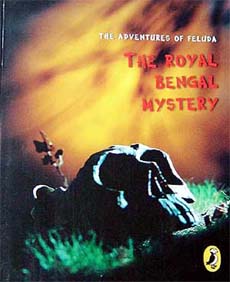 The next title, The Royal Bengal Mystery, has a treasure hunt of another kind and takes the scene of action from historical sites to thick jungles. It recreates the bygone era of shikar and shikaris. The riddle with which this tale begins sets the tone for suspense as the trio is invited by a wildlife writer to decode this message to unearth a family treasure. A sudden murder and the tell-tale marks of a maneater get Feluda sniffing in the jungles to uncover the treasure. The gripping finale brings the characters face to face with the maneater and also some ugly family secrets of their host. Its unusual turn of events, with danger lurking at every corner, make this the most engrossing reads out of the four.
Thematically, The Bandits of Bombay, the eighth title in the series, is the most contemporary with its focus on the vicious underworld-filmdom nexus. For technical details it obviously draws upon Ray's expertise as a director, taking the reader into the world of filmmaking. The filming of one of Lalmohan babu's book, takes the trio to Bollywood. But their journey and arrival in tinsel town are marked by curious happenings—a package to be delivered to a suspicious-looking man in a red shirt, the strong smell of gulbahar that seems to be trailing them from Bengal, a murder in a lift, telephonic threats, theft of a naulakha necklace, et al. Much like a scene from a film, Feluda and his friends have an encounter with the villain aboard a running train. With a couple of kung-fu stunts thrown in, this adventure has all the elements of a reel-life drama.
Needless to say, all these short stories have the touch of the master storyteller that Ray was. A taut and racy plot, a narrative style shorn of flab and verbosity and characters that are well-fleshed out so as to seem real. Not only Feluda but even his aides, Topshe and Lalmohan babu, have been bestowed with distinct personalities that make them a perfect foil to the master sleuth.
Gopa Majumdar has done a commendable job of translating these stories in a way that they retain their Bengali flavour yet possess a universality that appeals to an English-reading audience across diverse lingual and regional frontiers.
The inimitable Feluda was Ray's gift to Bengali fiction, a lovable figment of his imagination. Majumdar's work has begot for this imaginary genius a larger mind space. Through these translations she has presented a gift to Feluda—immortality!