The world as our village
Shivaji Sarkar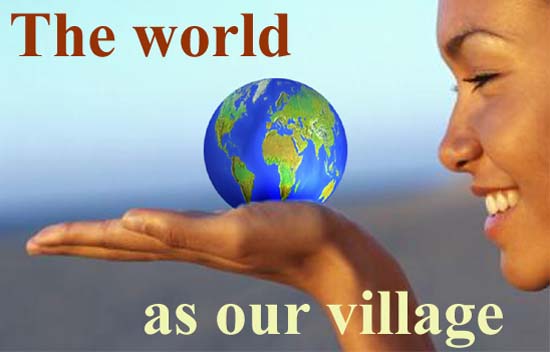 The world came into India in the early 90s. Today, India is going out to the world. Brand India has been truly glocalised.
"BRAND India is rapidly becoming more attractive to do business with. What is more heartening is that the Indian story is not limited to services but is steadily enveloping the manufacturing sector", writes Aziz Premji, Chairman of premier IT company Wipro, in his assessment of the Indian eminence.
India has really emerged as a favourite for many products in a number of regions. The latest Forbesí list of 200 best under one-billion dollar companies outside the USA has 18 companies from India, many of them in the public sector. A year back, the list had 13 companies. It has names like Asian Paints, Bharat Forge, Dr Reddyís Lab, HDFC Bank, Infosys, Wipro and Indian Oil. "Such companies are creating sustained values for customers", says Premji.
In fact, a quick glance at the list shows that it has information technology, pharmaceuticals, auto components et al. What has contributed more to it, to quote Premji again, is the domestic policy environment, which was never before so conducive for business. Except for a few sectors like retailing and strategic areas, most others are open to foreign investment and can operate freely.
There are areas which Premji has not mentioned but where brands are developing. Indian higher education and Bollywood are some such sectors. Other well-established but little realised brands are the Indian gurus propagating yoga and higher spiritualism as well as the herbal ayruveda products.
The freedom to operate, which the business has been wanting for decades, has worked wonders. Being free from bureaucratic hassles and apprehensions, the business houses are going places to create a consciousness about quality that is becoming synonymous with India. In some neighbouring countries, small manufacturers feel proud to put a Ďmade in Indiaí mark on their not-sohigh quality products because Indian goods are in demand and on the sly they can sell their stuff.
The opposite is happening in Sri Lanka, known for its exquisite batik printed garments. It is importing Indian batik garments to meet the growing demand among the youth and fashion-conscious people.
Textile trade
Outsourcing of garments is becoming a booming business. The head of Wal-Martís global sourcing operations P. Jagannath joined as head of Targetís operations. He says he wants to start outsourcing of garments and other products from India. Faced with the phasing out of textile quotas under the US multi-fibre agreement in January, 2005, India is gradually becoming an important sourcing destination.
The newly appointed Vice-Chairman of the Apparel Export Promotion Council (APEC) Premal Udani says that with the scrapping of quotas Indiaís apparel exports are set to leap to $ 25 billion by 2010 from the present $ 6 billion.
In 2003, a few apparel companies increased capacities to meet rising demands. This includes well-known brands like Raymond, Zodiac, Madura Garments, Gokul Das, OrientCraft and Shirt Company. Raymond group President Nabankar Gupta says that they setting up large manufacturing units in southern parts of the country. Zodiac has acquired the suit-making unit of NiriyatSam. OrientCraft has set up a large manufacturing unit in Delhi.
All these companies have made remarkable presence in Sri Lanka, Bangladesh, Singapore and claim to be making inroads into some South-East Asian and West Asian countries. Quite a few brands are popular in the USA and many West European markets.
Some South-based textile companies like Loyal Textile Mills, Shri Gmoathy Spinning Mills, Renuka Mills and Superb Spinning Mills have finalised plans to enter the garment business.
As global retail giants are keen on buying from large units, leading apparel makers are now in the process of merging operations under a single entity.
Exports to Europe have grown 20 per cent because of such business strategies though those to the USA fell by 11 per cent. Overall garment exports to all quota countries increased by 3 per cent and stood at $ 2417 million in April-October 2003. Most apparel countries posted 4 per cent to 11 per cent profits as the brands clocked in more sales.
Even automobile brands like Tata, Ashok Leyland, Maruti and Mahindra as well as the two and three-wheeler brands like Bajaj, Hero Honda and TVS are establishing themselves in many Asian markets. Sri Lanka has all of them. So has Bangladesh. As Tatas are acquiring the truck unit of Daewoo, it would be seen even in South Korea and many other Far Eastern and South- East Asian countries. Bajaj three-wheelers have become the staple inexpensive public commutation system in most South Asian countries.
Indian hotels are becoming well-known entities. The Oberoi group of hotels is increasing its international presence. The Oberoi group is about to begin construction of two hotels abroad Ė one at Dubai and other at Marrakesh in Morocco. The hotel chain concluded a tie-up with the Hilton hotels for its subsidiary, Trident group, says S.S Mukherji, MD of Oberoi group.
The Taj group of hotels is all set to go global. It is raising $ 150 million to fund its overseas expansion. In August 2003, it opened Taj Exotica in Mauritius. It is consolidating its operations in Sri Lanka, Maldives and Seychelles. At all these the places, its hotels overlook the Indian Ocean. It is expanding to Shanghai and Beijing in China and also in West Asia. The Taj group narrowly lost the bid for Intercontinental in New York. The groupís MD Raymond Bickson says the groupís presence in the USA is a major part of its strategy. The groupís restaurant brand Masala Art is also planning to spread its wings overseas.
Some smaller groups like Mumbai-based Plaza group of hotels is planning to open its new units in West Asia and Commonwealth of Indian States (CIS). The Great Kabab Factory restaurant is also planning to set sail.
Brain power
Education is developing as a major brand. Countries in West Asia, Africa and South-East Asia have approached Indian institutes for opening centres. The NRI population and the high quality and low cost are the advantages.
The Indian Institute of Technologies (IITs), known for exporting brain power to the West, have received requests from Sri Lanka, Singapore, Mauritius and western and southeast Asian countries. The IITs have been individually and collectively talking to the countries. Minister of Human Resource Development and Science and Technology Dr Murli Manohar Joshi has earlier set up a review committee to look into the issue of setting up IITs abroad.
Even there is a demand for having Indian Institute of Management (IIM) centres abroad. The IIM, Kolkata, is formulating plans to increase the number of management development programmes offered overseas with a possible centre at Dubai in the UAE.
The Manipal group and Birla Institute of Technology Studies (BITS), Pilani, has already ventured overseas. The Manipal group was the first to set up campuses in Muscat, Dubai, Malaysia and Nepal. It has also received invitations from Sri Lanka, Indonesia, Bali and Maldives. BITS also has opened its campus in Dubai.
The Xaviers Labour Relations Institute is also offering a programme in Dubai and plans to increase its presence in West Asia. Some other institutes are following suit.
A related area is book publishing. Some Indian publishing houses are gradually planning to go global. It is a small beginning but the leap may come very soon with the growing demand for Indian textbooks.
Brand Bollywood
Indian movies are rocking Asia and even Russia. Hindi movies are a rage in South Asian countries. They even reach Pakistan despite being banned. Other countries like Nepal, Sri Lanka and Bangladesh crave for it. So it is in West Asia and some African countries. Many a sensitive movies like Mr and Mrs Iyer despite being flop in the home market did well overseas. Indian movies are making a name everywhere. They have integrated India and now they are integrating its neighbouring areas.
Bollywood is increasingly teaming with international names. Adlabs has signed a distribution deal for international sales.