Charming Chameli(on)
With Chameli, Kareena Kapoor marks her entry in the realm of parallel cinema. The actress now looks forward to doing both candy floss and serious roles, writes Avinash Kalla.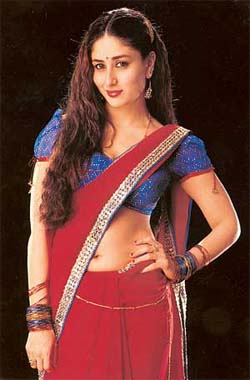 Kareena in and as Chameli: Role of a lifetime
MANY are calling her a later day Julia Roberts in Pretty Woman. One look at her and youíll agree. Puffing away at a cigarette in a windswept, rainy night under an arch of Mumbaiís Flora Fountain, she is the picture of a streetside hooker.
In the past few weeks, we have all seen glimpses of her on our TV screens and on posters all over the town in a bright red sari with a bright red lipstick, kajal and bindi to match. With Chameli having hit the silver screen, perhaps for the first time Kareena Kapoor finds it difficult to hide her excitement. Maybe it has something to do with the encomiums she has been receiving for playing the hustler. "It has been the most satisfying role Iíve ever done. I hope the audiences enjoy watching it as much as I enjoyed playing the character."
Indeed, it would appear that Kareena has transformed effortlessly from a glamdoll to a sex worker. If she wowed fans with her gung-ho act as the frivolous Pooja in K3G she packs a punch with her striking portrayal of a prostitute in Chameli.
The move has been a conscious one. This is one film, she hopes that will change her image from a bubble gum star to an actress of substance. " I am looking forward to the audience reaction," says Kareena almost ringing her hands in anticipation.
Ironically, a year ago when she was offered the role she turned it down as she felt that it would be a rude shock to her fans who were used to seeing her in candy flossy roles.
There were other inhibitions as well. She was worried how her parents would react. She wasnít sure whether she was making the right move at 23 with this drastic change of image. Moreover she wasnít comfortable with the crude language of Chameli and the fact that she would be smoking.
" I had a talk with my parents and they backed me saying it was a bold theme and would do wonders to my career. And that, if I didnít take the plunge now I could run the risk of getting stuck in the glossy image thatís been built around me," says Kareena now in a greater hurry to show her back to trivial roles.
She confesses it was a big challenge for a mainstream commercial actress like her to do the role of a trollop but she decided to take the calculated risk. But says it was a hard grind preparing for the role. " To get into the skin of the character I visited most of Mumbaiís red light areas at night and would observe these sex workers from a distance from inside my car. I was keen to study their mannerisms, the kind of clothes they wore and how they talked to clients."
It was an all-out endeavour to infuse life into the character. So she decided to do away with designer clothes. She explains, " I wore an ordinary sari that cost Rs. 400, some fake jewellery and heavy make up. My entire attire did not cost over Rs. 1500.
Lead star Rahul Bose, she says was a great help. " We are both from different film fraternities it helped us perform the unconventional roles on screen. We have complimented each other very well," says Kareena who after working with practically all the big banners is now finally ready to experiment.
She confesses, "I entered the film industry with the sole intention of making a lot of money for myself. So I started accepting all kind of roles that were on offer. Luckily I got an opportunity to work with the biggest and the best in the business. Now that Iíve made good money I want to do meaningful roles that would satisfy my creativity."
Quiz her about the recent string of failures and she replies with a smile, " Though some films havenít worked well but my characters have been appreciated and that is enough motivation to keep working."
Now Kareena has a task at hand. Like Rekha in the eighties she too will be trying hard to strike a balance between the commercial and new wave cinema. She has six releases coming up in 2004. After Chameli she has Maniratnamís Yuva, Dharmesh Darshanís Bewafa , Boney Kapoorís No Entry, Abbas Mastanís Aitraz and Govind Nihalaniís Dev.
"So there are three commercial films and three offbeat films of mine expected in 2004. I hope people like both kind of movies. But more than that I hope they come out saying Iíve done a great role," says the star making a bid to become an actor.