Heavy-footed Markfed fails to keep pace with times
Manoj Kumar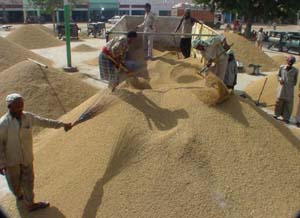 Markfed has been reduced to a
mere procurement agency.
THE Punjab State Cooperative Supply and Marketing Federation Limited (Markfed), which claims to be Asiaís largest cooperative organisation, has failed to exploit its potential because of unprofessional management and interference of the state government in its day-to-day functioning. Instead of playing a significant role in the modernisation of Punjab agriculture according to its mandate, it has confined its activities to the procurement of foodgrains and sale of agricultural inputs.
The management claims that with an annual turnover of over Rs 11,000 crore, it has played a significant role in Punjab agriculture during the past five decades. However, agriculture experts and farmer representatives feel that despite the inherent advantage of the Green Revolution and enterprising spirit of the farmers in the state, the potential of the organisation has not been fully tapped. They wonder whether this mammoth would be able to survive if the support from the Centre to its foodgrain procurement business was withdrawn and it had to compete with the private sector in the changed economic scenario.
Hardly a cooperative
Prof P.S. Rangi, Senior Economist (Marketing), Department of Economics and Sociology, Punjab Agricultural University, Ludhiana, who has done a comprehensive study on the "Role of Agricultural Development" says, "It has failed to emerge as a true farmerís cooperative institution that could have played a significant role in the modernisation of rural economy by taking initiatives in the agriculture sector. Besides marketing farm produce at a premium, it should have facilitated promotion of food-processing of perishable agriculture commodities like vegetables and fruits."
Admitting that Markfed has done good work in the supply of fertiliser and pesticides in rural Punjab, he feels that it has deviated from its original mandate of promoting food processing of perishable commodities, R&D and strengthening primary cooperative societies. He wonders how Punjab Agro with negligible funds could support food processing and contract farming in the state. The fate of potato, kinnow and other perishable crops from in several years should be a warning signal to this organisation.
A monolith
On his part, Mr S.S.Channy, Markfed MD, says, "We are involved in the procurement of wheat, rice and cotton, apart from developing agri-export zones for potato and basmati rice under the crop diversification plan. Our annual business volume has already crossed the Rs 10,000 crore mark in 2002-03 with a profit of Rs 12.52 crore. This year we are expecting to close our account with over Rs 12,000 crore."
He claims that under the diversification plan, Markfed is providing subsidy of Rs 250 per quintal on potato and Rs 1,000 per quintal for potato exports to the farmers in the agri-export zone. At present, the organisation has the strength of about 3,000 employees, after offering VRS to over 250 employees recently. Under the Sohna brand, he says, Markfed sells basmati rice, refined mustard oil, vanaspati, pickles, squashes and canned products in the domestic market.
With a touch of pride, he says, "The Centre has given the status of an export house to Markfed. During 2002-03, we exported wheat worth over Rs 1000 crore and rice worth Rs 86 crore. This year, the exports are expected to increase substantially because of better crop yields. The corruption and mismanagement in the handling of produce have been controlled to a large extent."
In addition, Markfed is also running about 15 rice mills, including six modern Korean rice mills and a pesticide plant at Mohali. That most of these plants are incurring net losses, and running with obsolete technology is another matter.
Political interference
Mr Harbhajhan Dass, president of the Markfed Employees Association, laments that the state government is still keeping the organisation under its control by appointing its own MD and other managerial staff, who are neither accountable to farmers nor employees. For instance, he says, the combine-harvester unit at Ludhiana is lying dead for the past several years. The state government is also using Markfed to make political appointments or take away profits through various channels. However, he says, "during the past three years, the financial performance has improved, and some of the loss-making units have come out of the red."
The fact remains that Markfed has not succeeded in winning the goodwill of a majority of its stakeholders, the farmers and consumers. The customers in the market also feel that its products are no match for the products of MNCs. Farmers rue that the state government and the management have not bothered to restructure such a prestigious institution over the years.
Unprofessional
Mr Ajmer Singh Lakhowal, president of the Bharti Kisan Union (Lakhowal), says, "Markfed has badly failed as a cooperative and commercial institution, though it was set up exclusively to play a decisive role in the modernisation of agriculture and rural economy. Though it claims to be an agriculture-oriented organisation, yet it is dominated by non-professionals, who are unable to work in the rural environment."
He says that while other states are talking of organic farming and genetically modified crops, Markfed is still busy in the procurement business. Had it been managed by professionals like Amul in Gujarat or other cooperatives in Maharashtra, the face of Punjab agricultural would have been totally different, he feels.