THE TRIBUNE MAGAZINES
On alternate Mondays

On Sundays

On Saturdays

IN PASSING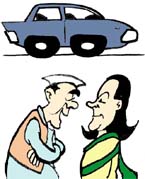 After interchanging front and rear tyres, it will be a smooth ride now.

by Sandeep Joshi
(Click to enlarge)
SC rejects Punjab plea on SYL canal
New Delhi, January 20
In a new twist to the Sutlej Yamuna Link canal case, Punjab today moved a fresh petition in the Supreme Court, challenging the constitutional validity of its Rule 6(a) under which Haryana has sought rejection of the former's suit for "dissolving" the decree regarding construction of the canal even as the court declined to refer the matter to a larger Bench.
Two acquitted in Manchanda murder case
New Delhi, January 20
A city court on Tuesday acquitted two men accused of gunning down the president of Delhi Sikh Gurdwara Management Committee in 1984, after the prosecution failed to produce any evidence.
Dowry case against Hooda
Chandigarh, January 20
The Panchkula police last night registered a dowry case against Mr Bhupinder Singh Hooda, Leader of the Opposition in the Haryana Vidhan Sabha; his son, Deepinder Singh, and two others.
Hurriyat leaders in Delhi for talks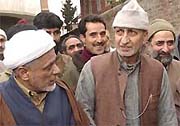 New Delhi, January 20
Leaders of the Ansari-led Hurriyat Conference arrived in the Capital today for the January 22 talks with Deputy Prime Minister L.K. Advani.

Moulvi Abbas Ansari (left), Abdul Ghani Bhat (centre) and Fazl-ul-Haq Qureshi (extreme right) in Srinagar before emplaning for Delhi.
— Tribune photo by Amin War


Nation page: Hurriyat-Centre talks generate global interest

Poll officials to meet on Feb 4
8 pc tax on dhabas abolished
Chandigarh, January 20
Contrary to the expectations about more sops, the Punjab Council of Ministers today provided relief only to dhaba owners by abolishing 8 per cent tax levied on them.
In Health Tribune today
Krishna Murthy to be new CEC
January 20, 2004
Hurriyat wants to visit Pak before talks
January 19, 2004
Interim Budget on February 3
January 18, 2004
2 top Hizb militants shot
January 17, 2004
Ceiling on FDI in petroleum, banking sectors up
January 16, 2004
Teachers not entitled to gratuity: SC
January 15, 2004
Indo-US relations set for a new high
January 14, 2004

Let new govt be in place by April, says PM
January 13, 2004

LS poll may be in March or May
January 12, 2004

Decision on LS poll by Jan 14, says Mahajan
January 11, 2004