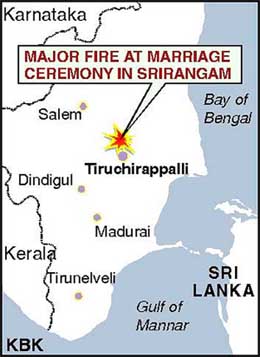 Srirangam (Tamil Nadu), January 23
Tragedy struck at a wedding ceremony when a fire engulfed the pandal on the first floor of a marriage hall in this temple town, killing 54 persons, including the bridegroom, and injuring 40, the police said.
Thirtyfive-year-old Jayashri, the bride, was downstairs awaiting the "muhooratham" when the fire broke out as a video crew tried to fix the plug of a "focus lamp" that burst due to a short circuit.
The bridegroom, 42-year-old Guru Raghavendra, working in General Insurance company, was charred to death, the police said.
Over 400 persons had gathered in the marriage hall situated on the EVS Street, Ranganagar.
Raju Pillai, a watchman in the neighbouring building, said he heard a thud and saw smoke emanating from the pandal, which collapsed immediately.
"There was suffocating and blinding smoke, and pungent smell, which delayed rescue operations by the people who rushed to the spot," he said. The scenes witnessed thereafter were disturbing and heartrending, he said.
As the fire raged, there was stampede as the guests could not come down due to the narrow staircase, in which an old man was lying unconscious. Many people got stuck in the plastic chairs, which melted in the fire and it was not easy for people to remove them. Many collapsed in the chairs they were occupying.
Onlookers found it difficult to console those who had lost several of their kith and kin.
The watchman said he saw bodies being removed in three garbage trucks to the hospital.
The stench of burning plastic, flesh and ghee lingered in the air for three hours after the fire was doused by members of the public and fire service personnel.
Fire service personnel said flesh and hair were found glued to the walls and pillars of the hall. Plastic materials and asbestos sheets on the sides of the hall added to the intensity of the fire.
There were problems at the government hospital also as the mortuary was full and bodies had to be laid outside, covered with saris. Government Hospital officials said 44 bodies, including 23 women, a girl, and a boy, had been identified.
Of the 40 injured, 20 suffered third-degree burns and their condition was "very critical". Some of them were admitted to a private nursing home.
Top officials, including District Collector Manivasagam, and the IG of the police, were overseeing the operations. — PTI