M A I N N E W S
We are with you, Hurriyat tells PM
Prashant Sood
Tribune News Service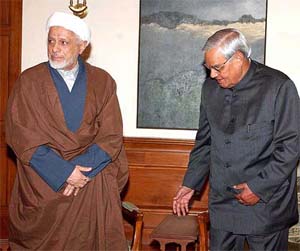 Prime Minister Atal Bihari Vajpayee with chairman of All-Pparty Hurriyat Conference Moulana Abbas Ansari at the Prime Minister's residence in New Delhi on Friday. — PTI photo
New Delhi, January 23
The All-Party Hurriyat Conference today told Prime Minister Atal Bihari Vajpayee that it supported the initiatives taken by him to solve the "issues in the subcontinent."
Coming out of their first meeting with the Prime Minister, which lasted nearly 40 minutes, the Hurriyat leaders, led by APHC chief Maulvi Abbas Ansari, said they were with Mr Vajpayee and Pakistan President Pervez Musharraf on the recent steps taken by them.
Former Hurriyat chief Mirwaiz Omar Farooq said that extremists should also contribute to the process and the APHC would try to get everyone on board, including people from all parts of Jammu and Kashmir.
"We came to thank the Prime Minister on the initiatives taken vis-a-vis issues in the subcontinent, specially Kashmir... We are with these and the boldness shown by Mr Musharraf," he said.
The Hurriyat wanted to play its full role in the new atmosphere, the Mirwaiz said. Describing the meeting as a "courtesy call," he said the Hurriyat wanted to take forward the "good beginning" made in yesterday's talks with Deputy Prime Minister L.K. Advani.
The APHC leader said talks were a step-by-step process and these would succeed if India and Pakistan showed sincerity.
The Hurriyat leaders, who were apparently keen to meet the Pakistan High Commissioner during their stay in the Capital, will now return after Id-ul-Zuha to visit foreign missions.