Social monitor
Homes unsafe for children
Madhuri Sehgal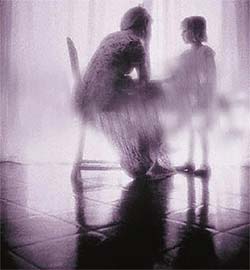 Incest is rampant in Indian homes
THE close knit family system in India masks an alarming amount of sexual abuse of children by family members, according to the report of a recent survey by an NGO. The report notes that more and more girls are being sexually abused in their childhood.
According to the findings of the survey conducted by RAHI (Recovering and healing from incest) Foundation among capital's college students, an overwhelming 70.5 per cent girls said that women college students "talk" about their childhood sexual abuse experiences, including incest.
"We cannot assume that all 70.5 per cent underwent abuse but this just goes to show that others have shared their experiences or they know of people with whom these have been shared," says Anuj Gupta, Executive Director, RAHI.
Incest is, by far, the most common but least talked about oppression that many young girls silently suffer and survive in the country.
"We can substantiate this fact by the findings of another survey conducted by our organisation sometime back. Out of 600 women that we spoke to as many as 40 per cent admitted to incest," Gupta says, adding according to the main findings three-quarters of upper and middle class Indian women are abused by family members — more than often an uncle, a cousin or an elder brother.
Mental Health professionals say the particular problem in India is that the concept of family is almost sacred, and abuse, if it happens is met with disbelief.
"The structure and fabric of the Indian family system is such that most of the incest cases go unreported. Even if the family members come to know about it, they try to cover it up due to fear of harming the name of the family", says Dr Jitendra Nagpal, consultant psychiatrist at Vidyasagar Institute of Mental Health and Neurosciences (VIMHANS), Delhi.
"Morever, even if the family members come to know about the abuse the most common way of dealing with it is to avoid talking about it with the child. They think that the child will forget about it if the matter is not discussed with the child or anyone else," says Gupta.
"This has the most devastating effect on the victims as whatever is suppressed will come out at a later stage of life in some other way," Dr Nagpal cautions.
Elaborating about the long-term effect of sexual abuse on the child's growth, Dr Nagpal says: "Sexual abuse of this nature cracks the self esteem of the victim. Besides low Self-esteem and sense of helplessness, the victims also face difficulty in forming meaningful relationships when they grow up and they might even suffer from Post Traumatic Stress Disorder (PTSD). In extreme situations, the victim can even contemplate committing suicide."
Activists in the field say another problem facing victims of incest abuse in India is the complete absence of any structure outside the family to help the victim.
According to Gupta, activists often face the grimmest of choices when considering how to help the victim: "Since the crime involves those who are trusted and also loved, it makes it difficult for the child to speak out openly. And even when they do they find very little support".
Also, the law does not provide any respite to these victims. "In India incest victims hardly get support from the government. There is no specific law covering sexual abuse of children by strangers, let alone by family members.
According to law, incest falls under the provision of 'unnatural offences' under Section 377 of the Indian Penal Code. Unfortunately, most courts interpret this section only in case of sodomy. But incest, under the law of nature, falls in the category of unnatural offences, to find a solution to the problem, before we help the victim, we need to believe that it has happened. There is denial of reality that it can happen to my child, to someone known to us. There is need to create a social climate that incest exists."
"If a child comes forward with such problem, the situation calls for 'crisis intervention'. First of all efforts must be made to protect the child from any further abuse and the victim should be given a patient hearing to ensure she shares the painful experience and feelings with a knowledgeable and concerned individual, within a safe and supportive environment," says Dr Nagpal.
"Personalised counselling with medication can also help in some cases and the situation also calls for long-term rehabilitation from family and support agencies," Dr Nagpal adds.
Also in the survey 92 per cent of the respondents said that students would benefit from training on how to respond appropriately when their friends talk about their incest experiences; so we are also planning disclosure training workshops for students that teach them how to help a friend who is an incest survivor, says Gupta.