Short takes
The one who showed the Mahatma the way to Swaraj
Jaswant Singh
Lokmanya Tilak, Symbol of Swaraj
by Sorab Ghaswala. Rupa, New Delhi. Rs 195. Pages 62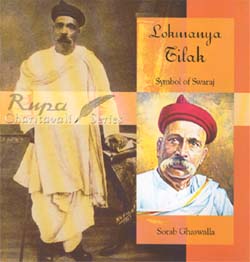 IF one were to count the personalities who had created awareness among the Indians about their right to freedom, the name of Bal Gangadhar Tilak would top the list. When he roared "Swaraj is my birthright and I shall have it", the words echoed in thousands of Indian hearts. His concept of Swaraj and Swadeshi were later adopted by Gandhiji as a major plank of his Satyagraha and Non-cooperation Movement.
This dauntless nationalist whose powerful writings and speeches led him to long years of imprisonment, kept his eyes fixed on the aim of Swaraj till his last day. Some have called him the "uncrowned king of India" and the "symbol of a new age", while others say that he is to India what George Washington is to the USA.
Journalist Ghaswala has charted the life of this patriot from his childhood to his active life in which he revealed himself as an unbending fighter for Swaraj and a dauntless journalist. Tilak took the first step into the limelight because of the importance he gave to mass education. With the help of some friends, he started the New English School in Poona (now Pune) in 1880. The intention was that Indians should receive education from Indians. So far, schools were manned only by foreign missionaries. He was also instrumental in starting Poona's famous Fergusson College. He took to journalism as an instrument of mass education. He launched two newspapers—Kesari in Marathi and Mahratta in English. Both newspapers became known for their bold and fearless writings.
Realising the value of mass support in his campaign against the British, he gave the people of Maharashtra platform in the shape of a 10-day Ganesh festival, and Chhatrapati Shivaji as the symbol of Maratha pride. His bold writings invited the charge of sedition and he was sentenced to 18 months in jail.
Between 1905 and 1908 Tilak emerged as a major factor in national polities. His ideas became popular among the younger elements in the Congress and he gave his followers the concepts of Swaraj and Swadeshi, and also of passive resistance, which were later adopted by Gandhiji.
His call to the people of India and the leaders of the Congress to oppose the partition of Bengal, and the emergence of the Lal, Bal, Pal trio are described adequately in the book. The conflict between the "moderates" and the "extremists" (Naram Dal and Garam Dal) within the Congress resulted in a victory for the moderates because of organisational control of the old leaders and the then narrow franchise of the Congress. It left the party in the hands of those who opposed Tilak's action-oriented agenda. He was forced out of the party, but there remained no doubt that the vast majority of politically aware Indians favoured Tilak and his group.
Once again Tilak was prosecuted for his writings in Kesari and was sentenced to six years' deportation. He was taken to Mandalay jail in Burma where he spent six years in near-isolation. After his release, Tilak started his Home Rule movement. He was also welcomed back in the Congress and received a standing ovation at the Congress session in Lucknow in 1916.
When this Titan among Indian politicians died on August 1, 1920, after a brief illness, almost the entire citizenry of Bombay turned out for his funeral.

Kamalhasan, The Consummate Actor
by Roopa Swaminathan. Rupa, New Delhi. Rs 195. Pages 62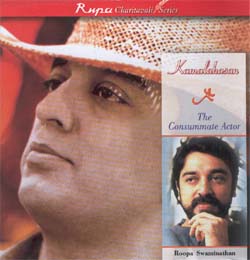 Roopa Swaminathan has earlier written the biographies of two great personalities of the Tamil screen, M.G. Ramachandran and Sivaji Ganesan. Now she has taken up the life of another great of Tamil cinema, Kamalhasan. In this, the actor's brother, Charuhasan, reminisces about Kamal's journey to the top of the Tamil film world.
His father, Srinivas, was a freedom fighter and a believer in Hindu-Muslim unity, so he gave his three sons names, the first halves of which were Hindu and the second half Muslim, Hence Charuhasan, Chandrahasan and Kamalhasan. Ironically, Kamalhasan's name recently caused him considerable trouble at the Toronto airport. He was held up by the Customs, who suspected him of being a terrorist because of his name.
This veteran of more than 200 films has blazed a new trail, brushing aside the tried and tested formulae of filmmaking. Encouraged by his father to become an actor, Kamal started as a child artiste at the age of five. In his heyday, Kamal had to share glory with another star, Rajnikant. As Kamal took big strides as an actor, Rajnikant became extremely popular with Tamil audiences and came to be known as a superstar. Kamal remained just a super actor.
However, cinema has remained his hope and passion and industry insiders call him one dimensional—his life beginning and ending with cinema. Unlike some of the greats of Tamil cinema, he has kept scrupulously away from politics, even film industry politics. He has about 1,500 fan clubs in Tamil Nadu, Kerala, Karnataka and Maharashtra, and he has insisted that these clubs be turned into social service organisations. Himself, Kamal has announced that after his death, his organs should be donated for medical research. Kamal has never been able to build an equation with the directors of Mumbai, who attribute his lack of success in Bollywood to his accented Hindi and his dark complexion. His admirers, however, hold that the directors of Mumbai could not handle Kamal because they had to create something new, something unique and different for him in every role, which they were unable to do.
Kamal is tight-lipped about his personal life, but brother Charu talks about Kamal's relationship with different women and even tries to justify this behaviour. Thus, if there is a shower of compliments and praise, there are also accusations concerning his professional as well as personal life. Right now, Tamil Nadu's film industry is looking for someone to succeed him as he succeeded Sivaji Ganesan.