A Sa(i)f bet
Avinash Kalla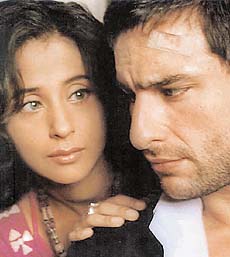 Saif Ali Khan in a scene from Ek Hasina Thi
After Kal Ho Naa Ho becoming the biggest hit of the year, Saif Ali Khan today features in the list of Bollywood's most talked about actors. He's on top of the wishlist of leading filmmakers. With the release of his first single-hero film Ek Haseena Thi, he hopes to get the viewers' stamp of approval on his versatility.
IT has taken a dozen years for Vicky Sehgal of Yeh Dillagi to become Rohit Patel of Kal Ho Naa Ho. And by Jove, what a transformation it has been. From a rabble-rousing, long-haired son of sapnon ki rani Sharmila Tagore and Nawab Mansoor Ali Khan Pataudi, Saif has blossomed into a suave star with a fan following from Ludhiana to London and from New Delhi to New York---in fact, wherever there's an Indian diaspora there are people who throng to movies featuring Saif.
Gone is his frivolous Ole-Ole image and instead has emerged an actor of substance who can hold his own against Aamir Khan (Dil Chahta Hai) and Shah Rukh Khan (Kal Ho Naa Ho). Within a span of two years, the Chhote Nawab has graduated from being a has-been to almost the top of the starpile with his name featuring in the list of the most in-demand stars.
But now comes the ultimate test any star can face. With the release of Ek Haseena Thi opposite Urmila Matondkar audiences across the country will decide whether like the other two, this Khan too can give a solo hit.
" I have done the film just to test myself. In most of the earlier hits I've been one of the two or three lead stars. So this is actually my first big solo act. If I can pull it off then I'll be set for a range of roles," says Saif relaxing in the lounge of his palatial Pataudi House in Delhi.
Interestingly, when Ek Haseena Thi was first offered to him, Saif turned it down because of his busy schedule. But later when producer Ram Gopal Varma and director Sriram Raghvan explained the role he agreed. " The character really fascinated me. I play a Charles-Sobhraj-meets-James-Bond kind of a guy," says an upbeat Saif.
The story revolves around Karan Rathode (Saif) a globe-trotting hunk who sweeps Sarika (Urmila Matondkar) off her feet. Life is a bed of roses for the two till the day Sarika's world comes crashing down as she is arrested for a crime she has not committed. Dumped in prison with a bunch of hardened criminals and an abusive lady cop (Seema Biswas), she vows to emerge a tougher person but before that she must also find out who Karan really is.
" The film will have you on the edge-of-your-seats from the word go. We've all worked very hard for it," says Saif about Ek Haseena Thi which incidentally is the first Hindi film by the Hollywood studio, Twenthieth Century Fox.
Saif says he wants all the characters he plays to look different from each other. Whether he is doing a photographer-turned-psycho in Darna Mana Hai, or a hopeless romantic in Dil Chahta Hai or a city slicker in Kal Ho Naa Ho, or even an army captain in LOC-Kargil he does manage to add a different dimension to each role he essays. And now in Ek Haseena Thi he has grown a stubble and did extensive work-outs for six months to lose weight."
" My nightmare would be to get stuck in stereotype roles. I don't want any labels I just want to grow as a versatile actor. The only image I want is of an unpredictable actor," says Saif with a smile.
What a change it has been from a decade ago when the only thing that was predictable about Saif was his ability to deliver box-office duds, get written about more for his alleged drunken brawls and his lifestyle that would suit any playboy prince. But then, somewhere down the road he got serious and began rising like a phoenix. After being written off in Bollywood the survivor that he is crawled his way back to create a niche for himself.
But even if his choice of films was right, it was going to be a long haul. With Preity Zinta walking away with all the accolades in Kya Kehna and his next big movie, Hum Saath Saath Hai being termed as a multi-starrer, Saif did no go down in a heap despite the failure of Na Tum Jaano Na Hum and the average grosser Love Ke Liye Kuch Bhi Karega.
And then, Dil Chahta Hai happened. Saif managed to stand tall in front of a seasoned actor like Aamir Khan. And then he topped it all with Kal Ho Naa Ho. "Actors are survivors and their approach has to be unique. It's taken me some time to prove that I can act. Now I want to do films that I'd like to watch even if I am not a part of them," says Saif.
Quiz him about why his best comes with first timers, he responds as if on cue, " Simply because first-timers like me have to prove a point and are constantly trying something different and fresher in their approach."
But right now he is being extremely picky and is going in for seasoned filmmakers. He is doing Yash Chopra's Hum Tum opposite Rani Mukherjee and talks are on for Aparna Sen's Gulel. " Yes I am being offered dozens of roles daily but I don't want to be a caricature, doing the same thing again and again. I want to experiment. I want to be the first choice of filmmakers whenever they plan a big movie."
Yash Chopra endorses his statement when he says, " When we conceived Hum Tum I could think of no one else except Saif who could do justice to the role." With an endorsement like that Saif should be on the right track.