Chandigarh waITs to be explored
Roopinder Singh
Chandigarh is a city that has young and educated population, beautiful houses and Internet connectivity that is getting better by the day... yet it is a mere dot in the IT map of the nation. The UT Administration is just coming up with the Chandigarh Technology Park, and one of the star attractions in it will be Infosys.
Soon you may have e-mail@google.com
Lisa Baertlein
Google Inc., which dominates the market for Web search, is developing a service that could dramatically extend the reach of its lucrative keyword-based advertising by linking such ads to e-mail, those familiar with the matter said last week. Privately held Google, which is expected to go public later this year, faces rising competition in its core search business from e-mail providers including Yahoo! and MSN.
Jadoo inspires Indian animators
Priyanka Khanna
Animation may be the next big thing for Bollywood, after sci-fi musical, Koi Mil Gaya, broke new ground last year. Though Jadoo, the alien in the film starring Hrithik Roshan and Preity Zinta, was not the best example of special effects and animation, its popularity among children made many in the business sit up and take notice. And that has given a boost to the animation industry. India is now poised to take a big slice of the global animation industry pie that many analysts say will cap exponential growth in the years ahead.
IT WIT
by Sandeep Joshi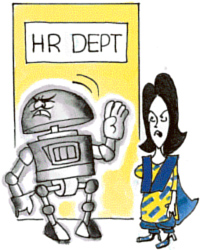 A peculiar situation! This rogue fails to obey command and our personnel section says robots are not covered under the company's rules.

Future search engines will be personalised
Amardeep Gupta
Current search engines seem unable to leap up to the next big barrier in search — trillions of bytes of dynamically generated data created by individual Websites around the world, or what some researchers call the "deep Web." You can't look up the status of a Federal Express package without going to the Federal Express site or the details on an eBay item without checking the eBay site. One cannot spider the dynamically generated data, so to say.

Viewpoint
Enormous potential remains untapped while…
Nitin Kapila
As large and now medium organisations, move operations to Asia and South America through captive, dedicated operations and outsourced structures, clusters of regional competence are competing for a share of the global economy. Although some regions such as Bangalore and Gurgaon are already staking their claim as such clusters of competence, there lies enormous potential for Tier 2 regions like Chandigarh to develop domain expertise and a global brand in niches that fit with the regions competence.