Living life mall size



Spurred by the Gurgaon and Noida experience, Panchkula is all set to enter the mall age. This may help the town spruce up its image and be the hip and happening place for young jet-setters and shopaholics. But can multiplexes thrive here is the million-rupee question, for they cannot run just on glamour and deep pockets. They need to attract trendy spenders in droves, says Amar Chandel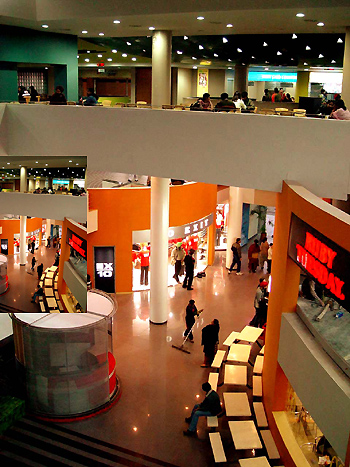 Fun Republic in Manimajra: A dazzling getaway for shop-hoppers, movie buffs and foodies
TIME was when Delhiites went to the neighbouring Haryana or Uttar Pradesh to escape the fast pace of the Capital. These were also the states which provided them milk, vegetables and, yes, also pehelwans during the elections. Not so any longer. Delhi's smart set now heads for Haryana's Gurgaon to live it up, drawn by the sprawling malls. The happening crowd's watering holes remain packed with the spenders coming in droves. What's 30, 40 or 50 km when you have enough spirit in your fuel tank, a loaded wallet and the itch for a swinging time.
Already three malls are doing great business. And soon, the number is likely to swell to 12 in this region. The entire stretch of MG Road in Gurgaon, from the Gurgaon-Mehrauli border to IFFCO Chowk on National Highway No. 8, would be dotted with these huge hypermarkets offering everything from multiplexes, retail commercial showrooms, call centres and clubs to corporate offices. The Haryana Government has pulled out all the stops to promote these shopping and entertainment hubs. It has even allowed 100 per cent "change of land use" (CLU) so that realtors face no problem in converting the 4.5-km stretch into a fashion street. It is another matter that the developers will have to shell out Rs 1.5 crore per acre as the conversion fee.
Noida in UP and Faridabad too are all set to take the same route to affluence. While the Gurgaon shopping malls offer between one lakh and four lakh sq ft of shopping area each, the one to come up in Noida would measure as much as nine lakh sq ft.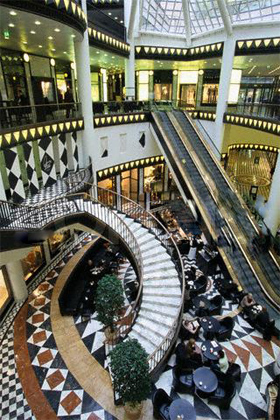 The ultimate in shopping
The centrally air-conditioned malls with piped music, high-speed lifts and escalators, adequate parking space, an entertainment arcade, multi-cuisine restaurants and a host of national and international brands are the next best thing to life in a developed country. As many as 24 malls are coming up in Delhi too, but given the high property rates and space being a constraint, these may not be as huge. Yet, once these become functional, there would be a tug of war between the Capital and the suburbs.
Gurgaon has become a hot destination, especially for the jet-set, and quite a few of those who can afford it are moving out of Delhi to the swank areas of Gurgaon. In fact, parts of Gurgaon and Noida are more upmarket and exclusive than some of the posh areas of south Delhi and the houses in these suburbs are built for the super rich.
The lavish residential condominiums with a price tag of Rs 1-crore plus have no dearth of takers. A large percentage of those going in for these happen to be below 40 and are ever-ready to spend without a care in the world. The everything-under-one-roof consumerism fits their lifestyle to a T. It is this class which comprises the bread and butter of the mall owners.
In this fantasia, the original dwellers of the area, who have been displaced by the high-rise glitzy malls, are nowhere in the picture. The contrast could not be sharper: There are thousands of them living in the vicinity of some of the tall malls. Perhaps the entire worth of their household goods would be less than that of the merchandise on display on one shelf of the hyper-marts. I got talking to them during one of my recent visits. Most of them had not visited the dazzling shoppers' paradise, obviously convinced that it is not meant for them but also apprehensive that their presence would not be welcomed in these islands of classy extravaganza. Except for complaining that things were prohibitively expensive "in there", they did little to say anything about the rise of this wonderland. One or two petty shopkeepers in this area said that their business was dull while the malls were booming.
Since both Haryana and Uttar Pradesh are notorious for bandhs and rallies, one shudders to think of how the malls would cope if an agitation took a turn for the worse. Their security staff and official agencies would need to be at their vigilant best to ensure that nothing untoward affected the prized property. Given the liberal use of glass in most of them, even one misguided stone can do a lot of damage. It should be remembered that this has already happened in Mumbai where Shiv Sainiks targeted a mall at Mulund just because it did not hire 300 sons of the soil as promised and one local staff member was beaten up by the security staff while caught stealing blades from there.
Taking a cue from Gurgaon, Panchkula, Kurukshetra and Faridabad are all set to enter the mall age. In Panchkula, two plots have already been sold. The development seems set to change the social profile of the township which has all along been a poor cousin of Chandigarh. Although Chandigarh itself is planning to have a few malls of its own, the Panchkula ones may come up first and may even be more lavish. The city is all agog at the prospect, considering that few businesses in Sector 5, where these are to come up, have scripted a success story so far. Malls may draw in the elusive crowds.
While these may help Panchkula join the metro league in shoppers' stops, the viability questions remain. A mall does not run on deep pockets alone. What you need is a large number of people with these attributes. Delhi has provided that business to Gurgaon. Panchkula will have to depend on Chandigarh. Are there enough people in Chandigarh and Panchkula who can splurge in a similar fashion? The experience of large departmental stores has not been all that encouraging here. While Nanz had to pull down its shutters in Chandigarh, the others that are functioning are not exactly rolling in money. Chandigarh is a city of babus and their shopping habits are also like that. They tend to be budget-conscious.
The VIP culture also comes in the way. Used to getting everything gratis, even their kids are not too liberal with the purse-strings. Several disco owners confide that most of their paying clientele is from cities like Ludhiana. Those from Chandigarh are always on the lookout for an invitation card or a forced entry.
With the mall plots in Panchkula costing approximately Rs 25 crore each, and the construction consuming no less than that amount, the Rs 50-crore superstructures would have to attract buyers in bulk to be able to make profit. The administration has done well to allow multiplexes because otherwise malls would have been rather mundane. But when even the existing multiplexes in the city are not able to draw enough crowds, roping in enough buyers is not exactly going to be a cakewalk. However, those who have put in the money must have surely done their calculations about the volume. There is also concern about the general impact their existence well have on life in the city.
Panchkula is not exactly known for its civic amenities. One just hopes that these will improve with the coming up of the malls rather than get strained further under the weight of the new demands. Parking and road infrastructure, not just in Panchkula but even in Gurgaon are already not up to coping with the vehicular traffic. Panchkula may also face similar problems if adequate attention is not paid to this aspect that has become a shoppers' nightmare in Gurgaon. Infrastructure is the key to smooth and successful operation of malls and this has to be of the same futuristic calibre.
Former Chief Minister Bhajan Lal used to say that he would turn Panchkula (and many other towns of Haryana) into Paris. Well, his house does look like a transplant from the French capital but the rest of the city is yet to turn even into a Chandigarh, let alone Paris. His successor, Om Prakash Chautala, can now stake claim to the mall legacy. While we develop these islands of affluence, let us also focus on the less fortunate areas existing cheek by jowl. Supermarkets alone do not help to make a city modern. Rome was not built in a day and neither were Paris and Chandigarh.