Punjab da Olympics
Prabhjot Singh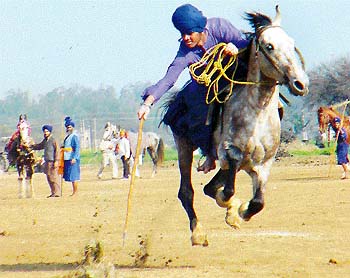 PUNJAB. The land of exuberance, joie de vivre, bravery and strength. A land of robust people, where men have tested their might against each other, be it in heavy sand-filled akharas or the playing fields of kabaddi.
With the introduction of technology, these men test their strength in more ingenious ways. Pulling a tractor or a car by their teeth or hair is ridiculously easy for some. Even lifting a super-heavy plough by the skin of their teeth is no big deal. Welcome to the reverberating world of rural Olympics at Kila Raipur.
A sports and entertainment extravaganza, the Kila Raipur games are now world famous. The three-day games start on February 5 this year. Showcasing the spirit of Punjab, they were telecast on major sports channels last year. Budget is mostly through donations and management is purely voluntary. Though only Rs 12 to15 lakh are spent, the actual budget may be around Rs 50 crore (see box).
Sports melas have always been an intrinsic part of the people in the land of five rivers. Taking these melas to a higher level started at Kila Raipur, a village near Ludhiana, the seat of rural Olympics.
Here age is no bar. The passion of an 80-year-old matches that of an 18-year-old. Flowing white beards showcase their skills along with boys getting the first feel of facial hair. It is not only about winning but the pleasure of participating and the pride in your skills. Brotherhood is the byword for the games.
Ludhiana has played a major role in giving these melas a definitive shape. Earlier Jor melas and dangals (wrestling bouts) dominated these festivals. In the early 1930s a few enterprising and affluent people from the villages of Ludhiana district decided to give a definite shape to the melas.'
Money matters
THE sports melas in Punjab are a unique example of voluntary effort. They are organised by the villagers and run with contributions from the common folk.
Contributions range from money to provisions, including milk, ghee, vegetables, pulses, atta, rice or even fuel for the community kitchen, which is run round the clock during the games.
According to Sukhvir Grewal, chief organiser of the Rural Olympics, "the actual budget is almost four times the money spent by the organising committee. Folk singers perform during the festival but they don't charge us a penny. The cultural programmes for three days could cost anything up to Rs 10 lakh."
Villagers seldom seek any financial or administrative support for holding these games. Langar (community kitchen), a tradition started by the fourth Sikh Guru, Ramdas, is in full swing during these three days. Food is served to participants and spectators alike, adding to the bonhomie.
Villagers donate money and goods for the langar as well as prepare the food. Running a 24-hour kitchen would otherwise require lakhs of rupees.
Between December and March about 200 sports festivals are held in Punjab. Despite the voluntary contributions and services in all areas, the promoters spend about Rs 12 to 15 lakh to conduct these melas. Nearly 30 per cent of this goes in prizes or cash awards.
Jagroop Singh Jharkhar, President, Mata Sahib Kaur Sports and Youth Welfare Club, which also holds a sports mela, says "Our show costs about Rs eight lakh, excluding expenses on cultural programmes and the kitchen.
"A stadium has been constructed in the village at a cost of Rs eight lakh, all contributed by the people. Of late financial help has come from non-resident Indians who make it a point to be in Punjab during the melas in their areas," he adds.
Prithipal Singh, a police officer and organiser of another sports mela near Batala in the Majha belt, feels that such events are not possible without public support. "Our aim is to encourage basic talent in all sports, both recognised and indigenous. We spend about Rs 10 lakh on our festival."
A more realistic estimate puts the cost of these 200-odd melas at Rs 50 crore. —P.S
'Our effort has been to blend the traditional with the modern. Way back in the early 1930s when we introduced Bhagwant Gold Cup Hockey Tournament, stars like the hockey wizard Dhyan Chand came to Kila Raipur," recalls Sukhvir Grewal, chief organiser of games.
Most participants at these games are not even aware of the Olympic movement or the philosophy behind it. Modern Olympics are also, after all, the continuation of the spirit of the games in ancient Greece.
Cultural festivals and exhibitions are an integral part of the games at Kila Raipur. Exhibitions are held to showcase the latest in farm technology, agricultural implements and handicrafts. Programmes, featuring known folk singers and dancers, besides troupes from other states, run to full houses every evening
An added attraction is kabaddi. Top kabaddi players are paid well, for most of the competitions have huge cash prizes.
Teams not only from Punjab but also from the USA, the UK, Canada and Europe are enthusiastic participants in these competitions. Punjabis are a major part of these overseas teams, though at times, there are other players too.
Winners are instantly rewarded by the organisers. Cash prizes are showered on outstanding performers, especially in kabaddi, wrestling and bullock cart races.
It is not only about preparing oneself for these competitions but also getting the bullocks and other domestic animals all ready to go. Bullock cart race, suhaga race, camel race and various equestrian events, including tent-pegging and dressage, are some of the unique attractions of the games.
All year around participants scour cattle fairs to find the best bullocks, their pride in these races. Farm equipment and goods also find a pride of place here. Lifting of wheat or paddy-filled sacks with teeth, pulling loaded tractor-trolleys with hair or teeth, or allowing a loaded tractor to move over their muscular bellies are some of the feats pulled off by competitors year after year.
Nihangs, the Guru's fauj (army of the last Sikh Guru), add to the kaleidoscope of events, displaying their expertise in martial arts, horse-riding, tent-pegging, and gatka. Archers from the tribal areas of Chhattisgarh, Jharkhand and Uttaranchal rub shoulders with the blue-clad Nihangs.
Bringing together people from different walks of life, the Kila Raipur games survived two difficult decades of terrorism. The indomitable spirit of the Punjabis ensured its continuation.
Given the rising popularity of the games, the MNCs too want a share of the pie. The organisers have been successful in roping in major industrial houses of the country. The Indian diaspora also contributes generously for the games in their village area while the management is purely on a voluntary basis.
In sync with the times, some animal fights have been discontinued as these involved cruelty to animals. The Union Ministry of Social Empowerment also helped the cause, ordering a stop to it.
Many Olympians have been a part of the games. Hockey players who have represented Canada, England, New Zealand, Kenya, Uganda, Malaysia have played here. "Modern sports like shooting, wrestling on synthetic mats, track and field events, hockey and cycling have become an integral part of our Rural Olympics," Sukhvir says.
There may be still a few months to go for the Olympics in Athens but before that the moving spirit behind both the games will be amply in demonstration at Kila Raipur.