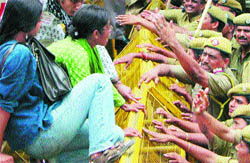 Bhimamma, a sex worker in Sangli, was picked up by the police for a case involving her son. Although arrested at 11 am, she was kept waiting till sunset outside the police station. A woman police constable interrogated her about her son's whereabouts, of which Bhimamma had no clue. However, a male police constable was not satisfied with this.
He drew out his broad white belt and beat her black and blue till her arm was broken. She was there till 11 pm and not even the presence of a woman police constable could help her.
Narrating this incident at a recent public meeting in Mumbai to discuss and protest against the recent ruling of the Supreme Court regarding the arrest of women, Meena Seshu of Sampada Grameen Mahila Sanstha (SANGRAM) says, "The moment you are arrested, you lose your identity as a woman." SANGRAM has worked with women sex workers in Sangli (Maharashtra) for over a decade.
"If you are a sex worker or a lower caste person, the police don't bring an arrest warrant and politely tell you that you are being arrested. An arrest in a village is a dramatic event. The so-called accused are hustled and bundled into a jeep. Even when we had a ruling saying no women should be arrested after sunset, it was ignored. What will happen now that the provision has been taken away?" asks Seshu.
On October 15, 2003, the Supreme Court overruled a judgement in the State of Maharashtra vs the Christian Community Welfare Council of India, and held that: "We think the object will be served if a direction is issued to the arresting authority that while arresting a female person, all efforts should be made to keep a lady constable present but in circumstances where the arresting officer is reasonably satisfied that such presence of a lady constable is not available or possible and/or the delay in arresting caused by securing the presence of a lady constable would impede the course of investigation, such arresting officer for reasons to be recorded either before the arrest or immediately after the arrest, be permitted to arrest a female person for lawful reasons at any time of the day or night, depending on the circumstances of the case even without the presence of a lady constable."
Activists have questioned the slant of the order, "What is the meaning of 'reasonably satisfied'? It is very subjective and open to interpretation," says Seshu.
Incensed women's groups, civil rights activists and human rights groups are creating public awareness on this new judgement. They have launched signature campaigns demanding a review of the order - to the Supreme Court, the National Human Rights Commission and the National Commission for Women.
Apurva, a labour lawyer and part of the Forum Against Oppression of Women, says that when she travels late to her home in a red light area of Mumbai, policemen follow her. "In the kind of legal system we have, the rights women enjoy are minimal. Earlier, I could tell the cops 'you cannot arrest me at night'. Even if on paper, it was my right. The Supreme Court has taken away that right. The order has implications on the larger issue of custodial violence," she points out.
Let us go back to 1994. Why did the Nagpur bench of the Bombay High Court issue certain orders on August 26 that year, in a case involving custodial death after a public interest litigation was filed by the Christian Community Welfare Council of India? On the night of June 23, 1993, a little past midnight, 10 policemen went to the house of Jaoinous Adam Illamani, a railway khalasi (worker) in Nagpur city. They dragged him out, beat him up, stripped him naked and put him in the lockup. He died of his injuries the next morning.
His wife, Jarina, her brother and cousin, and their two children were also illegally detained; Jarina was verbally abused, molested, beaten, and later threatened with death by the police. The events of that night shocked the "conscience of the court", which ruled that the state should ensure that no woman is arrested without the presence of a woman constable and in no case after sunset and before sunrise.
Rebecca, a criminal lawyer, from the India Centre for Human Rights and Law, says the recent Supreme Court order has serious and far-reaching implications, especially in the context of a steady increase in custodial deaths and violence in the last decade. Women are more vulnerable to abuse and violence and need more protection.
Shakeel Ahmed from Nirbhay Bano Andolan - a Mumbai-based human rights group-says while the Supreme Court order allows for arrests of women in exceptional cases at any time of the day and without the presence of a woman constable, this could soon become the norm; the order could set a dangerous precedent.
Rajni Iyer, advocate, thinks differently. "Even without this new order, women were being arrested without a woman constable. Now we can keep the court to its word. Let's ensure we hold the authorities to their order. An alternative demand can be made - if not woman police then someone who the woman is comfortable with can accompany her." Iyer adds that it is not only the law that has to safeguard women's rights, society also has to change its perception of women.
However, Seshu thinks the ruling can create problems for women in general and sex workers in particular. "The loss of dignity begins when a police constable enters your house. He usually uses filthy language and if no woman police is present, there is no check on such behaviour.
Further, there is always a physical search after the arrest. Can you imagine the problem if men conduct this search? Men often use sexual harassment as a tool to terrorise women. Besides, the policewomen accompany arrested women to the toilet, which are open. If there is no woman police present, it will be the men who accompany them."
Seshu also posits another key point: "What is the harm in employing women? Hundreds of rural women are unemployed. What is the excuse not to have women police?"
The other issue, says Seshu, is that the police raid brothels at night when they can blackmail clients into parting with huge sums of money. "For us it's a question of rights, not of protection. It's a question of our dignity, which is inviolate. At least, if women police are present, women will feel reassured against sexual harassment," she adds.
According to Rebecca, the few cases of custodial rape reported every year hardly reflect the reality: many cases go unrecorded. The National Human Rights Commission annual report of 2000-2001 recorded 1,093 cases of custodial death reported in 1999-2000.
Both men and women are vulnerable to violence in custody but women are decidedly more vulnerable to sexual harassment. It is the right of every woman to live in dignity and without fear of sexual assault. The Supreme Court judgement needs to be viewed in terms of ground realities, which are markedly different.
Although the earlier High Court order was violated openly, activists specify that at least there was such a legal provision. And because the police rarely enjoy public trust, and often do not have any regard for fundamental rights, can the arresting authority be left to determine the 'exceptional circumstances' of arresting women at any time of the day and without the safeguard of a woman police constable? Definitely not! WFS