TELEVISION
Sridevi brings smile back on Sahara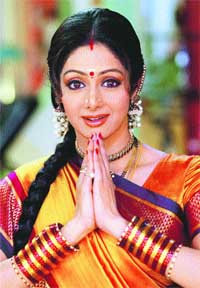 Sridevi's role of Malini Iyer wins appreciation
After the dismal showing of Karishma—The Miracle of Destiny, Sahara TV has finally a reason — or two — to smile. First the launch of Malini Iyer and now a sitcom loosely inspired by the sixties' Hollywood blockbuster Come September.
Bhagwaan Bachaaye Inko, shown on Wednesday and Thursday at 9 p.m. and produced by Paresh Rawal and Hemal Thakkaar, revolves around three characters who've been cheated out of their plans to go to the US and are working in Mumbai to pay off their debt. They are joined by an aspiring fashion designer Pooja, and her singer friend Nivi.
While searching for accommodation, the five are taken to one of the swankiest addresses in town – the house of a Mr and Mrs Topiwala. The agent says they can stay but when the Topiwalas are in town, all five would have to pose as servants looking after the house.
The result is a bellyful of chuckles—four nights a week. First with Sridevi's Malini Iyer and then with Paresh Rawal's Bhagwaan Bachaaye Inko. When two seasoned stars with a flair for comedy come calling, can laughs be far behind?
Going potty over potter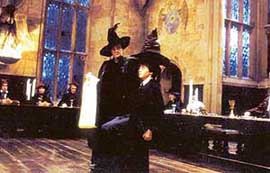 Pogo to priemere Harry Potter and the Sorcerer's Stone
You've read the book. You've seen the movie on the big screen. Now sit back and soak in the magic of Harry Potter from the comfort of your living room.
Pogo, the new television channel for kids, will premiere the mega blockbuster Harry Potter and the Sorcerer's Stone during the 2004 summer holidays in India. The family adventure tells the story of a boy who learns on his 11th birthday that he is the orphaned son of two powerful wizards and possesses unique magical powers of his own.
Invited to attend Hogwarts School of Witchcraft and Wizardry, Harry embarks on the adventure of a lifetime. At Hogwarts, he finds the home and the family he's never had.
Says a spokesperson of Pogo, "Acquiring the rights for Harry Potter and the Sorcerer's Stone is a proud moment for us. We're as excited as are our viewers." Though the telecast may be a couple of months away, the magic is already working on the channel.
No kid stuff
Despite the fact that only Cartoon Network seems to be clicking, there are a slew of new channels all set to regale the hearts of kids. The recently launched Splash channel hopes to make a splash with its mix of entertainment and education.
Data Quest Entertainment is all set to distribute PowerKidz for a conglomerate of American animation studios sometime around Divali 2004. It has already launched its test programming dubbed in Telugu on Eenadu TV.
And there's more coming later this year. Sony is said to have finalised plans to air Animax sometime during the summer holidays. Then there's UTV planning a channel aimed at 4 to19 viewership. And finally the Disney Channel looks set for a big launch.
But media planners say that at the end of the day, there will be just two channels competing — Cartoon Network and its sibling Pogo versus Disney Channel for the eyeballs of 47 million viewers under 19 in 40 million cable homes.
Buffoonery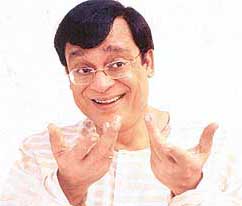 Mehta earns a big fan following
While Shah Rukh's film Main Hoon Na is yet to be released, Rajiv Mehta has already made the title a hit. In just his second television appearance, the versatile Gujarati stage actor has created an enviable following.
The 43-year-old, who plays Praful, a cashier with a big heart and a small brain in Khichdi on Star Plus, is one of the most loved stars on the small screen. For someone who specialises in serious roles on stage, a blind man in Pratishod and a vallain in Dr Tame Pan, it is remarkable how he has slipped into the character.
"The character inspired me. He's a buffoon and I had never played a buffoon before. So I took it as a challenge," says Mehta.
Even in films like Beta, Rangeela and Daud, his cameos have been diverse and noteworthy. But now he's looking for a bigger challenge. "A role like that of Ashok Kumar in Jewel Thief, it could be in a film or a serial." The way he's going, it won't be long before Mehta gets such an author-backed role.
A good sign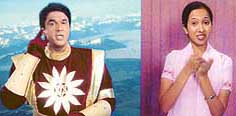 Sign language: Shaktimaan with interpreter
He doesn't mind being called the poor man's superhero. No one would if your serial has completed 700 episodes, has been running for over five years and its popularity still shows no signs of abating especially in the rural areas where, in the absence of cable TV, Doordarshan's enjoys a captive viewership.
Indeed, the exploits of Shaktimaan are now a part of the modern folklore among kids.
One of the reasons for the enduring popularity of the serial is that producer Mukesh Khanna gives a message in every episode.
Says he, "The other day I met Abhishek, a child with impaired hearing, and realised that I must do something for children like him." Khanna has now got an expert who interprets Shaktiman's message in sign language.
Says an exited Abhishek, "He's India's very own Superman, Batman, Spiderman and Tarzan rolled into one. "Indeed he is, considering that no other mythical TV hero has had such a cult following among young people, especially in small towns and villages.
Crime & punishment
Evil is always fascinating and creates a lasting impression on people. And that's what's so fascinating about this series.
Great Crimes and Trials, aired every Fridays at 11 p.m. on Discovery Channel, explores some of the most heinous and horrific crimes of the 20th century.
It traces the profiles of evil-minded people like Bonnie and Clyde, Hitler and Jimmy Hoffa. Each episode combines archival footage with interviews and examines individuals and motives, how each crime was committed, the breakthroughs in investigation and what happened to the trial.
It brings you face to face with notorious killers, mass murderers and assassins of the 20th century. Those of you who enjoy the thrill of frightening tales just cant afford to miss this appalling series week after week.
— Newsmen Features