Novel Adventure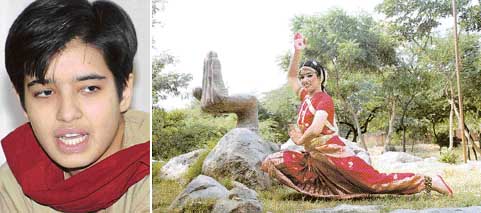 She's just sixteen. Her first book hit the stands recently and she is already working on a sequel. Aditi Tandon zeroes in on the Chandigarh girl who has not only created a buzz among the young but also shines in academics, sports and classical dance.

YOU don't expect school kids to don the mantle of authors and start writing fiction. That's something which, conventionally, falls under the purview of adult writers. Little wonder then that Chandigarh's 16-year-old Kriti Puri had to spend at least a month convincing everybody, including her own parents, that she had actually written fiction that deserved to be published.
Kriti's kitty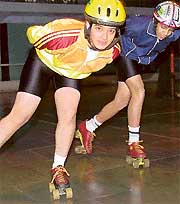 Kriti has other credits in her kitty. She says sports, which is a passion with her, gave a new dimension to her life. A roller-skating champion and a winner of several gold medals in speed skating at the national level, Kriti also represented India at the Asian Roller Skating championship held Taiwan in 2001. She also clinched the bronze for Chandigarh roller hockey team, which she captained in the National Games in Hyderabad. Trouncing the hosts, she scored all the seven goals for her team.
Her record in sports is matched by a fine extra-curricular record. A topper in the National Science Olympiad for three consecutive years (2001 - 2003) from Chandigarh, Kriti also received the National Talent Search Examination scholarship and the National Cultural Talent Search Scholarship of the Ministry of Human Resource Development. She was presented the National Child Award by the Vice-President in 2002. A keen quizzer, Kriti represents the North Zone in national quiz contests.
Kriti is also a talented dancer. She started learning Bharatnatyam when she was five. For the past five years she has been getting a scholarship from the HRD Ministry for advanced Bharatnatyam training.
If that was not enough, it took her another eight months after the completion of the manuscript to get a publisher who did not bury her effort under the excuse, "We only publish children's works by adult writers."
However, looking back, Kriti feels the struggle has been worth everything. And why shouldn't she feel so? For, her fictional account of 12-year-old Kian Sotheby in Kian & the Secret of Track One is getting her a pat from even notable writers like Khushwant Singh.
Writing a book has been no cakewalk for this young novelist, who besides excelling in academics, has made a name for herself as a roller skater and a Bharatnatyam dancer (see box). This spirited teenager has had to struggle at every step – right from convincing her parents that writing sessions would not hamper her studies to struggling with the names of characters in the book to whom she wanted to give foreign names to the final daunting task of getting the work published in its original form.
Rohit Dhar, Chief Editor, Vikas Publications, Delhi, who finally accepted Kriti's manuscript, commends her effort. "The book was released in December last year, so it is too early to talk sales. But the response from Delhi has been heartening. The book's strength lies in its contemporary feel. The characters, the locale, the plot are engaging. The sequencing has also been smartly done. I bet no one can leave the novel unless he has read it from cover to cover. We had to work on minor typographical errors. Largely, the original plot has been retained."
Basking in her newfound success, Kriti lives the experience of creation all over again. She began writing the novel when she was a Class IX student of Carmel Convent in Chandigarh. Flanked by her parents Sunita Puri, a company executive, and G.D. Puri, a doctor in the PGI, Kriti credits her younger brother Anant Vidur as the real force behind her novel. Her "other motivations" could be attributed to her upbringing. Her mother recalls, "I ensured that she had the membership of all the libraries. This allowed us access to a variety of books. We would read out stories to her. Gradually, she became a voracious reader. That's what we wanted. We also made her write a page per day on any topic. Her teachers in Carmel Convent evaluated the same for us. This exercise strengthened Kriti's language and honed her articulation skills."
She developed interest in sports gradually, and went on to bag a number of trophies. "Sports is a passion with me. Games help me concentrate on my goals. I draw my reasoning power from sports. I have literally grown on the sports field. That is why, my novel is about sports."
But what prompted Kriti to write a novel? She explains, "The incident that sparked it all is still vivid in my mind. It was a December night of the year 2001`85. I saw Vidur reading a Harry Potter for the fifth time in two days. I authoritatively told him to concentrate on schoolbooks. He, in turn, retorted that it was easy to ask people to put away good novels, but no joke to write one oneself. He challenged me to write a book, promising that he would put away the Harry Potter if I succeeded."
Kriti took up the challenge seriously, and began lending names and shape to her characters – all sportspersons. "I had to write for adolescents. Also the novel had to be about ice hockey, because speed with control is what I believe in. The names had to be intriguing. I didn't want Indian names, because Indian characters never amused me. So I settled for Kian, the West Life singer, whose name, like mine, begins with "K". I used to write during night and the free periods at school. My parents never knew what I was up to till the day my manuscript was ready."
The Puris admit, "We took it lightly in the beginning, but Kriti's persistence forced us to read her work. We were touched by her effort. Then began the hunt for publishers. We approached Children's Book Trust in Delhi. It said it could, at best, serialise the novel in its children's magazine. A number of other publishers like Rupa, Macmillan and Minerva also expressed their inability to publish the novel. Finally, Vikas agreed to publish it under the title of Madhuban. They went through the manuscript, edited it, omitted references to Liverpool, but finally published it."
Rohit Dhar says, "The novel is full of suspense and cleverly framed riddles. These pave the way for the finale, which symbolises that we can get results in life by making even half chances count. The book traces Kian's evolution from a temperamental boy who hates ice hockey to a persevering student, who faces every situation fearlessly. The message sent is that life means much more than merely excelling at school or in sports."
Interestingly, the first in the series, the novel ends on a curious note, suggesting a sequel. Kriti is already working on it.
This young writer puts a lot of herself in the work. One of the goals she describes in the novel was actually scored by her in the Asian Roller Skating Championships at Taiwan. She has taken the trouble to get her facts right. To describe ice hockey, she first read up books on the subject. To give a realistic account of an incident in the novel in which one girl at the sports training academy is hit by bullets but manages to survive, she sought the opinion of her father, a cardio-thoracic anaesthetist, to know where the bullets must hit for the victim to survive the injury.
Kriti's efforts are paying off. The Punjab Government has recommended her novel as supplementary reading material for higher secondary classes. Delhi Public School, Bathinda, and Guru Harkishan Singh Public School in Chandigarh have already included it in their supplementary reading programme.
The principals of Carmel Convent where Kriti studied till Class X and Bhavan Vidyalaya, which she joined to do her Class XI, are all praise for this novelist. The Bhavan Vidyalaya Principal, Meenakshi Mohindra, has honoured her as the school's "Best Writer of the Year."