Kashmir: Worst is not over
Prakriti Gupta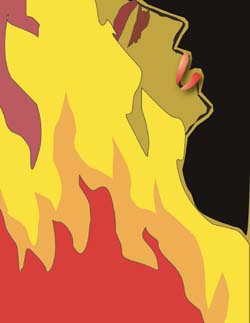 AFTER grappling with the diktats of militants and suffering the trauma of living in an insurgency-ridden state, the women in Kashmir are now increasingly becoming victims of dowry harassment, domestic violence, rape and sexual harassment.
Crimes against women were on the increase throughout the insurgency years, particularly in the 1990s. But over the past three years, such violence has shot up dramatically, according to the state police. In 2001, 1,647 cases of crimes against women were registered while 1,999 cases were registered in 2002. By September 2003, the police had registered over 1,500 such cases. According to the State Social Welfare Department, the male-female sex ratio in the state is 1000:900.
Dowry harassment as a phenomenon, the Kashmiris (both Hindu and Muslim) claim, was not prevalent in their society until very recently. Dr Girja Dhar, former chairperson of the State Commission for Women (SCW), said in a recent interview to a national daily that it was for the first time that they were getting cases of bride burning.
Dhar says 80 per cent of the complaints from women to the SCW were related to family problems. She says the rise in consumerism has affected the psyche of conflict-torn families, who now seek more wealth through dowry.
Lawyer Surinder Kour adds that until 1988, the number of dowry complaints was negligible. Renowned Kashmir University sociologist Bashir Ahmed Dabla says that violence against women was nearly non-existent, both at the social and domestic level. But the picture has changed now.
Although dowry is demanded in both urban and rural families, the incidence of dowry-related deaths is higher in rural areas, and among poorer sections.
Women have become even more vulnerable because the state government has still not implemented the Dowry Prohibition Act (DPA), which it redrafted in 1960. According to legal experts, J&K is exempt from the coverage of certain laws as it occupies a special status under Article 370. But despite directives from Justice S.K. Gupta in 2002 to frame rules and implement the DPA, the state government has failed to take any steps in this direction. Lawyers are of the opinion that the DPA ensures that a legal mechanism is put in place.
Take the case of Satinder Kour, a lecturer who married an IPS officer seven years ago. Her husband and in-laws physically and mentally tortured her for dowry. "There were several legal complications since there was no mechanism to implement the DPA. Moreover, my husband was influential enough to hamper police investigations," she narrates.
Officials in the state's Law Department admit that no rules for implementation of the DPA have been framed so far as it is the job of the Home Department. Desh Bhagat Samaj Sewa Sangathan, an NGO, has recently filed a public interest litigation demanding the speedy implementation of the DPA.
Equally disconcerting for women is the absence of family courts in the state. Seema Shekhar, consultative member of the SCW, says when the commission recently submitted the demand for establishing family courts, the state Law Secretary wrote back: "The government does not feel any necessity for such courts".
Surinder Kour observes that family courts will not only help to check the high rate of divorce in the state, but also help reduce the harassment women undergo while filing cases.
In the absence of family courts, the women have to file several cases in criminal courts even though they are all related to marital disputes. Criminal cases often do not result in any tangible benefits for the women themselves, because they are very often targeted at the punishment of the accused.
Kamala Devi, a young mother who was deserted by her husband, was forced to file four different cases though all her petitions related to the custody of her child, initiation of criminal proceedings for dowry demands and maintenance claims.
Noted psychiatrist Kuldip Koul observes that a majority of his female patients are victims of torture, dowry harassment and unhappy marriages.
Women who approach the courts undergo tremendous mental pressure. The lack of a conducive environment in courts, social stigma and lengthy litigation take a heavy toll on women. "Many of them admit they don't feel comfortable because there is no privacy and security in courts; they are harassed by lawyers and court staff; and there are no female judges," he says. Most courts don't even have separate toilets for women!
Women petitioners often withdraw their cases due to the excessive pressure they experience plus the high cost of litigation.
There has also been an increase in cases of rape and sexual harassment in the state. In this context, Dhar states that men who have failed in their "mission" take out their frustrations on women.
On the whole, rising crimes against women have been attributed to several factors— the inability of men to cope with the pressures of insurgency, behavioural aberrations caused due to migration, rise in the consumerist culture and disruption in education of women. But the casual approach of the state today is only deepening the crisis. WFS