GARDEN LIFE
The lawn as a canvas
Satish Narula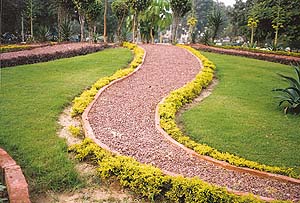 Take the help of a landscapist to design your lawn
A GARDEN can be likened to a canvas. Both, a good painting and a well-planned garden have balance, harmony, emphasis and above all, the judicious use of colours in various combinations. A lawn is like a big canvas, dotted with various features like waterfall, murals, designs, statues, etc. Creating a garden is both an art and science.
Once the days start getting warmer, the time will be ripe to lay out a garden. Creating a garden is like making a painting. That is why it is best to draw the garden plan on paper before executing it. Some perfectionists even fill in the colours on the layout to see the effect of things to come. While designing a garden, two things are to be kept in mind. First, one should have a thorough knowledge about plants and secondly, you need a good landscapist to create features imaginatively.
EARLIER COLUMNS

Carnation care
January 25, 2004


Tree truths
January 11, 2004


Nip mango mealy bug in the bud now
December 14, 2003


Plant evergreens at the entrance
November 30, 2003


Amla, jamun plants regain popularity
November 16, 2003


Cycads a favourite of landscapists
October 19, 2003


Save the citrus crop from fruit drop
October 5, 2003


Variegated foliage a wonder of nature
September 21, 2003


Cultivate crotons for colour
September 7, 2003

To start the preliminary designing, you should have complete measurements so that every inch of the garden is planned beforehand. Depending upon the choice, preferences and space available, various features have to be considered. The water feature, sitting area, private zone, children's corner, bird bath, cut-flower requirement, paths, fencing, lighting, outdoor garden music system, kitchen garden area and fruit plants are some of the features to be considered. Do not forget to take into account overhead wiring while selecting plants.
The planning has to be essentially scientific. Study the movement of the sun, the time and duration of sunny spots and shade corners. The selection of plants has to be done accordingly. One should also keep in mind the potential height and spread of a plant. The nature of the plant should also be known, whether it is deciduous or evergreen. If it is deciduous, then find out the season in which it sheds leaves. Flowering time, colour of the blooms, duration of flowering, life span of the plants are other considerations. The plants must be so planted as to highlight the architectural lines of the building and not to camouflage them. The selection of plants is also to be as per the building design and architecture. It is better to take the help of a qualified expert.
As far as possible, one should have dynamism in landscape planning. This means that the planning should be such that there is scope for frequent changes. Fixed features become like a 'wall' after some time. There should be an opportunity for one to present different features after every few days. It is easier these days, when marble chips, stones, ground cover plants etc are being used frequently. Such changes give an element of curiosity to your garden, even for a frequent visitor who always looks forward to 'something new' in the garden.
Normally, people start planning the garden when they are exhausted after house construction. The usual demand is for a garden 'which should be cheap and best'. Well, there is no such combination as 'cheap and best'. Unless you give importance to garden development, you won't be able to get the desired effect. Remember, a garden is the face of the house.