HOLLYWOOD FLICKS
Comic look at papas as nannies
Ervell E. Menezes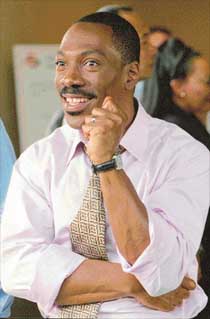 Eddie Murphy in Daddy Day Care
IF women have more than made a niche for themselves in the job place why canít men do the same at home? How would men react to holding the forte on the home front? Well, Daddy Day Care sets out to show how initially misfits at the job, not only do they manage their own children but even run a baby Day Care Centre.
But Daddy Day Care is not pure comedy. It shifts genres, from slapstick comedy to psychological drama to plain humanism, but it is surely family entertainment and women should love it even more.
Charlie (Eddie Murphy) and Phil (Jeff Garlin) are two high-profile ad executives out on their ears from the jobs because they cannot promote a vegetable cereal. How do they keep the home fires burning?
Well by doing exactly what they were fired for. Trying to understand kids. Of course, the teething troubles are enormous but when this odd couple puts their collective noses to the grindstone things are not as bad as they seem to be.
Thankfully, Daddy Day Care is not an out-and-out comedy because Murphy (after 48 Hours and other successes) needs to be controlled. Itís when he runs wild heís a complete disaster. But director Steve Carr does a fair job. The early excesses could have been curbed a bit and the film has a long middle but it is the plot with rival day care headmistress Gwyneth Harridan (Angelica Huston) that saves the day. Ms Huston is at her best playing the Big B (as in 102 Dalmatians) That, a sizeable doze of humanity and the antics of a third caretaker Marvin (Steve Zahn) are able to make the film end on a plus note.
Khamani Griffin as Charlieís son Ben is cute and so are a few of the others. Eddie Murphy is on a leash and Jeff Garlin tends to overact but all said and done Daddy Day Care is surely worth a watch.
This feature was published on January 11, 2004