Holidays that heal body and mind
Madhu Gurung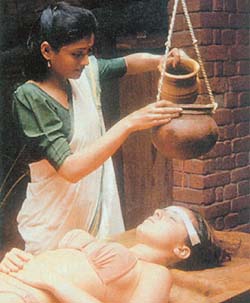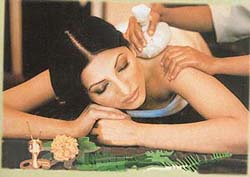 Tourists from the world over flock to India for the alternate health treatments it offers

CORNELIA ULLRICH, 46, has flown all the way from Germany to India for her ayurveda holiday. She spent 14 days de-stressing at Angsana, an ayurvedic centre in Bangalore. She soaked in the "utterly relaxing" oil massage, ate vegetarian meals, drank herbal deconcoctions and listened to soothing Carnatic music. Ullrich, who heard about this place from a fellow sculptor, says she "feels reborn".
India, once touted the world over as a cultural, spiritual and heritage tourism centre, is now increasingly popular as a health destination. "Travel is no longer what it used to be," agrees Radhika Ray, merchandising and product development manager at SITA World Travels. "Earlier, we sold India as a cultural destination. Now, the world over, there is a shift to vegetarianism, alternative healing, yoga and healthy living. So we market India as a health destination." Besides its cultural package, SITA has already put in place a special Ayurveda package that is immensely popular.
An editorial published in 1998 in The Journal of the American Medical Association (JAMA) was the first to note the increasing popularity of alternative medicine. It reported a 47 per cent increase in US-based patients turning to alternate health practitioners. JAMA attributed this growing shift to grave public concern about escalating costs of conventional medicine and the adverse effects of allopathic medicine.
The journal goes on to say that an increase in the incidence of chronic diseases has caused people to look for better quality of life. The new mantra is a lifestyle change based on a holistic approach to life.
Travel and tourism gurus in India were quick to seize on these global trends. Tourism has never been this good in a decade and a half. Global recession is on the wane and India's economy is growing at around seven per cent per annum. The benefits of doing business with and in India have resulted in thousands of jobs moving to Indian shores from the West.
This brings in transit business and travellers who visit India on business, meetings and holidays. In 2002, 2.2 million foreigners visited India, and the Ministry of Tourism says that the figures for the year 2003 are up by 20 per cent.
Kerala, at the tip of the Indian peninsula, has marketed itself remarkably well. It sold itself as 'God's own country' and the land of ayurvedic massages and treatments. The Kerala Government had an outlay of about Rs 742 million for the financial year 2003-04. This investment makes available cheap, long-term funds to help finance the tourism infrastructure. Kerala is today a popular destination in India for foreign tourists.
To cater to this growing demand, a number of upmarket spas and health centres offering ayurveda treatments have cropped up all over the country. Ananda, one such centre situated close to Rishikesh in the Himalayas, was judged the first runner-up in 2003 for the Best Overseas Lifestyle Destination Spa by Conde Nast Traveller. The spa's philosophy of 'holistic wellness' comes at a price though. A 30-minute consultation, which includes determination of the individual body constitution and prescription of guidelines for a daily routine, activities and diet plan, costs about Rs 750.
This can go up to Rs 4,500 for pizhichil, a highly sought-after ayurvedic rejuvenation therapy. Pizhichil is essentially a 14-day oil massage course that helps build immunity. It is prescribed as a remedy for blood pressure, rheumatic diseases and sexual weakness, and is said to help arrest ageing.
M. V. Vasudevan, who runs Arya Vaidyasala Kottakkal in New Delhi's South Extension, agrees. "When I was in college, there were just three ayurveda colleges, now there are seven in Kerala alone. Every year, nearly 300 people become Ayurveda practitioners."
Although the science of ayurveda is practised all over the country, the Kerala School appears to dominate the scene. Dr V.R. Verma of the Arya Vaidya Pharmacy in Karol Bagh, New Delhi, says, "Ayurvedic curative therapies originated in Kerala and there is still a sizeable number of doctors still carrying on the old traditions."
"Most of our patients come to us after trying allopathy. A large number seek treatment for arthritis, neurological disorders, allergic complaints and total body rejuvenation. Many degenerative diseases, psychosomatic disorders and stress-related problems find few answers in allopathy, but ayurveda offers solutions. People from foreign embassies, like France, Germany and Romania, have been booking into our centres for treatments.
Earlier, we had only two centres: one in Kerala and another in Delhi. Now we have several branches in Kolkata, Hyderabad, Chennai and Coimbatore," says Dr Vasudevan.
Dr Deepa Shankar of the Institute of Economic Growth studied the role of traditional and alternative health systems in health care. Studying the patterns in Kerala, she notes that in acute cases of aches and pains, 86 per cent of the people opted for allopathic treatment. These numbers were reversed when patients were subject to chronic aches and pain-- 44 per cent stuck to allopathic care while 54 per cent opted for ayurvedic treatment.
Dermatological treatment has registered the same trends. A whopping 81 per cent opted for allopathic treatment in acute dermatological distress. But in chronic cases, the numbers opting for ayurvedic care rose to 43 per cent.
For chronic handicaps, 64 per cent opt for ayurvedic care, while only 28 per cent go in for allopathic treatment. For problems related to the reproductive system, 57 per cent opt for ayurvedic treatment. The study found that while allopathy was more popular, most people favoured ayurvedic care for chronic problems.
After fighting a losing battle with chronic arthritis, retired botanist Maya Anderson, 71, made a determined journey from the USA to Sittilanchery, a small village near Palghat. Anderson booked in at the Narayana Ayurveda Chikitsalaya to undergo a 16-day treatment for painful swollen knees.
"I was a near cripple. Some days, I was completely bed-ridden and would lose all hope of ever leading a normal life." At the Chikitsalaya, Anderson was given herbal oil massages coupled with complete rest and a boiled food-minimal salt diet. She also drank kashayam, a herbal deconcoction, and took guggulu tablets. Anderson's doctors have told her to repeat the treatment for the next three years for complete cure. "I now have my life back. I can understand, care and manage my condition. That is the key," she says.
The flip side, says Verma, is that "most centres do not offer authentic treatment. Most tourists go back from India thinking that a massage with herbal oil is ayurveda treatment. The fact is that massage is just a small part of it. An equally important component of the treatment is the diet and lifestyle of the patient and the herbal supplements prescribed. This can be done only by a trained ayurveda physician. Such commercialisation only harms our traditional science." WFS