SURAIYA
A Tribute
O door jaane wale...
Devinder Bir Kaur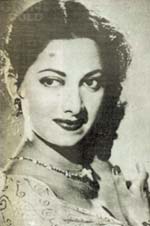 Suraiya was a traffic stopper in her heyday
THERE was a time when traffic jams at Marine Drive, Bombay, were caused not because of a long line of cars, but because of a young charismatic actress whose melodious voice had cast a spell on thousands of young Indians. This singing star didn't have to reveal any flesh or croon sexy numbers the way pop stars do today. Seeing her on the big screen and hearing her clear melodious voice was enough to have them bewitched.
Indeed, the screen goddess and singing star, Suraiya Jamal Sheikh, had the world at her feet. From the early hours of the morning, fans and hopeful suitors would begin to queue up outside her bungalow, Krishna Mahal, on the Marine Drive. Most of them were obsessed with her. In fact, one of them even went on a fast outside the gates of her house, so that she would relent and marry him! Then, there was another crazy fan who actually came to her house with a baraat! Yet another who kept her photograph in the puja room and wouldn't eat without worshipping Suraiya. Even street singers made their living singing the songs of her hit film Pyar ki Jeet. They would particularly come outside her house and sing O door jaane wale... and Suraiya's mother and grandmother, pleased, would give them a lot of money.
Suraiya was introduced to the film industry as a child artiste. One day, in 1941, her mamoo (maternal uncle) Zahoor, a popular villain in films, took her along to watch the shooting of Prakash Pictures' Taj Mahal. The producer, Nanubhai Vakil, looked at her and felt that her face was ideally suited for the character of young Mumtaz Mahal. He asked her uncle if she could do the film. Suraiya's mother and nani were only too willing. So, she was sent off to Delhi to shoot at the Red Fort for 10 days. And that was followed by one offer and then another and another. Thus, by the age of 12, she was doing the heroine's role in Ishara. She was so skinny that they had to pad her all over! And, what was more, she was opposite the 'grand old man of the Indian screen', namely Prithviraj Kapoor, who was in his mid-40s. Like everyone in the unit, she too called him 'Papaji'! Prithviraj admitted that it was difficult romancing with a girl he would call 'daughter' when the camera wasn't whirring.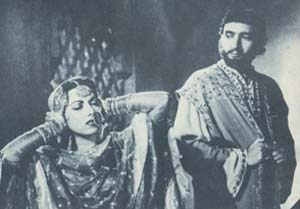 Suraiya with Bharat Bhushan in a scene from Mirza Ghalib



The singing star is seen here with Tabassum
Once Suraiya started working as a heroine, she never sang for anyone but herself. In fact, it was an era of singing stars. She was never trained to sing. But she was bright and picked up tunes very well.
Music director Naushad, who heard her voice on the radio, got in touch with her to sing for A.R. Kardar's film Sharda. She sang Panchhi ja, peechhe raha hai bachpan mera... which was picturised on Mehtab.
Naushad found Suraiya's voice as the voice of the girl next door. "It was an unsophisticated and charming voice and very effortless," he once commented. For Naushad she sang in films like Dillagi, Dastaan, Dil-e-nadan, Anmol Ghadi etc.
In fact, the songs of Pyar ki Jeet were so popular that crowds would gather outside Suraiya's house. This irked the Marine Drive residents and they complained to the Chief Minister about the traffic jams caused by the crowds. So, an inspector and four constables were posted outside her house.
Her movie Badi Bahen, in 1949, was such a success that when the song Woh paas rahen ya door rahen, nazron mein samai rehtein hain would unfold on the screen, the stage would be littered with change, as people would go crazy and throw coins.
Similarly, Shama had some of Suraiya's most melodious numbers like Mast aankhon mein, shararat, kabhi aisi to na thi and Dhadakte dil ki tamanna ho mera pyar ho tum composed by Ghulam Mohammed.
Most of her roles were simple, but the audiences loved them. Thus, Dard dealt with the sacrifice two lovers want to make out of gratitude for their benefactor who has brought them up. In Badi Bahen, Suraiya stands out in a deglamorised role of an elder sister slogging as a maid-servant to educate her younger sister played by Geeta Bali. Dastan was the age-old tale of two brothers pining for the same woman. In Afsar, Suraiya is a rich girl who entertains an imposter played by a young and gawky Dev Anand. Shama Parwana was another tragic love story of a princess drawn to a commoner.
However, it was Mirza Ghalib which brought Suraiya accolades. She was all the more flattered that she had bagged the role for which other beautiful stars like Madhubala had been considered. Sohrab Modi discussed and finalised the matter with Suraiya's grandmother and had the film ready within three months in 1954. It was the first feature film to be awarded the President's Gold Medal. Pandit Jawaharlal Nehru came for the awards nite and sat between Sohrab Modi and Suraiya. Not only did he sit through the entire movie, he turned to Suraiya and said she had sung the ghazals so well that 'Mirza Ghalib ki rooh ko zinda kar diya' (you have brought to life Mirza Ghalib's soul). Suraiya considered the praise to be an award greater than an Oscar.
Indeed, Suraiya had immortalised Ghalib's ghazals. Who can forget Dil-e-nadan tujhe hua kya hai, Nuktacheen hai gham-e-dil, Ye na thi hamari kismat in Suraiya's mellifluous voice?
Her swan song was Rustom Sohrab in 1963 at the age of 34. Based on a Persian legend, the movie was about how a father and son are pitched against each other in a battle without their knowing their relationship. While Prithviraj Kapoor filled the screen, Suraiya's song, Yeh kaisi ajab dastan ho gayi hai, chhupate chhupate bayan ho gayi hai, is still remembered.
Suraiya had decided to call it a day. And once she had made up her mind, she refused to change it even in the face of many tempting offers. Since she never sang for anybody else but herself, it was most natural to quit singing too. Thereafter, she never sang. She felt she had made the right decision to leave when she did, as she wanted people to remember her the way she was in her prime.
But no talk of Suraiya would be complete without a mention of Dev Anand and their love story. Suraiya met Dev during the filming of Vidya. She was then an established star and he a raw newcomer, but she found him 'cultured and very handsome'. It was during the shooting of the song, Laayi khushi ki duniya, hasti hui jawaani, in which she had to rest her head on Dev's shoulder, when she experienced 'an electric shock go through her' and realised that no one had made her feel this way before.
Suraiya had no existence outside her work, her grandmother made sure of that. So much so, even after one and a half years, Suraiya and Dev didn't get to meet each other alone.
Dev Anand began writing passionate letters to her. Sometimes she would sneak out to the terrace and Dev would follow.
Dev proposed to her on the sets of Jeet and gave her a diamond ring. But hell broke loose at home as her grandmother discovered the ring and threw Dev's ring into the sea.
Suraiya's grandmother and uncle threatened to get Dev arrested or killed. People like Mehboob Khan, A.R. Kardar, Jaddan Bai and others, who made up the Muslim lobby of the film industry, insisted that if she got married to Dev Anand, Hindu-Muslim riots would break out. Being naive then, Suraiya got brainwashed into believing them. She feared for Dev's safety and finally took the decision of telling him a final 'no'. She was just 22.
Later, Suraiya was never short of proposals from other men. But she frankly admitted that Dev was the only man in her life and remained unmarried till the very end.
Gregory Peck-lookalike Dev Anand was no doubt the love of her life. But she once had an unusual midnight rendezvous with the original Hollywood actor himself. It so happened that Peck was in Bombay at a party at Ambassador Hotel, a stone's throw from Suraiya's house. Actor Al Nasir, who was a close family friend of Suraiya's, was present at the party. He mentioned it to the actor that Suraiya, a top star in India, was a great fan of his. At midnight, he had Gregory Peck at her doorstep. He had also dragged a photographer with them. The next day pictures of Gregory Peck and Suraiya were splashed in all newspapers. It remained one of the most cherished moments of her life.
Suraiya died a lonely woman — her mother and grandmother having died several years ago, and the rest of the family having migrated to Pakistan. She had held her own among stalwarts like Noor Jahan, Khurshid, Zohrabai, Amirbai and others without any music training. Her career spanned a little over two decades but she left behind a vast repertoire of songs for audiences to delight in.