"There's a lot of me in Malini Iyer"
When she was at the height of stardom, she gave it all up for marriage. Now, after a gap of eight years, Sridevi is back in the arclights—in and as Malini Iyer on Sahara TV. The Hawa Hawai girl talks about her comeback and new role.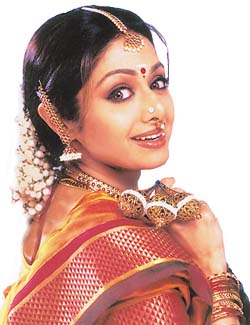 The small-screen role has been tailor-made for Sridevi
DIRECTED by Satish Kaushik, Malini Iyer is a tale of simple south Indian girl who marries a failed Punjabi cricketer. Unlike the Tu-Tu Main-Main of the Punjabi- Madrasi duo of Ghar Jamai, peace prevails in this household, especially between saas and bahu.
Marriage and two daughters later, Sridevi still retains her childlike innocence and is as worried about her performance and acceptance as any newcomer. Meet the Hawa Hawai girl in comeback mode:
How does it feel making a comeback after so many years?
I am overwhelmed and frankly, worried too. I haven't done television before and when there are so many expectations there is that extra responsibility of living up to them.
You have claimed that Malini Iyer will be a huge hit. What makes you so confident?
Firstly, it's a comedy with a poignant undercurrent. Unlike the saas-bahu tussles this serial portrays an emotional bonding between the two. What makes Malini Iyer different from the other women on television is that she loves her mother-in-law and her mother-in-law loves her as much. There is no conflict here, only a lot of love and emotional bonding. The situations are such that they evoke laughter.
Did you find it tough to act in a Punjabi setting?
Not at all. Don't forget, in real life I am married to a Punjabi (Boney Kapoor). The director Satish Kaushik and writer Sanjay Chhel are all pucca Punjabis. So, there was no problem. Besides, I enjoyed speaking in a South Indian accent and loved sentences like: Mere do pati—-Ek mera pati, doosra Tirupati' and BA pass Tamil jisme English bhi hai shaamil. This really confounds the traditional Punjabi Sabhawal family where I come as a Tamil bahu.
What prompted you to choose television for a comeback?
For as actress any medium is interesting if you get to portray the right character. Malini Iyer is a character that women can identify and empathise with. The south Indian bahu and her Punjabi mother-in-law and father-in-law Prem Kaur and Premjit Singh are also people one can identify with. This is the kind of comeback role I was looking for. When you have a role of a lifetime, the size of the screen doesn't really matter.
Are you happy with the television experience?
Yes, it is as good as films. As far as acting goes, there's no difference. Since it is a home production things are easy and smooth. There have been no pressures and the comfort level is high.
Was the role tailor-made for you?
Malini Iyer was created for me by director Satish Kaushik and writer Sanjay Chhel. So naturally there's a lot of me in Malini's characterisation. We have many similarities. We both happen to be south Indian women married into Punjabi households. Besides, we are both traditional in our attire but modern in our thinking.
If the script was tailor-made why did it take so long for Malini Iyer to appear on the screen?
It took us a while to do our homework. We worked on the show, the characterisations, the look and the Punjabi mannerisms, the punchlines, the nuances. I am glad it took long and we got the time to sort out all the glitches. It makes me happy that our time and effort have been well spent.
Will you be signing more serials or films after Malini Iyer?
I believe in one show at a time. I am a happy mother, a happy wife and a happy actress. My hands are full, my heart is full. When you are content, you need not look beyond what is in front of you.
— Newsmen Features