TELEVISION
From law books to music albums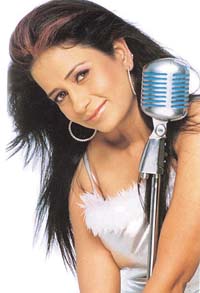 Saroo Maini: One for the road
ONE look at her and you might be tempted to call her the original Akhiyon se goli mare girl. She may not be that but she sure has a lot to do with eyes.
Saroo Maini fixed her gaze on stardom after the release of her debut album, Akhiyan. She's back with the foot-tapping Saahiban that is rotating on music channels.
"It's a dream come true," says Saroo, the Chandigarh-educated law graduate who comes from the family that manufactures the Rewa car.
Her music is a melodic fusion of the East and West. Which may be news for those who thought the album was just bump-and-grind. Saroo shows she has the ability to make viewers dance to her tune, not just with her sizzling body!
Hello, Aroona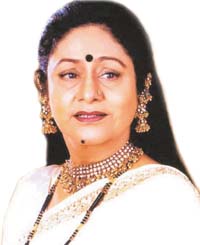 Irani in Zameen Se Aassmaan Tak: The new hit machine
She is destiny's child on the small screen and whatever she touches turns into gold. After a hattrick of successful serials on Star Plus and Zee TV, Aroona Irani is now giving sahara to Sahara with Zameen Se Aassmaan Tak, Monday to Thursday, 10 p.m.
The story revolves around Balraj Thakur, whose life is shattered day by an earthquake. His wife loses her memory and his daughter is forced to become a bar dancer.
"Daily soaps are tedious but I took up the challenge. Frankly, the going hasn't been tough," says Aroona, fast replacing Ekta Kapoor as the small screen's new hit machine.
And whoever cares if the serial is a clever blend of the sixties superhit Waqt and the more recently acclaimed Chandni Bar. After all, what counts is the right formula for a hit.
Lotiya ban gaya gentleman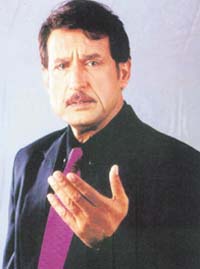 Kiran Kumar: Villain turns gentleman
Though he's still remembered as Lotiya Pathan of Tezaab, Kiran Kumar says his best period started when he decided to follow the straight and narrow in his choice of roles.
"Life can't get better. I am working round the clock both on the small and big screens," says Kumar, who's playing honey-dripping roles in five serials and a dozen movies.
Yet, there was a time when he seemed born to villainy. "All roles are challenging, but nothing can beat a well-defined role of a villain in films," says the veteran.
So would he go back to villainy? "I want to, but producers have told me to forget it and say: Ab to tuhjse bacche bhi nahi darte to hero kya darega."
True. And as if to rub it in, Kiran Kumar is in line for the Best Gentleman on TV award for playing Air Commodore Suraj Singh in Saara Aakash on Star Plus.
Hare Ram!
It's religion in a hurry for the time-poor Y.Ramanand Sagar is doing what he's been doing for the last two decades——once again milking his pet holy cow.
The maker of Ramayana, which broke all viewership records before Mahabharata came along, is hoping to strike gold once again.
Sagar's think-tank has now come up with Shankshipt Ramayana, Sundays, Star Plus 9 am,. which he says is an abbreviated, crisper, racier and slicker version of the original.
Abbreviated, all right. But considering the amateurish special effects in the original, anything would be slicker, crispier and racier!
Wah Wahab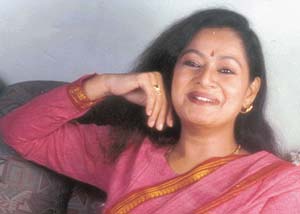 Wahab: Hoping for Balaji's blessings
The vampish Nagma made a mark in serial Heena, thus ensuring a busy time ahead for the lady who essayed the role. Zarina Wahab, who rode the crest of new wave cinema in the seventies and eighties, is again a busy star—-this time on the small screen.
Returning two years ago after a self-imposed exile, she began with inconsequential serials like Anahoot and Thoda Khatta Thoda Meetha. And then she was offered the role of Nagma in Heena which changed everything.
"I was always a good girl in films and people expected me to be that in TV serials as well. But I broke that mindset with Nagma in Heena. I am happy with the way it shaped up," says Wahab.
Though she has more such offers, she says she is looking forward to doing something different now. And her idea of something different? A saas in a Balaji Telefilms soap!
City of the devout
Legend has it that when Lord Shiva looked down on the earth from his holy abode in the Himalayas, he saw a city bathed in an extraordinary natural light and called it Kashi — the Luminous One.
Varanasi—-City of Lights, Sunday, February 8, at 9.30 p.m. on Discovery Channel, takes you to the eternal city along the banks of the Ganges. Hindus believe if you die here you will be released from the cycle of reincarnation.
Delve into the elaborate mythology of this city where Lord Shiva not just left his footprints but also an indelible mark on the spiritual ethos of devout Hindus.
— Newsmen Features