ULTA-PULTA
Warrants for sale
Jaspal Bhatti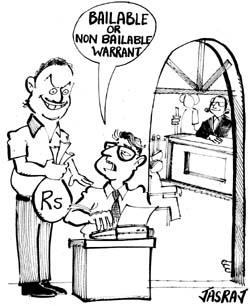 I ASKED my doctor what I should do to improve my personal 'feel good factor'? He promptly advised me not to read the newspaper for a week because of its daily dose of rape, arson, jail break, female foeticide, scams etc.
The next morning my wife woke me up with a cup of tea and the news that in a sting operation, a journalist in Gujarat had obtained bailable warrants against the President and Chief Justice of India. He had obtained these warrants by bribing a magistrate with a sum of Rs 40,000. I asked my wife to keep the newspaper away from me as my doctor had advised me to abstain from reading news. My wife advised me, "One should never have addictive elements like alcohol, cigarrettes, opium, newspapers suddenly. You must at least react to one headlines. Aren't you stunned by the level of corruption? Can you imagine a magistrate accepting Rs 40,000 and issuing a bailable warrant against the President of India? Pacifying her, I said, "It shows what a great country India is. No one is discriminated on the basis of colour, caste and creed. The judicial system can be misused to harass a poor, common man as well as the first citizen of India!"
What action should be taken against the magistrate who has accepted the bribe? I think he deserves the greatest honour because after counting the amount of the bribe he did not bother to see against whom the warrant was being issued. With his actions, he has kept intact the highest traditions of bribery.
My wife asked me, "Does the TV journalist who exposed this case also deserves the same honour? " "No", I said. "He should be put behind bars for tampering with the bribery structure of India!"