Balance in animal feed must
Aparna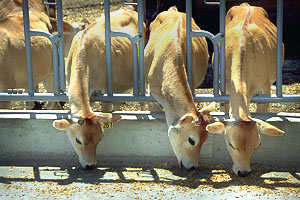 Follow the basic nutrition principle that any change in the feeding schedule should be gradual.
Feeding is considered one of the most important aspects in dairy farming as it accounts for 70 per cent of the expenses. Given this, that cost of milk production can be reduced if we are able to cut costs by feeding the animals in an optimum manner.
Most farmers feed their animals according to their arbitrary judgement or using the same yardstick for all animals, irrespective of their production potential and physiological state. An understanding of certain principles of feeding is essential.
Excess
In sudden and excessive onset of feeding of cereal grains as part of concentrate mixture or as such, particularly when the diet has low roughage, cattle are liable to suffer from lactic acidosis or bloat.
Acidosis: In the case of humans, the normal end product of carbohydrate digestion is glucose, but in ruminants glucose is further degraded into three acids, acetic, propionic and butyric acids. But excessive and sudden feeding of cereals leads to the production of lactic acid instead. This is because of insufficient number of grain-digesting bacteria in the rumen (part of stomach where microbial digestion takes place). The strength of these bacteria is decided by the amount of grains being fed. In such cases, another group of bacteria develops, which leads to the production of a stronger acid called lactic acid. This renders the rumen more acidic, which kills a vast population of microbes, hindering the digestion process. If this condition persists for long, it could damage the liver, kidney and even nervous disorder may occur.
Bloat: This condition occurs because grain is high-density ration. Its excess depresses a part of the stomach below the rumen fluid level. This causes the entrapping of gas in the fluid, leading to a bloat.
The best way to avoid these conditions is to follow the basic nutrition principle that any change in the feeding schedule should be gradual and the ration should contain roughage along with concentrates.
Roughage
Legume fodder crops are considered better than non-legume because legumes have higher protein content. Along with protein, legumes also have higher water content. When fed in abundance and without the incorporation of dry roughage like straw, they produce foam at the base of the oesophagus, leading to accumulation of gases in the rumen, again causing bloat.
Thus, one should not feed legume fodder solely, but with straw or non-leguminous fodder.
Some animals are more prone to bloat than others. This is so because bloat also depends on saliva production, which varies from animal to animal. Saliva is an anti-foaming agent.
Another factor is of excessive feeding of poor-quality roughages like late-cut hay or straw without the incorporation of easily digestible feed ingredients. These roughages have poor nutritional value. Their sole feeding leads to non-availability of nutrients to the ruminal bacteria and other micro-organisms, thereby decreasing their activity. Feed digestion is hindered and instead of moving towards other parts of the digestive tract, it starts accumulating in the rumen. On the other hand, the animal starts eating more and more to fulfil its needs. The affected animal would show a potbelly with recurring bloat.
Animals must be fed some easily digestible feed component, like leguminous fodder or concentrate mixture along with poor-quality roughage.
Rice straw: Rice straw contains the micro mineral selenium. It is toxic if fed in higher amounts but a certain amount is useful. Excessive feeding of rice straw causes gangrene of body extremities. Thus, rice straw may not be a nice option for dry forage feeding.
Urea
Urea is used as a protein source for dairy animals. Urea itself is non-toxic. When consumed by a ruminant, it is degraded to ammonia in the rumen by micro-organisms, which use it for the synthesis of proteins. This process continues till an optimum level of feeding of urea. But beyond a certain level, excessive ammonia is produced, all of which cannot be utilised by micro-organisms and has to be detoxified by the liver. The principle is that the level of feeding urea in the diet should be 2-3 per cent.