'Worming' up the new millennium
Peeyush Agnihotri
THE good got better and the bad became ugly. PCs have become better and virus that bedevil PC users have become uglier. Both these computing aspects parallel each other but the last five years of the millennium will be remembered more for virus than major PC breakthroughs. Virus celebrated their 20th birthday in November 2003. Malicious programmers, riding the WWW wave, have done their best to make surfing a pain in the neck. In fact, such malicious programs have gone more sophisticated and now there are almost 60,000 viruses in existence.
Some Pretty Amazing Mail (SPAM) facts
AN OECD report prepared for an OECD-EU hosted workshop on the problem provides many facts and figures in an attempt to measure the extent of spam:
Let's make reading better!
DUTCH firm Philips Electronics said it was preparing to mass-produce a slim, book-sized display panel onto which consumers could download newspapers and magazines — then roll up and put away. The 5-inch display, which can show detailed images, can be rolled up into a pen-sized holder. If connected to a mobile phone, it can also be used to download Web pages, a book or e-mail.

IT WIT
by Sandeep Joshi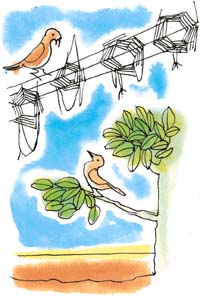 Okay, I am online! Now which Website were you talking about?


Piracy hits Web voyeurism
Adam Tanner
THE Internet piracy has devastated the music business, threatened the movie industry and may now undercut one of the most 'successful' corners of the Web — pornography.

The problem of small things
D. Brinkerhoff & D. Hamilton
NANOTECHNOLOGY, according to its fans, will jumpstart a new industrial revolution with molecular-sized structures as complex as the human cell and 100 times stronger than steel. The new technology transforms everyday products and the way they are made by manipulating atoms so that materials can be shrunk, strengthened and lightened all at once.


Brain drain: India's loss is world's gain
Amritbir Kaur
A woman to her friend: Hello ji, kya haal hai? Beta kya kar raha hai aalkal?
Friend: IT kar raha hai.
THIS is an oft-heard piece of conversation in this part of India. And just ask them to expand the term 'IT,' they would be point blank. Mouthing IT instead of the lowly 'computer course' seems classy to them. Even in such a fast growing technology market like India, the general public is not much awakened towards the real value of technology.
On a pearl hunt
Jyotika Kapur Ghai
TO enable myself for the best possible survival, I thought it prudent to equip myself with a wonderful electronic wizard called PC, which I feel has become mandatory for one and all. I applied for a computer course and was quite excited upon being selected for it, with the apprehensions of usefulness of such a refresher course prevailing on my mind.
INTERIM BUDGET
IT firms feel good
THE Government has encouraged private consumption through a reduction in customs duty on cellphones, computers and electronic goods. With an attempt to woo the urban middle-class to spend more, the Finance Minister has announced a combination of import and excise tariff reductions in computers, cellphones, electronic goods and consumer durables.