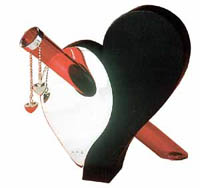 Not that any one could have missed it, but thanks to the hullabaloo over Valentine's, we have been flooded and floored with "offers', which "will make your loved ones love you even more".
The whole gamut of "exclusive gifts" is quiet benumbing. One wonders if is passé even to write your own love note! Ever since humanity saw the emergence of a breed that knows how to sell, we have forgotten the taste of the forbidden fruit (read excuses) that would make us either forget or choose the incorrect gift. There is no way you can miss an occasion!
And now that you have been reminded by the thoughtful kind, they are also offering ample help. Taking care of your needs and pockets … they have lined up an exhaustive collection starting with flowers, both real and otherwise, to the exotic and the outlandish.
Beginning with the self … we have ample help to "look and feel good". To brighten up the way you look, you could start with a chocolate. Forget the calories and cavities…we are talking about a delicious smelling…gooey chocolate cream that will illuminate your skin a la 100 watt bulb. A Valentine's offering from Blossom Kochhar, the whipped chocolate cream spa "helps lighten and soften the body and gives a glow to the skin."
The beauty is skin deep…part taken care of, we move to the attire for the day. You could sport the traditional reds, screaming 'It is Valentine's day'. You could also check out the Buddy Davis's "attractive Valentine Scheme to make Valentine's Day special for everybody". The scheme offers that if you buy merchandise for your valentine you get 50 per cent discount on any product for yourself.
The company has gone further, with the merchandise for Valentine Scheme being packed in a "striking and tempting Valentine Bag to make it appear more alluring and appealing, so that today's youth can relate to it".
Giovani, a fashion label for women, this Valentine's day seeks to "capture the spirit of best of Italian design, through its hot new styles in the hottest colour of the season, Red".
Giovani offers, "Sensual dresses with feminine necklines, fitted from top with flounce and frills, or an alluring back slit. Step into the spotlight with the flaming jackets and figure-hugging pants, for the night out.
For the eveningwear is a "pure Georgette chiffon dress in flaming red. This sexy, form-fitting dress, accented with ruffles around the feminine neckline and the hem, is sure to impress on the special night out. Playful and pretty, it will always brighten your day".
Also on offer is a "disco red jacket with figure-hugging clubwear pants, perfect for the night out".
For ladies who wished to play Cinderella, this Valentine's is just the occasion. While we are not too sure of some cabbie ready to play buggy wala, we can direct you to the crystal shoemakers. Diamond Crystal Private Limited has produced a lead crystal sandal that will transform you into Cinderella. And the best part is that unlike the original, this Cinderella shoe comes in all sizes and does not disappear post midnight.
What's Valentine's without the quintessential flowers and chocolates. Competing with the real flowers are silver and crystal ones. IK Silver wants you to preserve the bunch your beloved gifts you. "Modestly priced at Rs. 1000 each," the silver roses are handcrafted from genuine ones and after a "40-step procedure' are left for posterity. Also, the roses are covered with "24-carat gold".
Talking of imperishables, we also have Frazer and Haws with their fare, 'Collection 007'. The 'Bond with love' collection lightens your pocket, but promises "elegantly crafted" pieces, including a photo frame, 'license to love,' made from ebony finished wood, sterling silver and red glass.
Resolving the crisis between choosing fruits and chocolates, Sugar & Spice have come up with their chocolate dipped prunes. California Prunes dipped in chocolate come with a "promise of good health all year round" (prunes being considered good for the heart, lungs and also lowering the risks of diseases).
For the gastronomes, there are slices of "luscious heart shape strawberry fondant cake, a box of delectable heart shape chocolates" from Nirulas's and, what's more, the "economically priced package will be delivered at your loved one's doorstep at no delivery charge".
And finally for the ones not wishing to spend on diamonds, there is 'Emozioni' with "semi-precious stones and a touch of gold". The designer range of steel jewellery for both men and women is "affordable enough to change with every mood and chic enough to wear after dark…!"