TEEING-OFF
A dream come true for Randhawa
K.R. Wadhwaney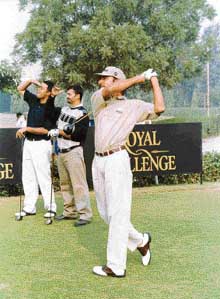 Jyoti Randhawa
ARJUN Atwal and Jyoti Randhawa continue to hog the limelight in international professional golf. On the constant move, Atwal has been named Asian "Golfer of the Year for his majestic exploits in different circuits. He fully deserved the honour.
Randhawa played a round of his life in the Johnnie Walker Classic in Bangkok. Saying with eagles and birdies, he jumped from lowly-placed position to the joint runner-up in the $ 1.8 million prize-money tournament. He earned about Rs 75 lakh.
Randhawa's 8-under 64 (two eagles and five birdies) in the final round brought him a round of appreciation from even his rivals. Surprised at his own performance and consistency, Randhawa said: "It is a dream come true", adding: "I did not imagine that I could be joint second with Sweden's European and Australasian, tournament is the richest competition on the Australasian and Asian Tours. It has been won by the likes of Greg Norman, Nick Faldo, Tiger Woods and Ernie Els.
Atwal was as happy as Randhawa. He had reason to feel so. Tiger walked up to him, played a nine-hole round with him and also invited him to lunch. It was a meeting that 'I will cherish all my life'. Teaming up with Venezuelan Gilberto Morales to hit a few balls at the Isleworth Golf Club, he saw Tiger emerge out of the cart. Ever relaxed and friendly, Tiger said: "Well done for earning the licence to play in the American territory and two settled down for a 25-minute lively discussion. "Why don't you both join me for a quick bite".
In jolly good mood, Tiger narrated many anecdotes, which saw all bursting into laughter. His jokes were nippier than lockerroom anecdotes. Tiger extended another invitation to Atwal to play but he declined as he was preparing for the US PGA Tour's Pebble Beach Pro-Am. "It was great fun plying with Tiger", said Atwal, adding: "It is educative to talk to him".
Incidentally, in a short 9-hole competition, Atwal's team won one up!
Sad demise
The golfing community at the Delhi Golf Club (DGC) was stunned at the sad and untimely demise of Lily Khanna (Bery). An embodiment of etiquette, culture and fair-play, she was the livewire of women's golf for several years.
When Lily was young, she was a permanent member of the annual fixture between Roshanara ladies team and British High Commission side. The match was played with all seriousness and it was covered extensively as the then editor of Indian Express Prem Bhatia insisted on its being reported.
Lily was a proficient golfer. Her husband Tishi had played an unofficial Test for India as a wicket-keeper. He had also played for Delhi and Bengal in Ranji matches.
Lily had gone to Malaysia for a short visit. On her return, she contracted pneumonia. She died of massive heart attack.
Indian Open
There is a distinct possibility of the Indian Open being saved and held in late March after a lot of uncertainty. In a meeting, Indian Golf Union (IGU) and International Management Group (IMG) prevailed over sponsors Shaw Wallce to stage the competition in the interest of Indian gold. The IMG is said to have given reduced financial proposal for the tournament, which had been the country's biggest prize money tournament ( $ 300,000).